Celestis in 2023: A Look Forward to New Horizons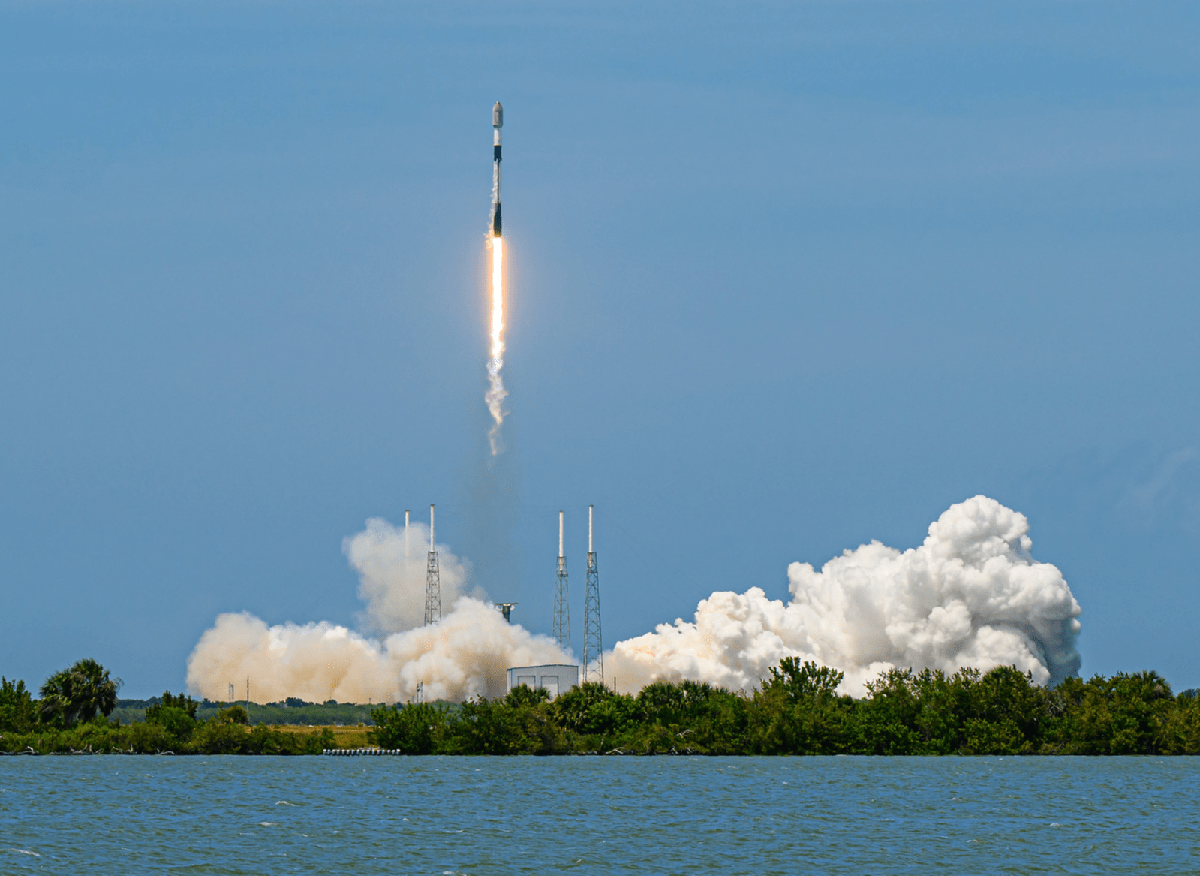 The SpaceX Transporter 5 Rideshare launch leaps off SLC-40 on May 25, 2022. Photo credit: John Kraus Photos
The year 2022 saw Celestis Memorial Spaceflights launch an Earth Orbit service, host legendary Space Shuttle astronauts at its events, announce various dignitaries and special guests who will fly aboard future memorial spaceflights, and add to our already formidable leadership team.
In 2023, as Celestis approaches its 30th year, the company boasts spaceflights encompassing each of its services, fulfilling Earth Rise (suborbital), Earth Orbit, Luna (Moon), and Voyager (deep space) Services. This is a first in Celestis' decades-long history and marks just the beginning of what promises to be a historic year for the company – and in spaceflight. 
A Look Back at 2022 
In 2022, Celestis hosted its ninth Earth Orbit Service, the Ascension Flight, which honored its spaceflight participants with a beautiful SpaceX Falcon 9 launch into the cerulean blue skies from Cape Canaveral's historic Launch Complex 40 on May 25. This launch was followed ten minutes later by an unforgettable Falcon 9 first-stage landing – complete with sonic booms – not far from the Ascension Flight VIP viewing site, the Sands Space History Center, just outside of Cape Canaveral Space Force Station. In the days before the launch, Ascension families and friends toured Kennedy Space Center and attended a non-denominational memorial service followed by a reception. In addition, the Celestis Foundation honored the Sands History Center and a Tucson, Arizona non-profit, Taking Up Space, for benefiting both spaceflight and our home planet. Read Celestis Director of Content Emily Carney's rundown of the Ascension Flight launch from mid-2022.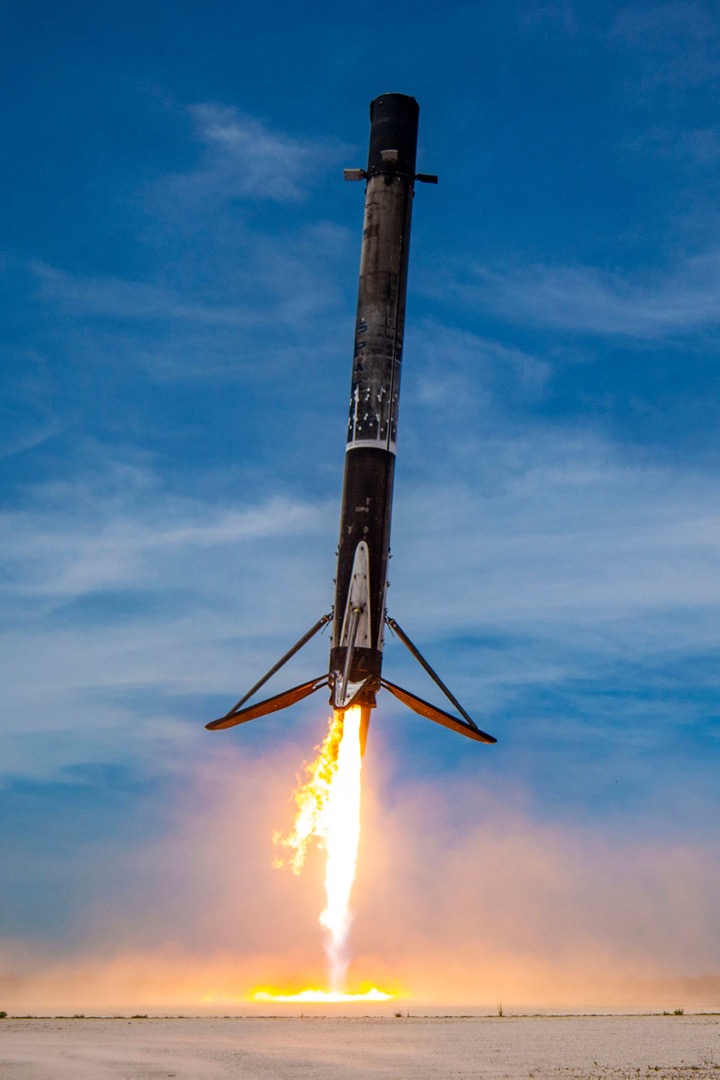 The SpaceX Transporter 5 Falcon 9 launch that carried Celestis' Ascension Flight into orbit concluded with an incredible first stage landing at Cape Canaveral Space Force Station. Photo credit: SpaceX
Celestis hosted two Space Shuttle legends at its launch events in 2022. Dr. Don Thomas and Richard M. "Mike" Mullane – who made four and three Space Shuttle flights, respectively – spoke about their years at NASA, their training experiences, what it was like to launch to space, and what it was like to view the exquisite Earth from orbit.
Celestis also announced in 2022 that it is honored to host Star Trek® royalty, including "Lt. Uhura" Nichelle Nichols, "Dr. McCoy" DeForest Kelley, and visual effects maestros Douglas Trumbull and Greg Jein on its appropriately named Enterprise Flight, which is scheduled to take place in early 2023. The moniker Enterprise, of course, has a long heritage in fictional and actual spaceflight – it is the Star Trek® flagship and the name of the first Space Shuttle to make Approach and Landing Test flights in 1977. 
Celestis is also proud to be a corporate sponsor of the Nichelle Nichols Foundation (NNF), whose mission is "to continue breaking down the barriers. We are here to open the doors of opportunity. We are here to serve and inspire women and BIPOC (Blacks, Indigenous, People of Color) communities to reach for the stars." The NNF will ensure that Nichols' legacy extends far into the 21st Century and beyond, fulfilling Star Trek®'s maxim "To Boldly Go." A portion of sales from Celestis' newest product – Celestis MindFiles™, which democratize space by allowing everyone to send messages, art, poetry, and writing into deep space – will go to the NNF. 
It was a big year for Celestis' leadership team as well. In 2022, Celestis added President Colby Youngblood, Director of Operations Randi Reel, and our very own Space Hipster – Director of Content Emily Carney – to our already impressive leadership roster. Celestis closed out this year with a visit to United Launch Alliance's Decatur, Alabama facility by CEO Charles M. Chafer, where the Vulcan rocket that will launch the Enterprise and Tranquility Flights is being constructed.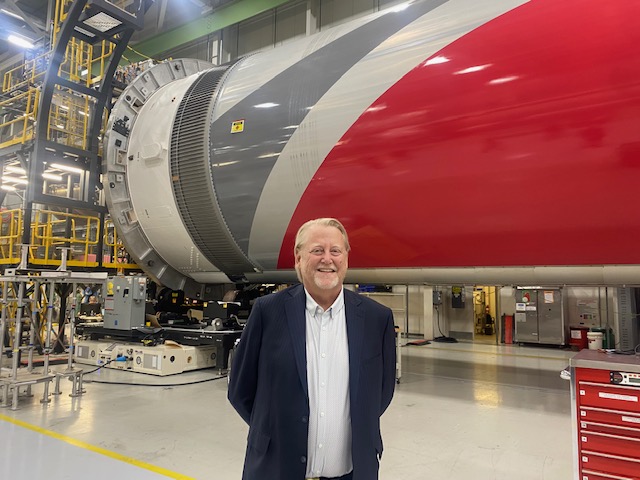 Celestis' co-founder and CEO Charles M. Chafer visited United Launch Alliance's Decatur, Alabama manufacturing facility in late 2022. Photo credit: Charles M. Chafer
En Route to New Adventures in 2023 
From reaching the border of space to orbiting the Sun for all eternity on a deep space sojourn like none other (and – oh yeah – landing on the Moon), Celestis Memorial Spaceflights is preparing for a truly (pardon the pun) otherworldly year. 
2023 will mark the first time Celestis has four unique services launching during the same year. The Aurora Flight Earth Rise Service will launch from Spaceport America in New Mexico in early 2023. The Excelsior and Harmony Earth Orbit flights will launch from Cape Canaveral, Florida, which will also host the Enterprise and Tranquility flights. Enterprise and Tranquility will launch aboard United Launch Alliance's new Vulcan rocket in early 2023, a launch vehicle years in the making and impressive in size and power. 
Tranquility Flight, Celestis' second Luna Service, will land upon the Moon aboard Astrobotic's Peregrine lander – the world's first commercial lunar lander and the first U.S. Moon lander since 1972's Apollo 17. Legendary Apollo 13 and Shuttle astronaut Fred W. Haise, Jr. will speak at Tranquility Flight and discuss his experience viewing the Moon during his April 1970 spaceflight; he will also sign copies of his recently-released bestselling autobiography, Never Panic Early, which was written with space historian Bill Moore.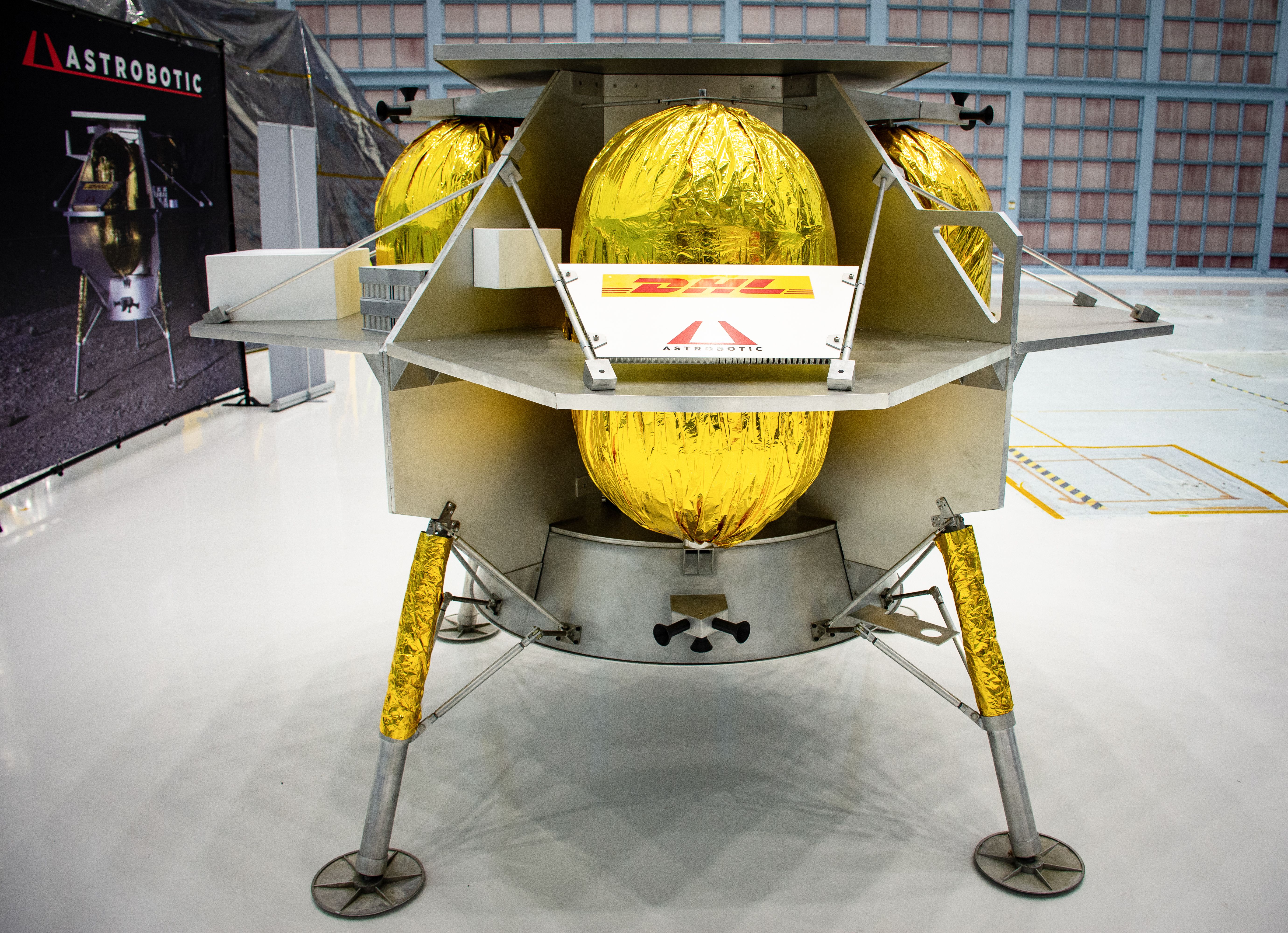 A model of Astrobotic's Peregrine commercial lunar lander. Peregrine Mission One will carry Celestis' Tranquility Flight to the lunar surface in early 2023. Photo credit: NASA Goddard
Enterprise Flight will establish a solar orbit 150 to 300 million miles in deep space, becoming the world's first true outpost of humanity in the cosmos with its memorial spaceflights, Celestis DNA®, and Celestis MindFiles®. Enterprise Flight will also carry Star Trek® creator Gene Roddenberry, his wife and "First Lady of Star Trek®" Majel Barrett Roddenberry, the DNA of their son Eugene "Rod" Roddenberry, the DNA of Nichelle Nichols' son Kyle Johnson, and the ashes of "Mr. Scott" James Doohan into deep space, serving as the ultimate series reunion. In addition, former NASA astronaut Dr. Philip Chapman will make his second spaceflight aboard the Enterprise Flight. This flight will indeed go into the history books.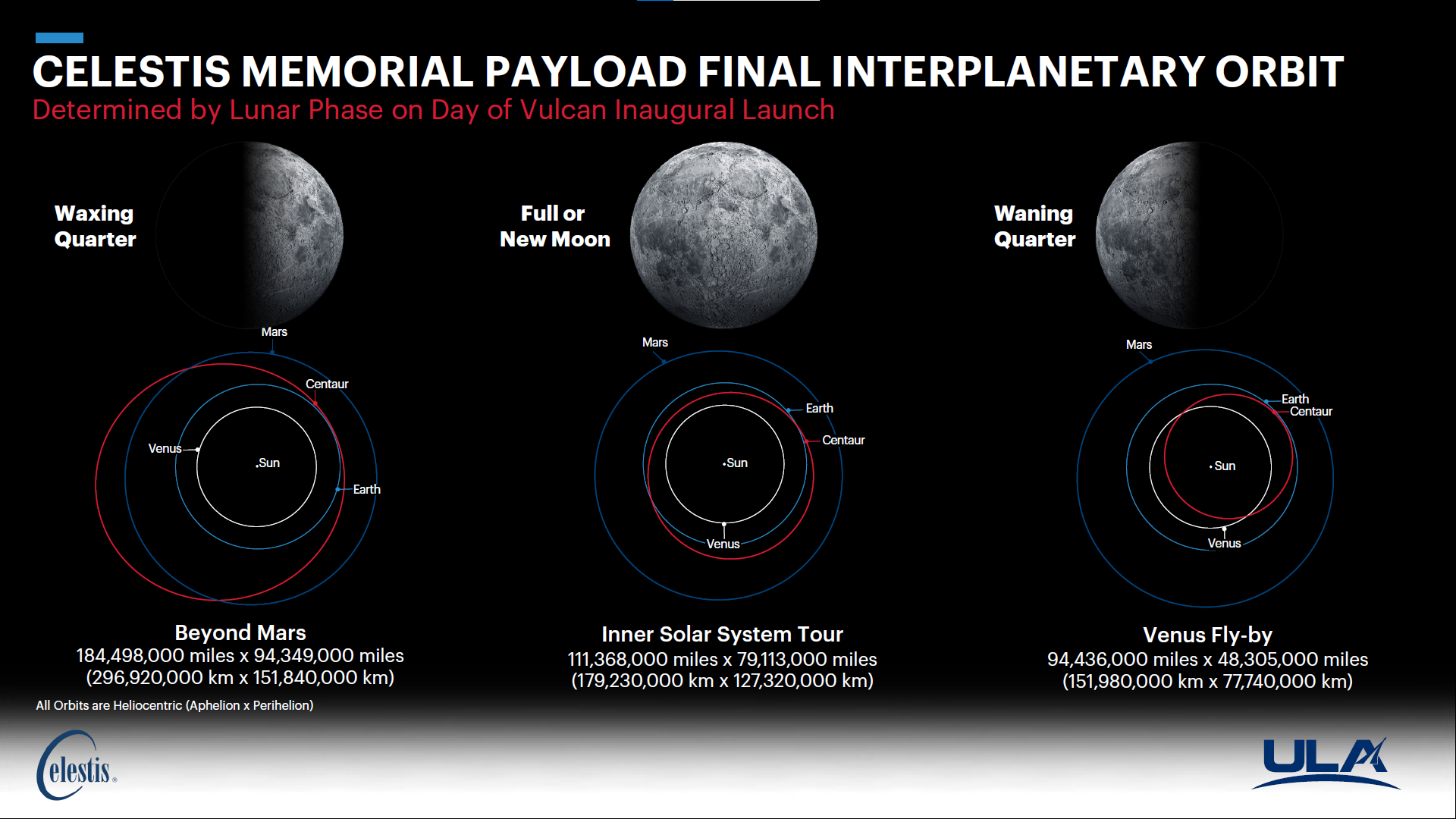 Possible trajectories of Celestis' deep space Enterprise Flight. Image credit: United Launch Alliance
Tranquility and Enterprise flights will fulfill Celestis' second Luna Service and first Voyager service; later in the year, Celestis is expected to launch its third Luna Service spaceflight, the Destiny Flight. In addition, Celestis is firming up additional memorial spaceflights to add to its future manifest. 
It's safe to say that 2023 will be an exciting year of firsts for Celestis.
Reserve Your Spaceflight in 2023…and Beyond 
Whether you're interested in preplanning a memorial spaceflight, making a DNA spaceflight regardless of burial disposition, or sending your unique message into deep space, Celestis has you covered.
Celestis Memorial Spaceflights is currently accepting reservations for a Luna Service, an Earth Orbit Service, and an Earth Rise Service: the Destiny, Harmony, and Perseverance Flights, respectively. Please visit our website for more information, or call us toll-free (U.S. and Canada) at 1-866-866-1186 (International: 1-281-971-4019). Also, feel free to utilize our "Contact Us" page.