CONGRATULATIONS WILLIAM SHATNER -- WELCOME TO THE CLUB OF STAR TREK PERSONALITIES AND FANS WHO HAVE FLOWN IN SPACE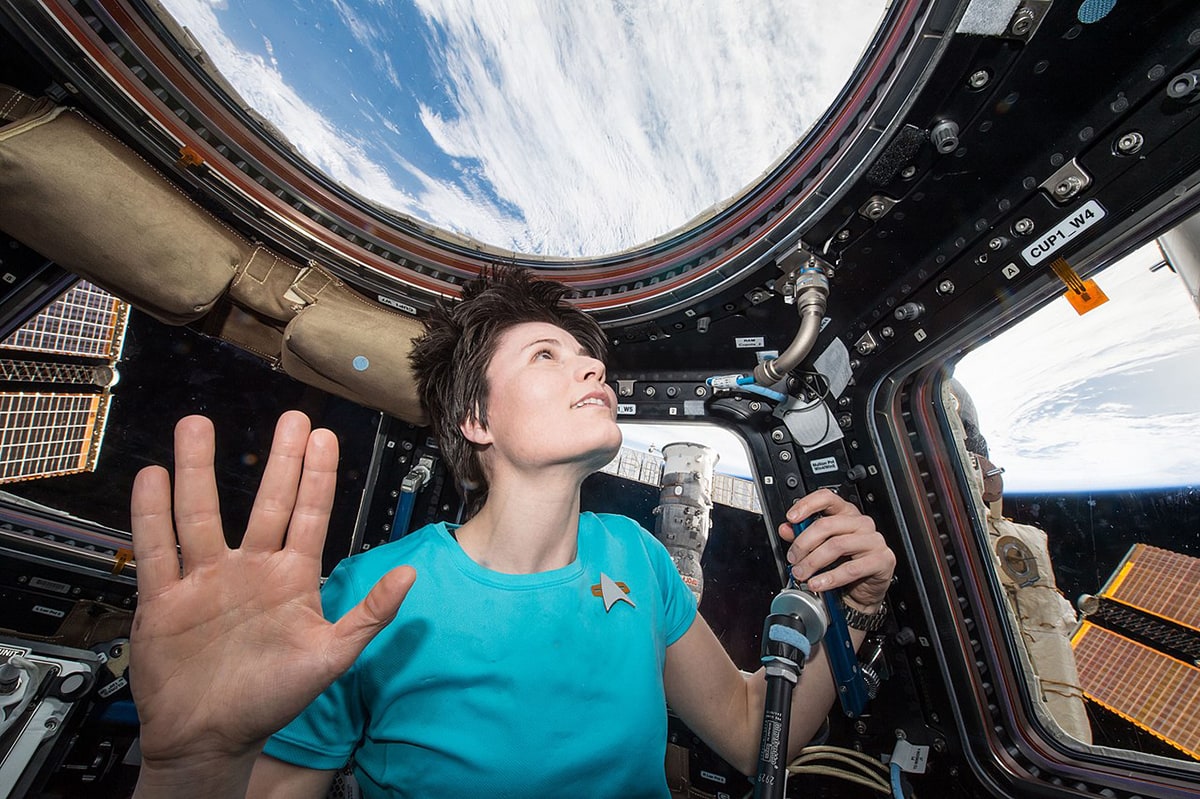 Astronaut Samantha Cristoforetti on the International Space Station, February 28, 2015, photographed in the cupola window in front of a dramatic cloudscape. She wears a blue Star Trek insignia shirt as a nod to Leonard Nimoy, who had passed away the day before, and gives the Vulcan salute. Her Tweet dated February 28, 2015 reads: "Of all the souls I have encountered. his was the most human, Thx @TheRealNimoy for bringing Spock to life for us," echoing the thoughts of many Star Trek fans. Image Credit: @astrosamantha's Twitter page
Celestis congratulates Star Trek actor William Shatner on his successful flight into space on board the Blue Origin New Shepard 4 space vehicle. Several Star Trek personalities have already flown to space with Celestis including Star Trek creator Gene Roddenberry, Star Trek actor James Doohan ("Scotty") and Star Trek producer John Meredyth Lucas. Star Trek actress Majel-Barrett Roddenberry will fly into deep space with her spouse, Gene as well as Doohan on board the Celestis Enterprise Flight, named in their honor. Furthermore, many everyday people who fly on Celestis Memorial Spaceflights were avid Star Trek fans during their lives. Celestis is Star Trek Nation!

One of Shatner's most memorable Star Trek performances is the scene in Star Trek II: The Wrath of Khan where he leads the emotional memorial service for Spock aboard the Starship Enterprise. After Admiral James T. Kirk speaks of his fallen comrade, bagpipes play the classic hymn "Amazing Grace" as Spock's coffin is ejected into space. It is said to be one of the most moving scenes in all the Star Trek movies and television series.
Spock's Funeral – Star Trek II: The Wrath of Khan, movie clip, 1982
While a memorial spaceflight ceremony is considered an alternative type of funeral, one still sees elements of a traditional funeral. On the day prior to the liftoff, friends and loved ones share stories of their loved ones on board in a non-sectarian memorial service, and toast and tribute memories of time spent with them.  

Contact us for more information or to receive launch updates
Another special touch is a pause in the countdown to remember and honor the lives of participants on the Celestis Memorial Spaceflight. In our 2007 Legacy Flight memorial service the mission control announcer noted that the honorees' "presence on this flight signifies a commitment to the opening of the space frontier shared by all of us.  We wish the friends and families present today, and all those who are with us in spirit all over the world Godspeed, good luck, and our thanks for allowing us to share this very personal time with you today."

Like at Spock's funeral and many others, we often have bagpipers accompany our processions and in tradition play the timeless songs such as "Amazing Grace."  If you have never heard this played on bagpipes, listen to the Air Force Bands Program play it here: https://archive.org/details/AmazingGraceBagpipes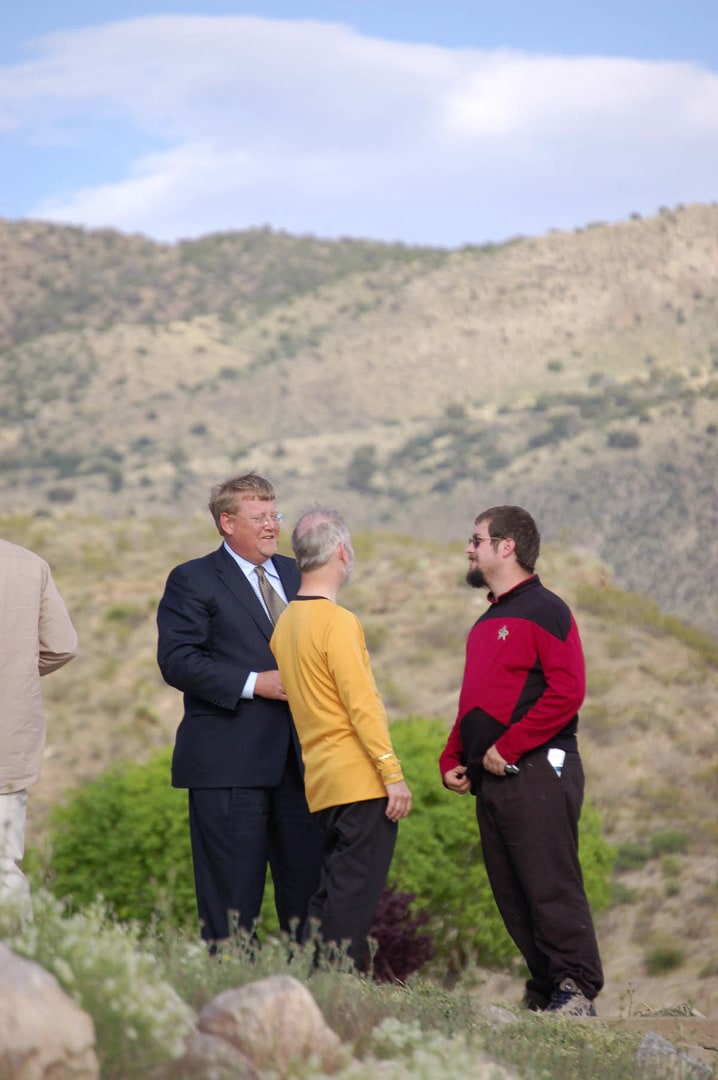 Celestis CEO Charles Chafer with Star Trek fans at the Legacy Flight memorial service
Unlike most funerals, however, at a Celestis Memorial Spaceflight you may see space industry insiders. NASA Astronaut Jon A. McBride attended our New Frontier Flight memorial service and shared the story with guests about the first time he viewed our beautiful planet from outer space. He told guests at the launch that he was, "flooded by emotions of what I see and hear, to be with you, and think of the wonderful thing you chose to do for your loved ones. They truly 'slipped the surly bonds of earth…and touch the face of God."
    
Astronauts are known to show their love of science fiction in their day to day work in aerospace. When legend Leonard Nimoy passed away from lung disease in early February 2015, NASA astronaut Terry Virts was working on the International Space Station. In honor of Nimoy, he held up a Vulcan salute as the ISS flew over Nimoy's hometown of Boston.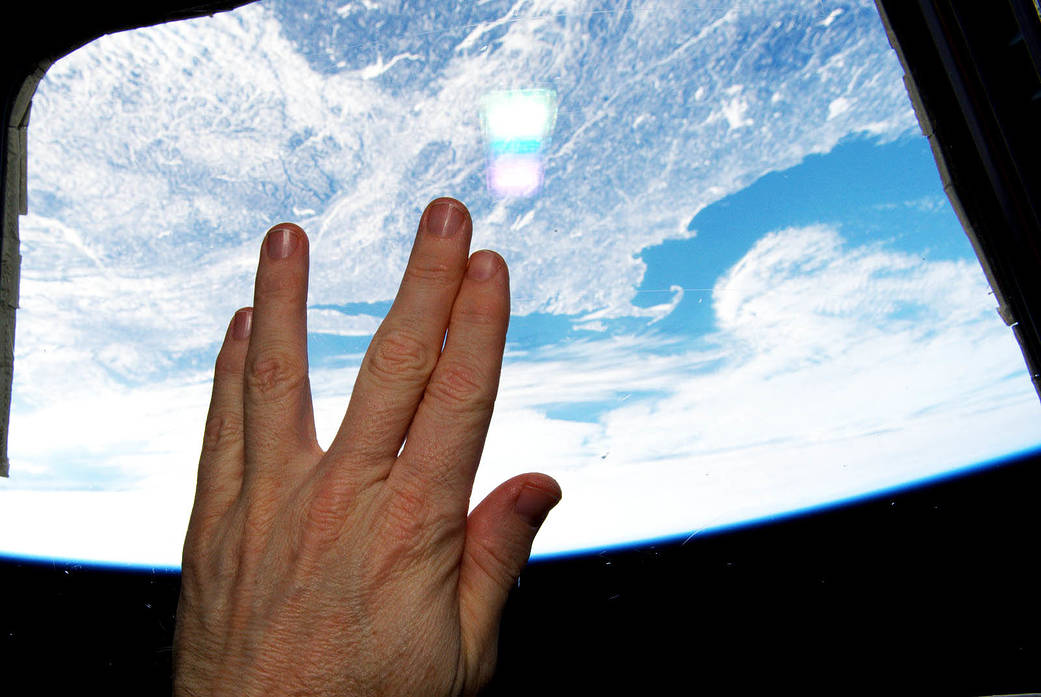 Astronaut Terry Virts pays tribute to Leonard Nimoy as the International Space Station flies over Boston, where Nimoy was born and raised. Image Credit: February 28, 2015 photo from @AstroTerry's Twitter page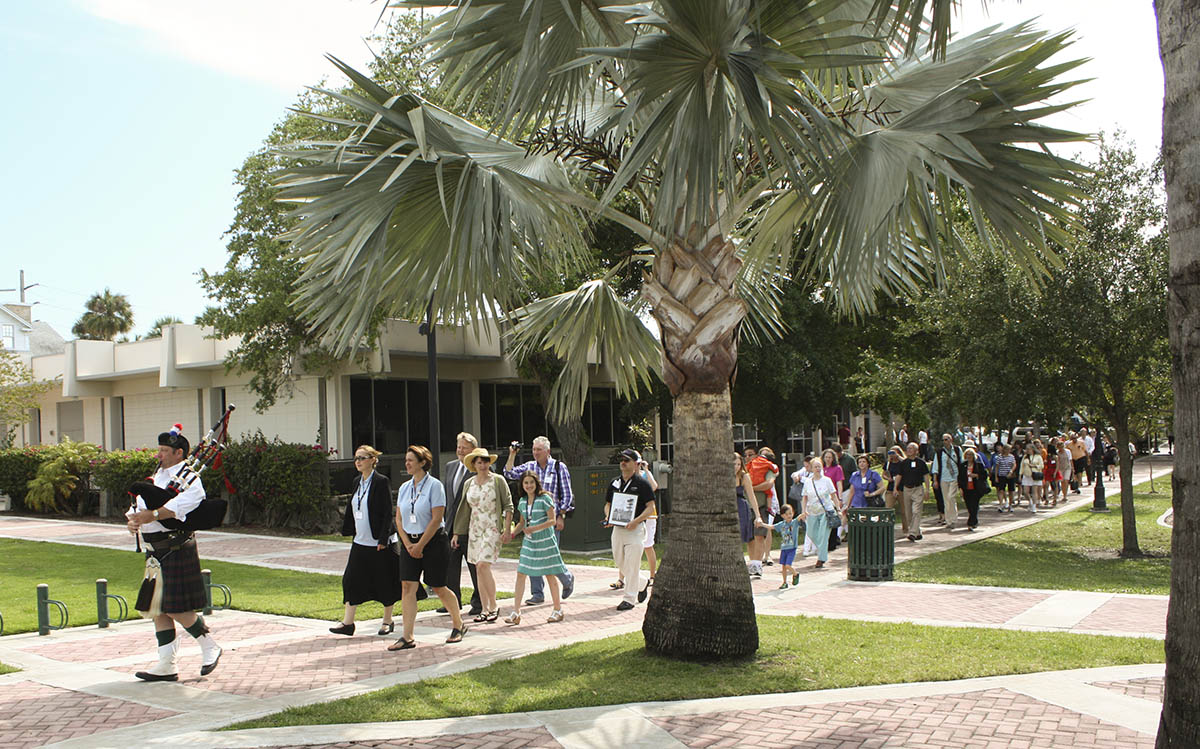 Celestis families follow a bagpiper playing "Amazing Grace" as part of the New Frontier Flight memorial service in 2012.
Many of the over 1,200 participants Celestis has flown on its memorial spaceflights were avid Star Trek fans. In fact, Celestis has honored the Star Trek spirit in its memorial services and has even dedicated an upcoming launch as The Enterprise Flight in honor of Star Trek personalities Gene and Majel Barrett-Roddenberry and James Doohan, who are participants on board this historic memorial spaceflight.
If you would like to celebrate the life of a friend or family member with a journey of remembrance and honor them in a space funeral where science fiction meets reality, you can get more information about our services here: Contact Us