Star Trek's DeForest Kelley: His Life and Legacy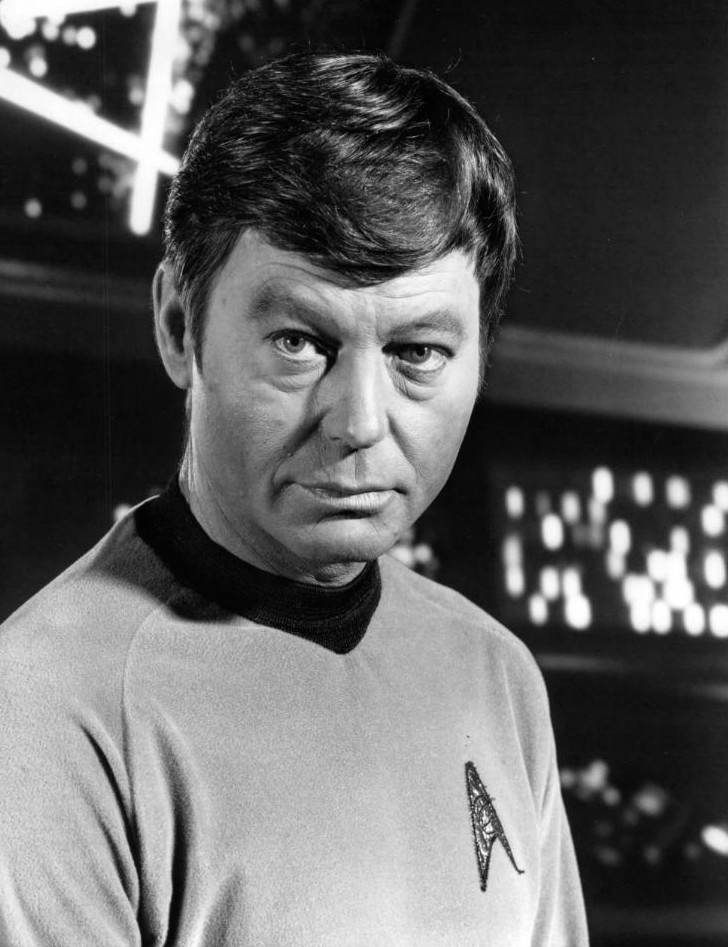 "I have deep feelings for the welfare and comfort of others." – DeForest Kelley 
Celestis, the world's iconic global leader in memorial spaceflights, is proud to announce that DeForest Kelley – best known as Dr. Leonard "Bones" McCoy in the original Star Trek®  series – will join his fellow series luminaries and fly aboard its Enterprise Flight, which will establish the first outpost of humanity in deep space carrying ashes, DNA, and Celestis MindFiles™. 
Celestis is honored to share a memoir of Kelley by Kris M. Smith, a close personal friend of "De," as he was known to friends and family, remembering a titan of film and television – and medicine. Smith is the author of DeForest Kelley Up Close and Personal: A Harvest of Memories from the Fan Who Knew Him Best, a memoir about her 30-year friendship with Kelley and his wife, Carolyn. Smith was Kelley's assistant and caregiver at the end of his life and secured two locks of his hair for his wife and herself upon Carolyn's request. Kelley's DNA will be extracted from one of the hair samples and flown aboard Celestis' Enterprise Flight. 
Jackson DeForest Kelley, 1920 – 1999, Curated by Kris M. Smith
Jackson DeForest Kelley (January 20, 1920 – June 11, 1999), known to his friends and colleagues as "De," was an American actor, poet, and singer. He was best known for his roles in Westerns and as Dr. Leonard "Bones" McCoy of the USS Enterprise in the television and motion picture series Star Trek® (1966–1991).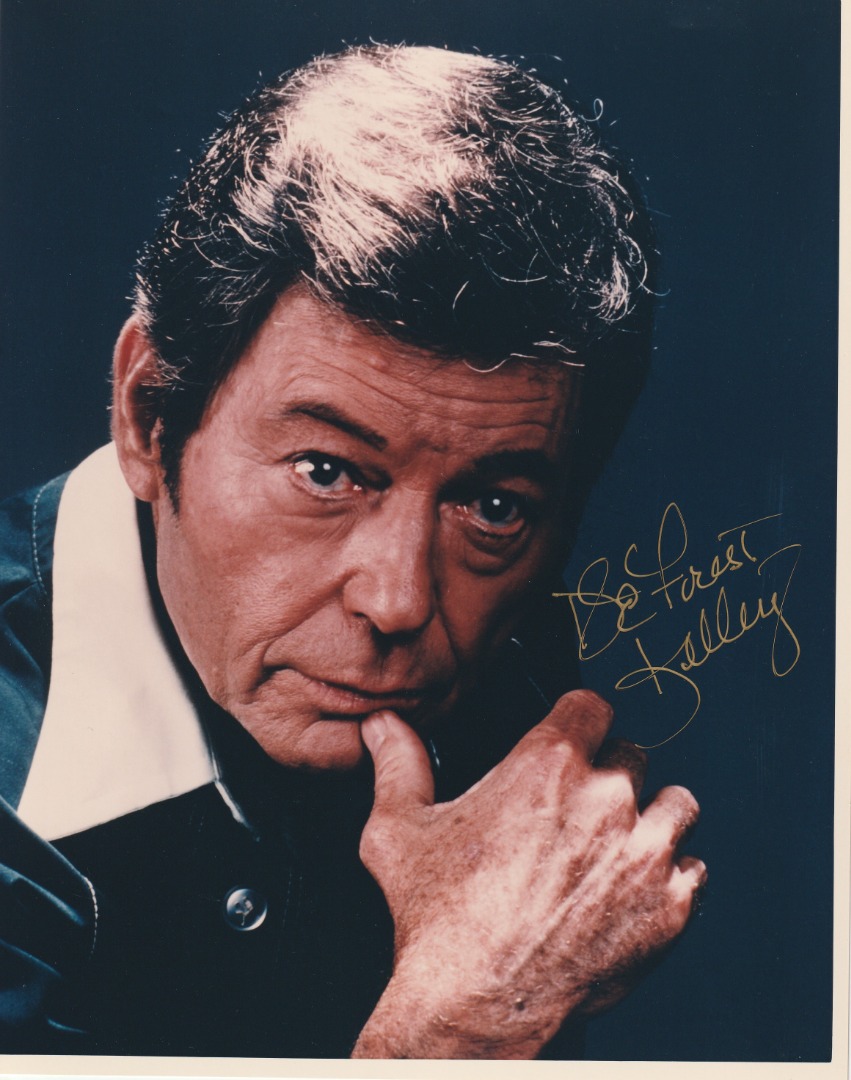 Studio portrait of DeForest Kelley. Photo courtesy of Kris M. Smith
Born in Toccoa, Georgia, Kelley was raised in Atlanta and Conyers, where he first used his talents in the church choir. Later, a radio performance on stage at WSB earned him an engagement with Lew Forbes and his orchestra at the Atlanta Paramount Theater. 
After moving to California as a young man, he joined the Long Beach Theater Group. During World War II, a Paramount talent scout noticed him in a Navy training film. This resulted in a screen test and a contract. DeForest remained with Paramount for 2 ½ years, making his motion picture debut in Fear in the Night.
Among his hundreds of performances are Gunfight at the OK Corral, Raintree County, Warlock, Where Love Has Gone, The Law and Jake Wade, and a myriad of television appearances, including Schlitz Theatre, Playhouse 90, Zane Grey Theater, Rawhide, and Bonanza.
Kelley made his debut in the Star Trek® television series in 1966. He gave freely of his time and talents to humanitarian efforts, including many hospital visits to children and veterans. 
De served during WWII in the Army Air Corps in Roswell, New Mexico, and at Fort Roach in Culver City, CA, where he made training films to educate service members and helped create a huge relief map of targeted areas to help pilots navigate precisely to their destinations.
On September 7th, 1945, he married Carolyn Meagher Dowling. They were married 54 years until De's passing in 1999. They had no children.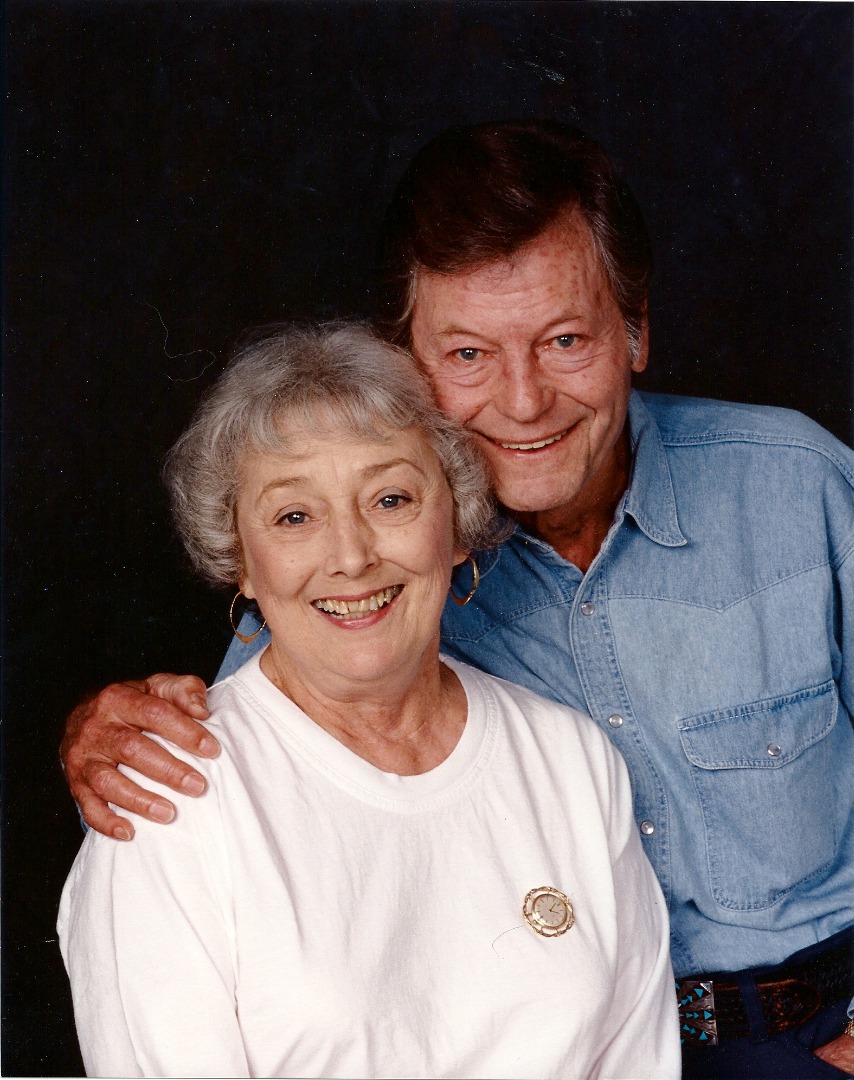 Kelley and his wife, Carolyn. Photo courtesy of Kris M. Smith
Among the awards De received were the Gene Roddenberry Award and the Golden Boot Award.
A confirmed animal lover, Kelley's favorite animal charities were The North Shore Animal League in Port Washington, NY, and Shambala/The ROAR Foundation in Acton, CA. He also contributed to veterans groups and children's hospitals. De's star is located at 7021 Hollywood Boulevard. 
Everyone who knew De loved him without limit. He was as much a personal treasure as he was an international treasure.
DeForest Kelley Tribute (Video credit: Kris M. Smith)
Dr. McCoy's Legacy
Fun fact: DeForest Kelley was initially considered for the role of Spock, but he refused that role. He then became Gene Roddenberry's first choice to play USS Enterprise's brusque chief medical officer, having worked extensively with Roddenberry on other television projects. The rest, as they say, is history: Kelley is now inextricably linked with Dr. Leonard "Bones" McCoy, the sometimes abrasive but caring confidant to Captain James T. Kirk. It was perhaps for the best since Kelley's compassion toward the welfare of others was reflected in his portrayal of Dr. McCoy.
Spock, of course, would be played by the equally iconic Leonard Nimoy. Kelley later remarked, "When Gene first contacted me for Star Trek, he gave me the part of Spock to read! I'm glad I didn't take it because I don't think anyone could have played Spock better than Leonard Nimoy."
When Kelley was cast as "Bones" on Star Trek® during the mid-1960s, he couldn't have predicted his character's impact on pop culture and space medicine. At least twenty times in the original series, Dr. McCoy stated in his matter-of-fact tone, "He's dead, Jim!" whenever an auxiliary character died ["Jim" being Captain Kirk, played by William Shatner). "He's dead, Jim" became a famous catchphrase that entered the lexicon thanks to the cult popularity of the series. In addition, McCoy's other saying, "I'm a doctor, Jim, not a…" also was (and is) oft-repeated by series fans.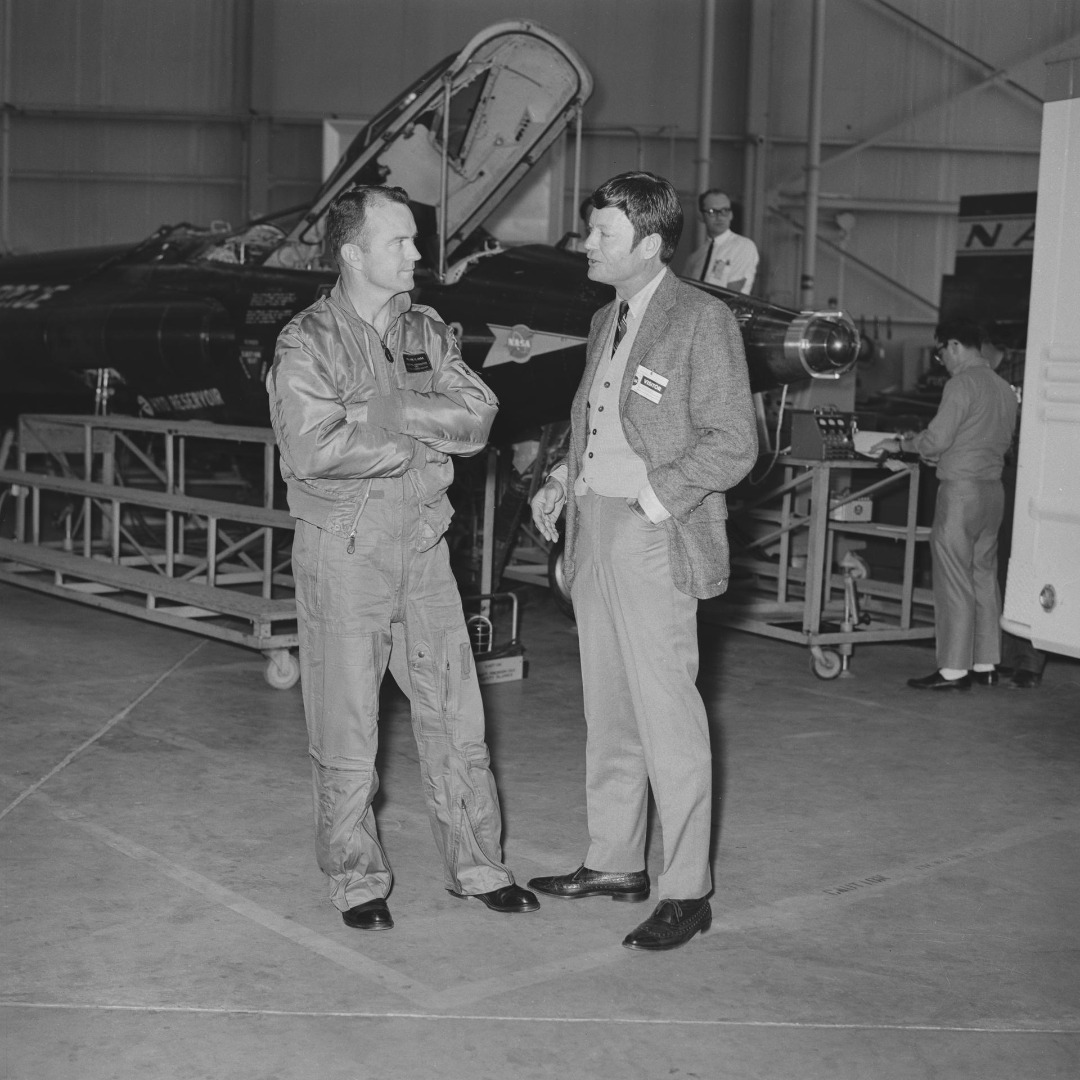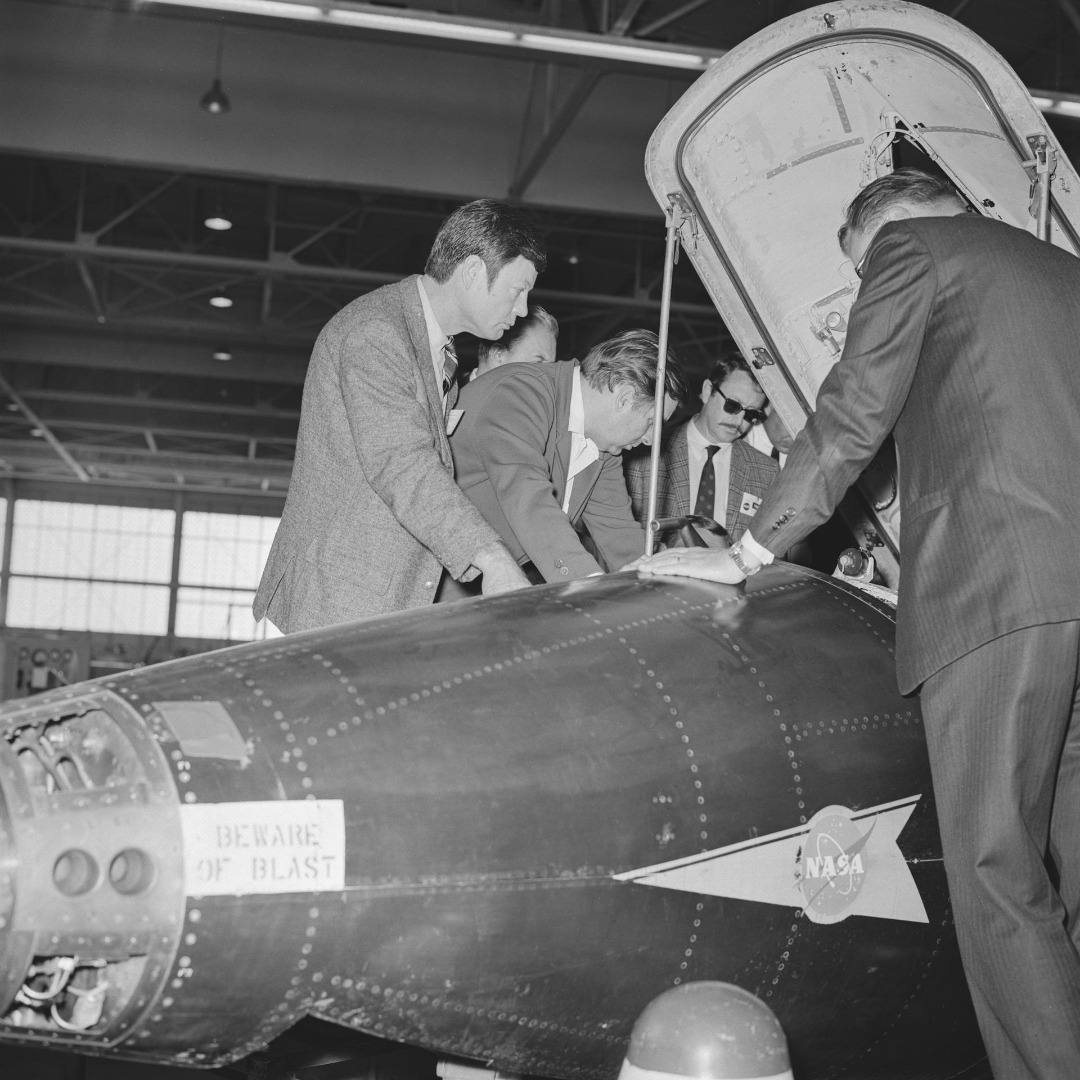 In April 1967, Star Trek®'s cast visited NASA's Dryden (now Armstrong) Flight Research Center. In the top photo, DeForest Kelley chats with X-15 pilot Bill Dana. At bottom, Kelley and series creator Gene Roddenberry view the X-15's cockpit layout. Photo credits: NASA
During the 1970s, years after the original series had been canceled and before the debut of feature-length movies based on the series, Kelley began attending Star Trek® fan conventions. He found that many times at these events, fans would walk up to him and tell him how McCoy had inspired them to enter the medical profession, just as many women and minority fans were inspired by the examples set by Lt. Uhura and Mr. Sulu (played by Nichelle Nichols and George Takei, respectively). This greatly touched Kelley; several times a month in the following decades, he received letters stating the same sentiments – that his television (and movie) character had led fans to become doctors or nurses. "I'd wanted to become a doctor and couldn't - yet became the best-known doctor in the galaxy," Kelley once proudly mused. 
The 1970s also saw American medical doctors enter space. In May 1973, U.S. astronaut-scientist Dr. Joseph P. Kerwin became the first American physician to reach Earth orbit during the Skylab 2 mission, which took place aboard NASA's first space station. Kerwin was sometimes humorously referred to as "Bones" by NASA colleagues. His presence aboard Skylab proved that a medical doctor could monitor the human condition in a foreign environment, undertake medical experiments, and do "surgery" on broken hardware in space; in June 1973, Kerwin and Skylab 2 mission commander Charles "Pete" Conrad successfully unjammed a stuck solar wing that imperiled the space station. Since 1973, many medical doctors have followed in Kerwin's – and Bones' – footsteps to become space travelers, many undoubtedly inspired by the example Kelley's character set on Star Trek®.
***** 
Now you or your loved one can join Star Trek® royalty such as DeForest Kelley, Nichelle Nichols, Gene Roddenberry, Majel Barrett Roddenberry, the DNA of their son Eugene "Rod" Roddenberry, and James "Mr. Scott" Doohan on a deep space voyage like none other – Celestis Memorial Spaceflights' Enterprise Flight. For more information about the Enterprise Flight, which will establish humanity's first outpost in the deeper cosmos, please check out the flight website.