A Brief History of New Mexico's Spaceport America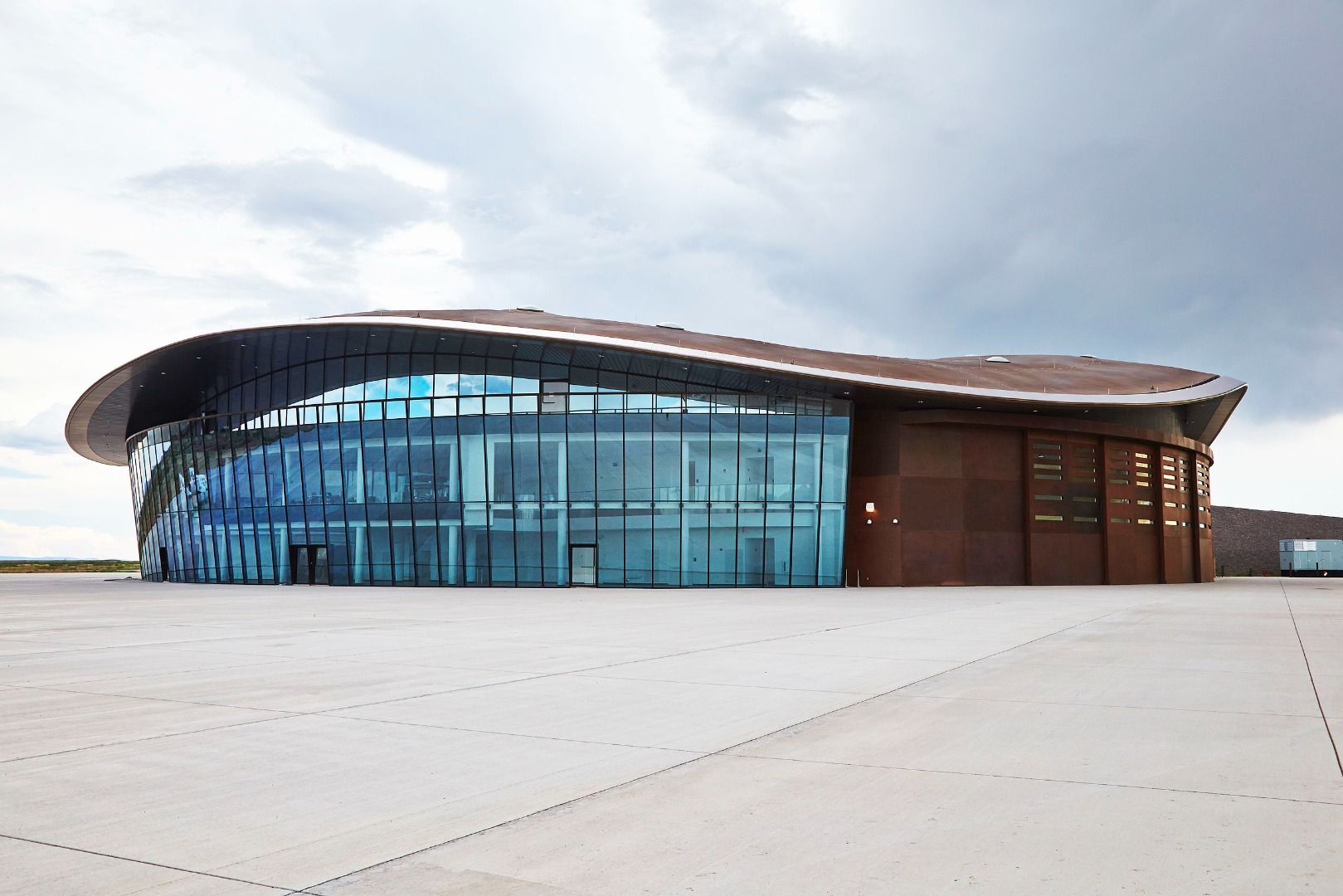 "The Gateway" terminal at Spaceport America. Photo credit: Land Rover MENA - Land Rover Discovery Sport | Behind the Scenes (accessed via Wikimedia Commons)
As the Space Shuttle program drew to a close during the early 2000s, several like-minded entrepreneurs sought a different approach to homesteading space. While incredible and chock full of milestones, the Shuttle program was approved in 1972 and promised low-cost, routine trips to low Earth orbit; however, the reality of the program proved to be quite different, with costs per mission averaging $450 million per mission by 2011.
Space visionaries were searching for ways to send payloads to space that were less expensive, and required less "red tape" and governmental oversight. In addition, private citizens and businesses desired access to space. According to the book Out of This World: New Mexico's Contributions to Space Travel by Loretta Hall, "a 1998 final report of a study conducted by NASA and the Space Transportation Association (STA), a commercial trade group, concluded that 'The opening of the frontier of space – not just to government missions and astronauts, but now to private individuals and private sector businesses – is a space challenge of overarching importance. It is especially important for the democratic United States of America.'"
The land that would become Spaceport America was particularly appealing due to its expansive open acreage and year-round complimentary weather. While Spaceport America, situated 45 miles north of Las Cruces, New Mexico, didn't officially "open" until 2011 (its Visitor Center didn't open until 2015), Celestis Memorial Spaceflights' heritage at the Spaceport spans back to well before its doors opened to the public. On November 30th, "the world's first purpose-built commercial spaceport" will host Celestis' ninth Earth Rise Service, the Aurora Flight.
Spaceport America's Past, Present, and Future
When most space enthusiasts think of U.S. space launch sites, their minds often hearken to Kennedy Space Center, Vandenberg Space Force Base, or possibly Wallops Island, Virginia. These are all home to NASA launch pads; however, a functioning spaceport exists in the deserts of New Mexico. Owned and operated by the New Mexico Spaceport Authority, Spaceport America is described as "the world's first purpose-built commercial spaceport" because it is the world's first space launch and landing facility not dedicated to governmental or military spaceflight.
The idea of a commercial spaceport in New Mexico stretches back to the early 1990s. The region in Sierra County – all 18,000 acres (28 square miles) of it – has several advantages that make it a desirable site for space launches and landings. The higher elevation, the open land, and the generally good, non-humid weather (in comparison to Florida, which is infamous for its summer storms) make it attractive to those interested in launching scientific payloads or even space tourists. In 1992, the Southwest Space Task Force was formed to investigate the feasibility of constructing a spaceport.
By the early 2000s, as NASA's Space Shuttle program began wrapping up, the then-Economic Development Cabinet Secretary Rick Homans crusaded to bring a spaceport to New Mexico and worked alongside then-Governor Bill Richardson to bring the X Prize Cup to the state. In 2005, Las Cruces hosted the X Prize Cup, which attracted thousands of excited guests. In 2004, Virgin Galactic's Scaled Composites-built SpaceShipOne won the Ansari X Prize, which signaled that commercial space ventures weren't just lip service – they were the wave of the future. By December 2005, Virgin Galactic's CEO Richard Branson and Governor Richardson announced that Branson's company would be headquartered in New Mexico. In July 2021, Virgin Galactic's VSS Unity, a SpaceShipTwo-class suborbital space plane, made a successful test flight carrying an exuberant Branson as a passenger; launch and landing operations originated from Spaceport America.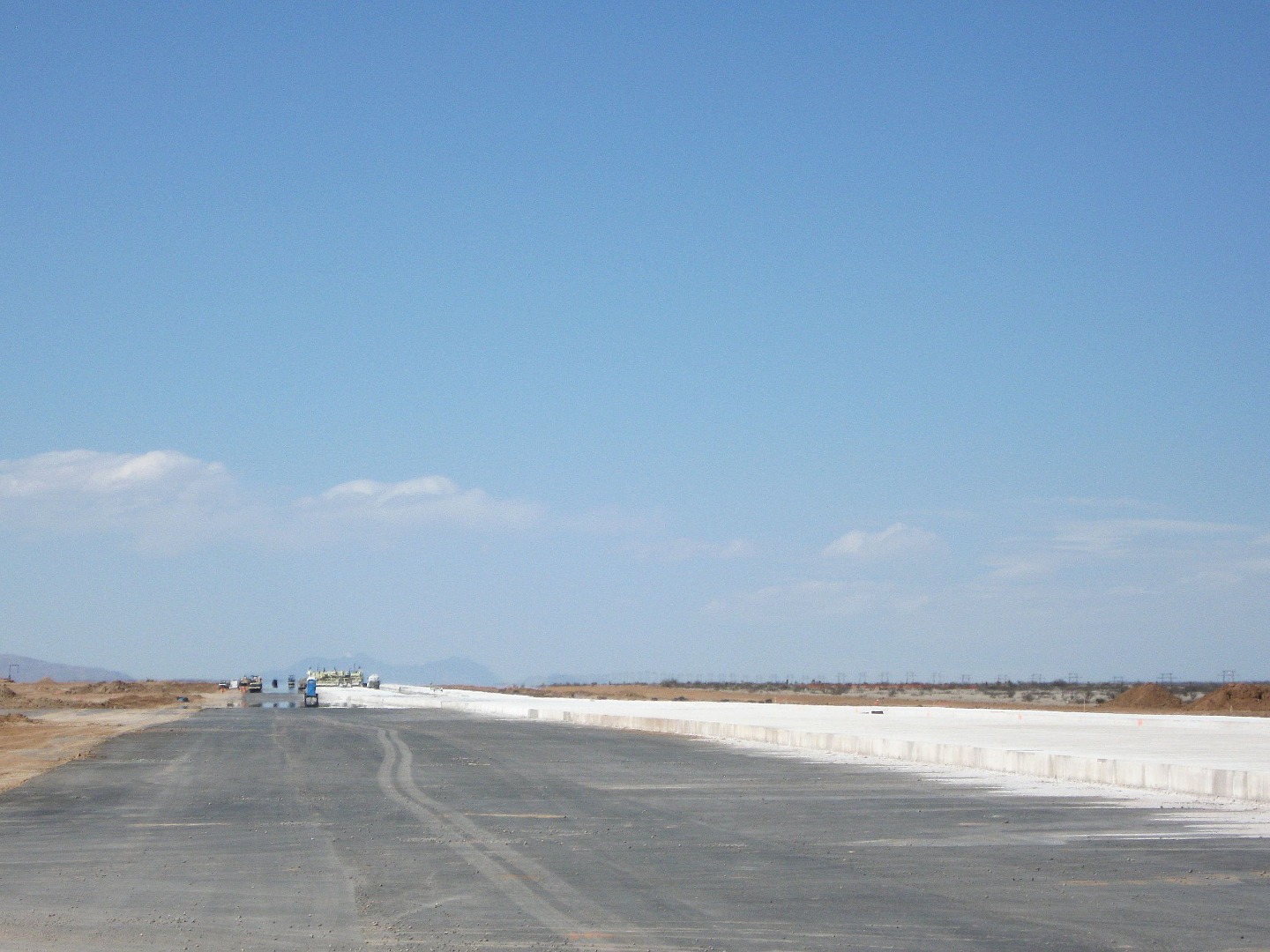 "The runway at Spaceport America as of March 2010, still under construction. On the left side is a layer of asphalt, and on the right a 14-inch layer of concrete laid above the asphalt. Under the asphalt is a cement-treated subgrade. At the far end are the machines that lay the concrete." Photo credit: Allen S. via Wikimedia Commons
However, Spaceport America wasn't just about rocket planes and zippy launch vehicles. Loretta Hall stated that in 2006, "The [New Mexico] legislature appropriated $110 million toward building the Southwest Spaceport, soon to be renamed Spaceport America. Over the next two years, local road construction funds and voter approval of small increases in the gross receipts taxes (essentially sales taxes) of Doña Ana and Sierra counties cobbled together the rest of the $200 million needed to build the spaceport. Because education was one of the three primary objectives of the program (along with economic development and tourism), one-fourth of the income generated by the additional gross receipts taxes was earmarked for supporting math and science education in those two counties. This would encourage and prepare students in communities near the spaceport for careers in the aerospace industry." Inspiring future generations was also a goal hardwired into the effort to build and establish the site.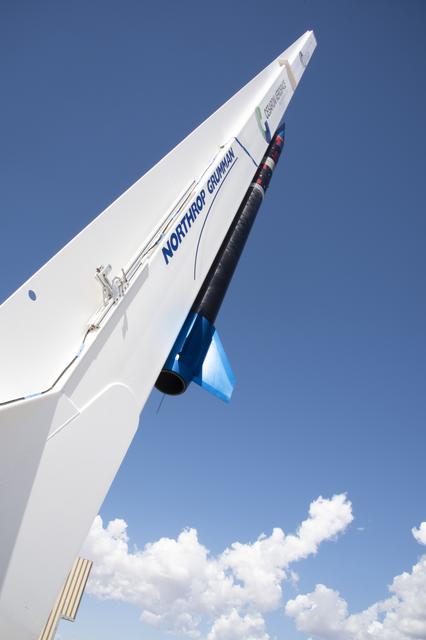 An UP Aerospace SpaceLoft™ XL suborbital rocket ready to launch. Photo credit: NASA
By 2009, Governor Richardson was present at the groundbreaking ceremony for Spaceport America, and runway construction for VG's fleet of space planes was in progress. But well before the Visitor Center was built, a Denver-based company called UP Aerospace, led by aerospace engineer Jerry Larson, began its flight operations. UP Aerospace's goal was to enable a variety of payloads to be flown inexpensively with less bureaucratic interference. UP Aerospace's first SpaceLoft™ XL suborbital rocket launch took place in September 2006. While this first launch attempt was not a success, April 28, 2007's flight – which fulfilled Celestis Memorial Spaceflights' Legacy Flight– reached an altitude of 73 miles. The Legacy Flight carried the ashes of Star Trek's "Mr. Scott," James Doohan, Mercury 7 astronaut Gordon Cooper, and hundreds of other brave passengers. After this successful suborbital spaceflight, Larson remarked, "Spaceport America is now a real spaceport."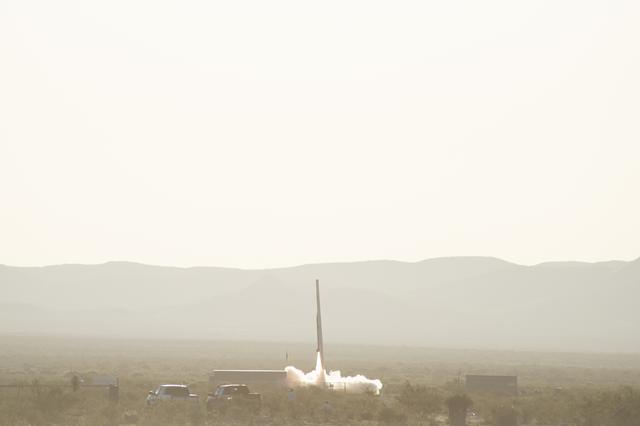 Liftoff! An UP Aerospace SpaceLoft™ XL rocket takes to the skies over Spaceport America. Photo credit: NASA
Along with Virgin Galactic, UP Aerospace remains a tenant of Spaceport America along with many other companies and partners. Since 2007's Legacy Flight, seven other Celestis Earth Rise Services have originated from Spaceport America. Four Earth Rise Services, in fact, took place before the site was officially opened in October 2011. In November this year, the Aurora Flight – Celestis' ninth Earth Rise Service – will spread its wings over the glittering sands of New Mexico aboard an UP Aerospace SpaceLoft™ XL launch vehicle.
Celestis Memorial Spaceflights' Aurora Flight
Reservations for the Aurora Flight will close on September 15th, 2022. As the Earth Rise Service is our most affordable, intimate service – with guests being able to tour the launch facilities and the launch pad itself at Spaceport America – we expect slots to fill very soon.
To receive a catalog or speak with a Celestis representative, please call us toll-free (U.S. and Canada): 1-866-866-1186 (International: 1-281-971-4019). Also, feel free to utilize our "Contact Us" page. Please visit our website for more information about our Earth Rise Services originating from Spaceport America.
Sources:
Hall, L. (2011). Out of This World: New Mexico's Contributions to Space Travel. Rio Grande Books.
Home. Spaceport America. (2022, July 28). Retrieved August 5, 2022, from https://www.spaceportamerica.com/