How Gene Roddenberry's Ashes Were Launched Aboard the Celestis Founders Flight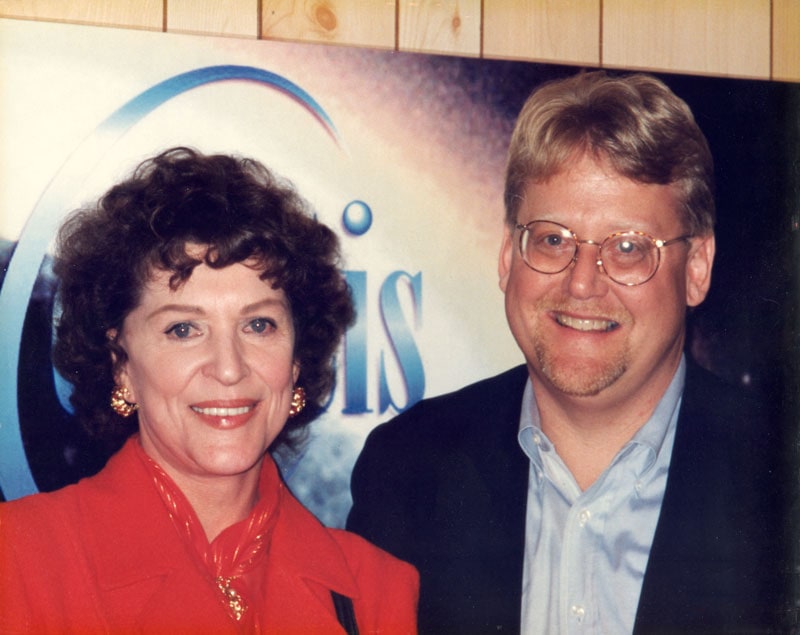 Co-Founder & CEO, Celestis, Inc.
Pictured: Charles M. Chafer together with Majel Barret Roddenberry at the Celestis Founder's Flight Memorial Service in 1997.
The Celestis Founders Flight - launched aboard a Pegasus rocket from the Canary Islands on April 21, 1997- was truly a pioneering commercial space mission: the first public memorial spaceflight service ever conducted. The Founders Flight garnered global attention, including front-page correspondent coverage by the New York Times and - for the first time for a "crew-less" space mission - live global coverage on CNN.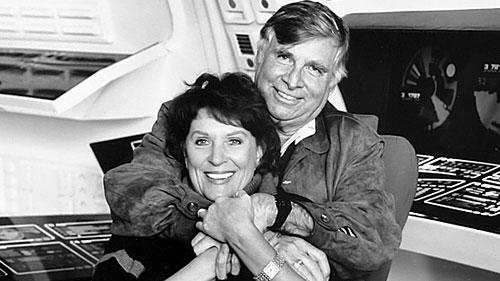 Gene and Majel Roddenberry, on a

 

Star Trek

 

set, will fly together on the first Celestis deep space mission,

 

The Enterprise Flight.
The 24 pioneer participants on the Founders Flight included space visionary Gerard K. O'Neill, legendary aerospace engineer Kraft Ehricke, 60's icon Timothy Leary, and twenty other individuals from several nations – each with their own story.  
The mission also included one participant whose ashes were making a second trip to outer space – the iconic Star Trek creator Gene Roddenberry.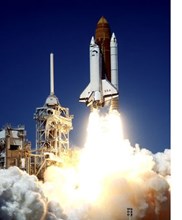 In October 1992, NASA astronaut James Weatherbee carried a portion of Roddenberry's ashes among his "personal effects" to orbit on board Space Shuttle Columbia (pictured at left). Majel Roddenberry had asked NASA Administrator Dan Goldin to help her fulfill Gene's lifelong desire for space travel, and Goldin approved an "unofficial" flight - hence the use of an astronaut's allotted personal space aboard a Shuttle.
Gene's Columbia flight was not announced until May 1994, by Majel at a Florida space conference – just about the time we were creating Celestis. Like many of our customers since Celestis' founding, I had been inspired by the original Star Trek series.  I loved the human space future portrayed in the series, and the values embodied in the crew. I'd been further inspired after sharing a lunch with Gene at the Four Georges restaurant in Georgetown, DC on March 28, 1979 – coincidentally the same day and hour of the now infamous Three Mile Island nuclear power incident.
I was employed as a Research Associate at the Georgetown University Graduate School, working with Associate Dean T. Stephen Cheston on a NASA funded book titled Social Sciences and Space Exploration. Steve and I were also working closely with Dr. Gerard K. O'Neill – functioning as Gerry's eyes and ears in Washington. Our NASA sponsor was Gerry's supporter Jesco von Puttkamer, who spent much of his free time attending Star Trek conventions and cultivating support for NASA's new Space Transportation System (STS) – a.k.a. Space Shuttle – throughout the Trek community. Jesco felt it important that Steve and I meet Gene Roddenberry to gain some insight into his view of the future as we were writing the book.

Contact us for more information or to receive launch updates
Needless to say, the two hours we spent together that day made an enormous impression on me. So much so that shortly after co-founding Celestis, I reached out to my friend Lori Garver, then Executive Director of the National Space Society - and later NASA Deputy Administrator - seeking an introduction to Majel Barrett Roddenberry, who served on the NSS Board of Advisors. I knew of Majel's efforts to send Gene's ashes aboard Columbia and wanted to offer a similar opportunity on the Celestis Founders Flight (Celestis 01).  

Majel expressed an interest in listening to our offer after checking out the status of startup Celestis, Inc. with her friend Bobbie Slayton – wife of legendary "Right Stuff" astronaut Donald K. "Deke" Slayton. Deke was my boss at Space Services Inc. of America when the Celestis concept first was introduced in the 1980s, and always believed in the memorial spaceflight business. Deke passed in 1993 and Bobbie was very supportive in the early years of Celestis.
| | |
| --- | --- |
| | |
| Lori Garver | Bobbie Slayton |
Majel agreed to take a phone call, and agreed to place a portion of Gene's ashes aboard the Founders Flight. She had only one condition – that in the future at the appropriate time, we would agree to fly Gene and her together on one of our Voyager deep space missions. She wanted to spend eternity traveling through space with Gene. Of course, I said yes and we agreed to meet at Vandenberg Air Force Base when the Pegasus rocket carrying our Founders Flight payload to Spain for launch was to depart.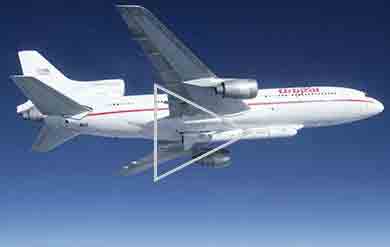 Archival launch footage of the first Celestis memorial spaceflight,

 

The Founders Flight

, April 21, 1997
So in the end, it was a lunch that provided the inspiration and three powerful women who made the connection that resulted in Gene Roddenberry being aboard our first mission. Gene would join Gerry O'Neill and others on a mission of purpose like no other.
As we approach the launch date of the Celestis Enterprise Flight – our first Voyager mission, I am pleased that I will finally be able to honor my commitment to Majel and launch the first family of Star Trek on an infinite voyager – joined by friend and crew mate Jimmy Doohan. There is really no more appropriate way to honor these treasured souls.