Celestis and MicroPets Join Forces to Launch Animated NFTs into Space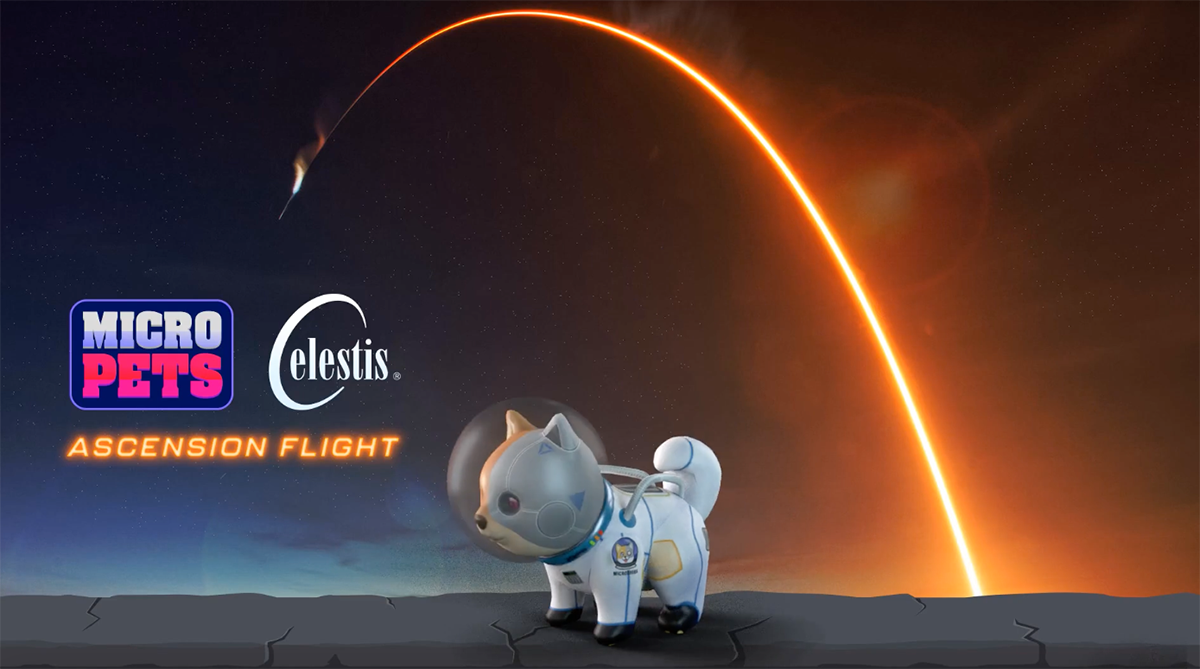 March 15, 2022 – Celestis, Inc., the pioneer and global leader in Memorial Spaceflight Services, today announced that they will be teaming up with MicroPets to launch unique animated NFTs on its 3 upcoming missions Ascension (Earth Orbit), Destiny (Luna) and Enterprise (Deep Space).
On Celestis' upcoming Ascension Flight, scheduled for June 2022, MicroPets will launch 200 limited edition 3D animated minted NFT's into Earth orbit on the Transporter 5 mission aboard a Falcon 9 Block 5 launch vehicle. This Launch is a dedicated rideshare mission by SpaceX. Celestis's Ascension mission will be provided by OmniTeq, and the Celestis payload will be integrated into the Varisat High Frequency (shortwave radio) Communications Satellite platform. The Flight payload will be housed in a 1u cubesat and deployed into Earth orbit directly from the Transporter 5 carrier craft.
Next, MicroPets will be putting out a custom-built app allowing users to purchase tickets to participate in Celestis' first ever deep space voyager mission (Enterprise), slated to launch in the 4th quarter of this year. They will also be able to participate in their Luna mission, Destiny which is slated to launch in 2023. Users will be able to submit a photo or drawing to be launched into space.
"MicroPets is extremely excited to partner with Celestis and drive enthusiasm and awareness to STEM programs all over the world" Said Tony, CEO of MicroPets.
For Celestis' Enterprise and Destiny missions, MicroPets will be partnering with schools in efforts to support Science, Technology, Engineering, and Mathematics (STEM) programs and the ever-growing love humanity has for space exploration. Through this initiative, students will be able to digitally submit a drawing of themselves, their favorite pet/animal and what they think they might find in space to be flown on the rocket for free.
"We are pleased to welcome Micropets aboard our Celestis missions," said Charles M. Chafer, Co-Founder & CEO of Celestis, Inc. "Our cutting-edge missions always include content designed to encourage STEM students' interest in space. Flying our first NFT is a continuing example of just how inspiring space travel can be."
Once MicroPets has reached their goal of 1 Million submissions they will create a mosaic of all of the images and upload a one of a kind NFT that will be launched into space on the Celestis' Enterprise and Destiny missions alongside the student's drawings.
About Celestis
Celestis, Inc. is the pioneer and iconic global provider of Memorial Spaceflight Services for those seeking to celebrate a life or the life of a loved one with a uniquely compelling memorial experience. Celestis missions offer four unique destinations: reaching into suborbital space, Earth's orbit, the Moon's surface, and now - with the Enterprise Flight - to interplanetary space. Celestis services are available through our online portal www.celestis.com and via a network of more than 3,000 funeral service providers worldwide. Reservations remain open for the Ascension Flight and other Celestis missions.
Since its first mission – the 1997 Founders Flight – and through 16 subsequent missions to date, Celestis has been recognized by nearly every prominent member of the global media, by distinguished organizations, including the National Space Society and the Space Frontier Foundation, and most importantly by its clients from all walks of life – from astronauts to truck drivers - as a leader in both the commercial space industry and among emergent alternative funeral services providers. Every Celestis mission brings families together from around the world to witness the launch of their loved ones on a final mission of purpose. We will conduct a multi-day set of mission-related events for the Ascension Flight, culminating with viewing the launch from Cape Canaveral, FL.
For more information on the Celestis Ascension Flight, visit the Celestis website at www.celestis.com, or call 1-866-866-1186. For mission-related content, please visit https://www.celestis.com/launch-schedule/ascension-flight. Follow us at facebook.com/memorialspaceflights, twitter.com/celestisflights, and instagram.com/celestismemorialflights
About MicroPets
MicroPets is one of the most popular cryptocurrency projects on the Binance Smart Chain. Users are able to purchase 3D NFT's of virtual pets, using them for passive income while also opening the doors to a vastly expanding ecosystem. The pets range from cute loveable puppies to more exotic pets, such as a tiger. MicroPets is a unique and family-friendly way for people of all ages to enjoy and learn about investing. The team also has a play-to-earn game set to launch this quarter in addition to an innovative rewards solution. MicroPets has sold tens of thousands of NFT's.
Press Contacts:
Celestis, Inc.
Pazia Schonfeld
845-721-9456
Pazia@universeprcentral.com
MicroPets
Matthew Johnson
marketing@micropets.io
micropets.io