A Day in the Life at Celestis: Pre-Launch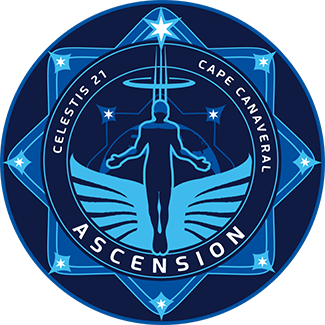 by Emily Carney
The journey was a surreal dream. This world was about knowing the person you'd always wanted to be and setting your foot down to it, remembering the person you'd thought you were as a child and rejoicing in its living, breathing actuality. – Author Christopher Hawke
Before discussing my Celestis experience, I thought I'd give some background about myself: I am a space historian and podcaster from the Saint Petersburg, Florida area, and grew up not far from Florida's Space Coast. I remember my first launch vividly: November 1981's STS-2, Space Shuttle Columbia's second flight. My family had recently moved to Florida, and the Space Shuttle program had just begun. My mother took toddler me outside to watch the launch; as we faced the East, I could see two orange columns – the Shuttle's solid rocket boosters – ascend into the morning sky. The trajectory curved upward as Columbia made its way into Earth orbit. You could say STS-2 was the first launch I "covered." The image of the twin orange flames against the bright blue sky has never left my consciousness.
Although I was only three, I knew this was something headed to space, and I was permanently hooked. Since then, I've probably seen thousands of launches (I have since stopped counting the number). I've refused to become jaded – in my eyes, launches have never lost their unique beauty and excitement.
Fast forward nearly 41 years, and I parlayed my love of spaceflight into a career. Celestis Memorial Spaceflights' Ascension Flight was the first launch I covered as a member of its team. I was excited to be a part of a company with a rich heritage in commercial spaceflight that provided families with novel, unique space memorial ideas for their loved ones. During the 1980s, when I was watching Shuttle launches, I never imagined space funerals would be a reality – they seemed like something so uber-futuristic, like something out of Star Trek. But in my lifetime, memorial spaceflights have become not only a viable burial method but also are more reasonably priced, given the upward tempo of commercial spaceflights during the last decade. As humanity further stretches out into the cosmos, it's only natural that our traditions here on Earth will disseminate into space.
Celestis Memorial Spaceflights Director of Content Emily Carney greets the family of Travis Michael Casey during Ascension Flight pre-launch registration. Photo credit: Rene Valdez

From the start of the pre-launch experience, I became aware that this wasn't just another space launch. It was an experience. For starters, I met a Tampa Bay family whose brother and uncle – who was around my age when he unexpectedly passed away – I could have run into during my many excursions to Kennedy Space Center and Cape Canaveral.
Derek Yanes, one of the 47 brave passengers aboard the Ascension Flight, suffered from Congenital Adrenal Hyperplasia (CAH), a chronic condition that affects cortisol and adrenaline production. This, unfortunately, put any ambitions of going to space during his lifetime to rest; at the time of his diagnosis in the mid-1970s, his family was informed he'd be lucky to survive to celebrate his 10th birthday. Derek beat the odds by several decades and lived to be 46. He was also a lifelong space nut, and the Space Shuttle program also spurred his love of spaceflight.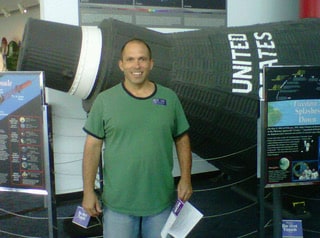 Derek Yanes' spaceflight dreams became a reality during Celestis' Ascension Flight. Photo credit: Yanes' family

His sister, Melissa Teston, told me of his passion: "I watched my brother, as a child, with my dad building rockets. They would go to the model shop…they would build these intricate rockets, and they would go out into a field [where they would launch]. He was completely turned on by the spaceships here [at Kennedy Space Center]. He went along to every park. My mother taught us the orbits. We knew everything about the boosters," she enthused.
My interaction with Melissa made me realize that we humans have more in common than we think. Derek was easily someone I could have run into at a space-related event or a launch. Also, as someone with a chronic illness, I understand how spaceflight can be an attractive "escape" when things are challenging. Five years ago, I was diagnosed with a rare blood disease; while my long-term prognosis is good, the initial diagnostic process was terrifying to me. Being in "rare disease" territory made me feel alien, lonely, and isolated.
I escaped into old Shuttle launch videos on YouTube and my extensive library of space books to busy my mind and keep thoughts of painful, frequent blood draws at bay. One becomes aware that something much bigger exists than any illness or infirmity. While I cannot speak for Derek, he may have found a unique sort of peace in following spaceflight against the backdrop of his disease. I know I did (and do).
I left my interaction with Melissa regretting that I never got to befriend Derek during his all-too-short lifetime. However, she emphasized that she still saw his presence everywhere. His story has allowed families affected by CAH, diagnosed in less than 200,000 people per year in the United States, to connect. "For the first time last night, we had a patient reach out to us. We share the story and recognize the connection…the other part is having families supporting patients and their children," she beamed. Derek Yanes' impact on other CAH patients, his unparalleled love of spaceflight, and the Ascension Flight memorial spaceflight are among his legacy.
As the time of the pre-launch memorial service approached, I was struck at the mood of the crowd awaiting their turn to say goodbye to their loved ones: they weren't somber. They weren't wearing all-black. There was something in the air approaching joy that their loved ones were about to have an ongoing legacy in low Earth orbit. Having said goodbye to several friends during the last two years, I know that memorials are often solemn occasions, and we receive no real sense of closure from them. One still feels like you're giving a send-off to a life unfinished. In my eyes, the mood before Celestis' memorial spaceflight service was more one of hope than melancholy. There was hope in knowing the flight participants had an ongoing mission, even following death, which can seem so final and dark.

Contact us for more information or to receive launch updates
I was reminded of lyrics by Jay-Z. In 2003, he released The Black Album, which was supposed to be his final recording:
…I learned that all things must come to an end
It is an inevitable part of the cycle of existence
All things must conclude
Take the analogy of a tree that grows in Brooklyn
Among the steel and the concrete
With all its glorious branches and leaves
One day it too will pass on its legacy
Through the seeds it dropped to the ground
And as the wind carries these seeds throughout wherever they might move
A new life will begin for each one of them
As they stand as a monument to the one that came before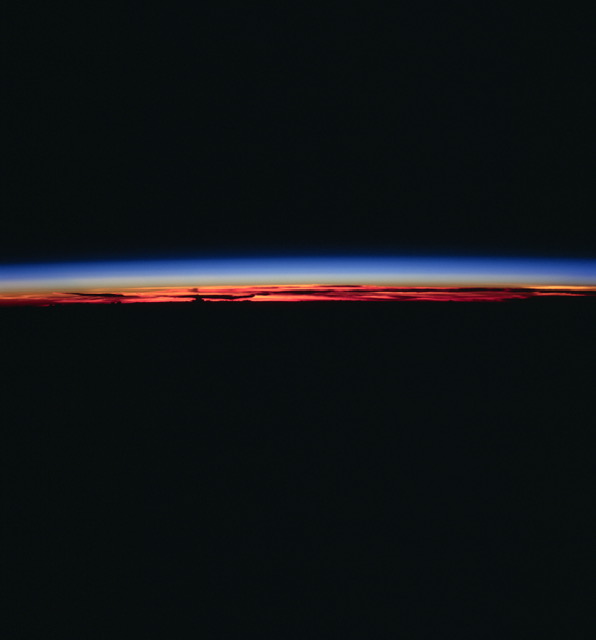 What astronaut Don Thomas saw from space: Earth view photographed during STS-83, one of his four Space Shuttle missions. Photo credit: NASA
An Astronaut's Perspective
Former NASA astronaut and four-time Space Shuttle flier Don Thomas – whom Yanes saw launch from Kennedy Space Center during his lifetime – also knows how to beat the odds. Thomas applied to NASA several times in his quest to become an astronaut…and was rejected nearly just as many times. "It took me four applications to get into the program. The first time I applied, NASA turned me down. The second time they turned me down. The third time I got close, I made the group of a hundred semifinalists and went through the interview. They even did a security background check on me. I thought I had made it that third time, but ultimately, they turned me down," he related. The affable, easygoing Thomas remained undaunted and decided to apply yet again.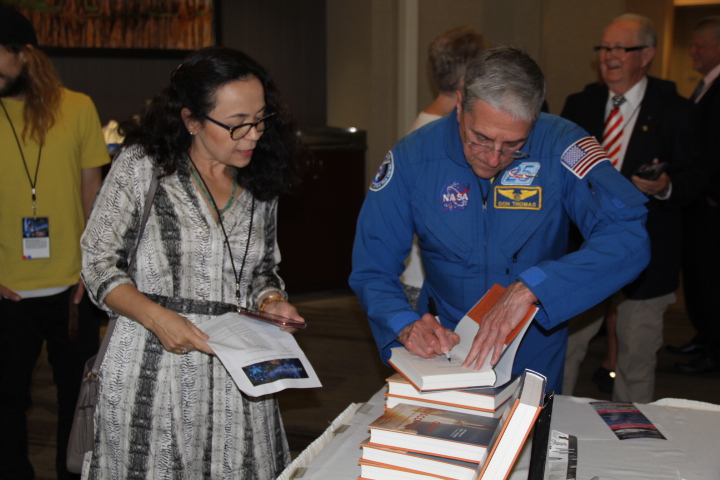 Astronaut Don Thomas signs copies of his book, Orbit of Discovery, for Celestis' families on Tuesday, May 24, 2022. Photo credit: Rene Valdez.
"I moved to Houston to get a job so that they could get more familiar with me. And the fourth time I applied, I got it. So, we have a joke at NASA that they automatically turn you down the first time to see how bad you want it. That's not true, but it sure seems like I only know one or two astronauts that applied and got in the first time. So, perseverance is something that NASA is looking for. And my story is not unique. You talk to any astronaut, and they probably applied two, three, four, or five times…perseverance is a great trait."
Both Yanes' and Thomas' stories underscore that no matter what, one shouldn't give up on their goals, no matter how lofty they seem. Thomas emphasized, "Many people dream of going into space, and it's not always possible today, but tomorrow it may be, and here people have persevered. And their dream is about to come true to venture into space tomorrow for the first time. I think that perseverance, whatever your dream is in life…this is what I tell young students and everybody else that will listen: you need to persevere and never give up on your dream. Whatever your dream is. It's really important to never give up on that. I almost gave up on my dream after NASA turned me down three times, and had I given up, I wouldn't be here today, sharing these experiences."
Thomas' wonder about the sights he viewed in space has never dissipated. He enthused, "By the time I launched, I was confident I knew what to expect. But the first time I went to the window and looked out, I just gasped at the beauty! You just go ahhhhh, and it takes your breath away. And a few things that are the most striking are how thin our atmosphere is. It is just a paper-thin layer. It's glowing bright blue, like a blue, fluorescent light along the edge of the Earth, and coming right up against that atmosphere is that pitch-black sky. And it's a darker black color than I've ever seen before. Just breathtaking."
Celestis' families and friends will know that their loved ones are experiencing that vision as they orbit the Earth every 90 minutes, seeing exquisite orbital sunrises and sunsets every 45 minutes. But before that, they'll see their loved ones receive the ultimate send-off: a SpaceX rocket launch followed by a Falcon 9 first stage landing, complete with thunderous sonic booms. It's a fitting finale for a "burial in space" – the final salute to a life well-lived. Thomas remains a space nut and describes what that experience will be like for those watching: "They'll see the first stage coming down with a big sonic boom. I told some of the families that this is a one-gun salute to your family member. You know, to send them off on their trip to space."