Ascension Flight Astronaut Spotlight – Dr. Don Thomas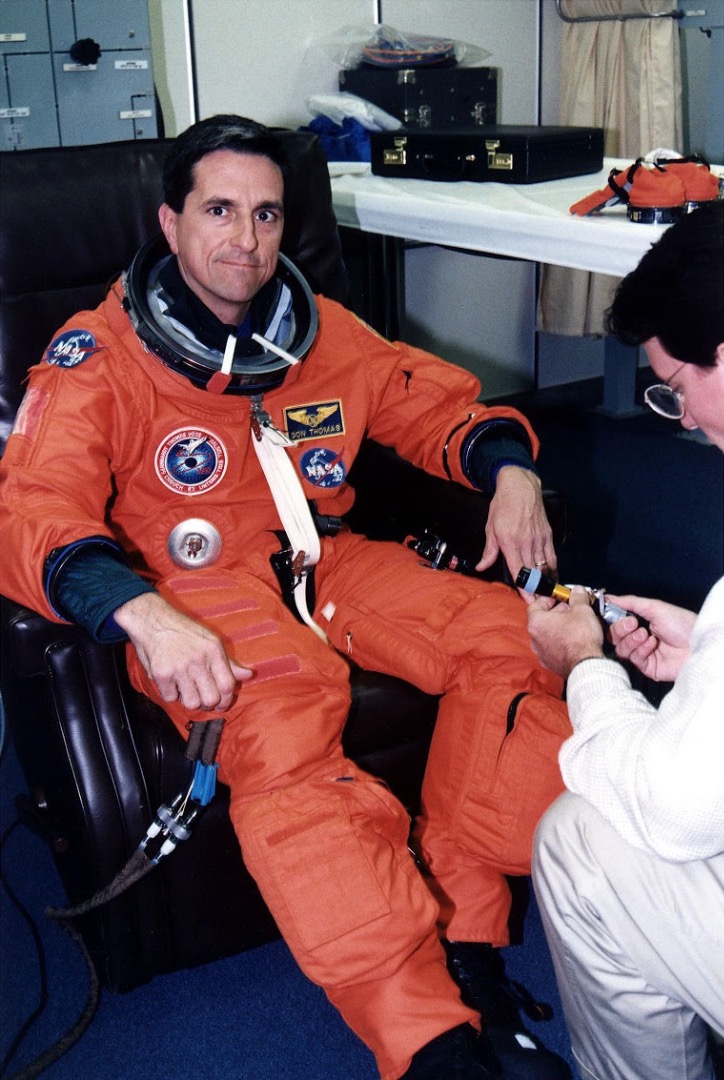 STS-83 Mission Specialist Donald A. Thomas is assisted into his launch/entry suit in the Operations and Checkout (O&C) Building. He has flown on four shuttle missions. He holds a doctorate in materials science and has been the Principal Investigator for a Space Shuttle crystal growth experiment. Image Credit: NASA/Google Arts & Culture
by Emily Carney
 
Celestis Memorial Spaceflights was honored and humbled to host four-time Space Shuttle astronaut Dr. Don Thomas at the Ascension Fight pre-launch events. Dr. Thomas signed copies of his book Orbit of Discovery for Celestis' families and friends and spoke at the Ascension Flight memorial service.
 
According to his website, Dr. Thomas "is an astronaut, scientist, professional speaker, educator, and author of Orbit of Discovery about his STS-70 mission aboard Space Shuttle Discovery. A veteran of four flights, Don has spent 44 days in space and orbited the Earth nearly 700 times. Today, Don is helping to inform and excite the public about our future in space and preparing our next generation of scientists, engineers, and explorers for their missions in the future."
 
Dr. Thomas flew on Space Shuttle missions STS-65, STS-70, STS-83, and STS-94, logging over 1,040 hours in Earth orbit. His book Orbit of Discovery is described as "an engaging first-person account of [Space Shuttle] Discovery's STS-70 mission that shares the excitement, passion, adventure, accomplishments, and sheer fun of the Space Shuttle Program." Thomas' book, written with Mike Bartell, describes the unexpected challenges (such as a rogue woodpecker) involved in preparing for a space mission and the wonder of exploring space with a famously "all Ohio" crew of astronauts. Orbit of Discovery also discusses the beauty of our planet Earth as viewed from low Earth orbit. It features a foreword by legendary Mercury and Shuttle astronaut John Glenn and an introduction by former Ohio Governor George Voinovich.
The cover of Don Thomas' book Orbit of Discovery. Image Credit: www.ohioastronaut.com 
Thomas knows a lot about perseverance, as he applied not once but three times before he was accepted to NASA's astronaut corps in 1990. In his words:
 
It took me four applications to get into the program. The first time I applied, NASA turned me down. The second time they turned me down. The third time I got close, I made the group of a hundred semifinalists and went through the interview. They even did a security background check on me. I thought I had made it that third time, but ultimately, they turned me down.

Contact us for more information or to receive launch updates
The affable, easygoing Thomas remained undaunted and decided to apply yet again. "I moved to Houston to get a job so that they could get more familiar with me. And the fourth time I applied, I got it. So, we have a joke at NASA that they automatically turn you down the first time to see how bad you want it. That's not true, but it sure seems like I only know one or two astronauts that applied and got in the first time. So, perseverance is something that that that NASA is looking for. And my story is not unique. You talk to any astronaut, and they probably applied two, three, four, or five times…perseverance is a great trait," Thomas enthused.
 
Thomas served as the International Space Station (ISS) program scientist following his four spaceflights, overseeing experiments aboard the world's orbiting scientific platform. He retired from NASA in 2007; since his retirement, he has spoken to thousands of schoolchildren about his experiences as an astronaut, the importance of education, and never giving up on one's dreams. "Whatever your dream is, it's really important to never give up on that. I almost gave up on my dream after NASA turned me down three times, and had I given up, I wouldn't be here today, sharing these experiences," Thomas related.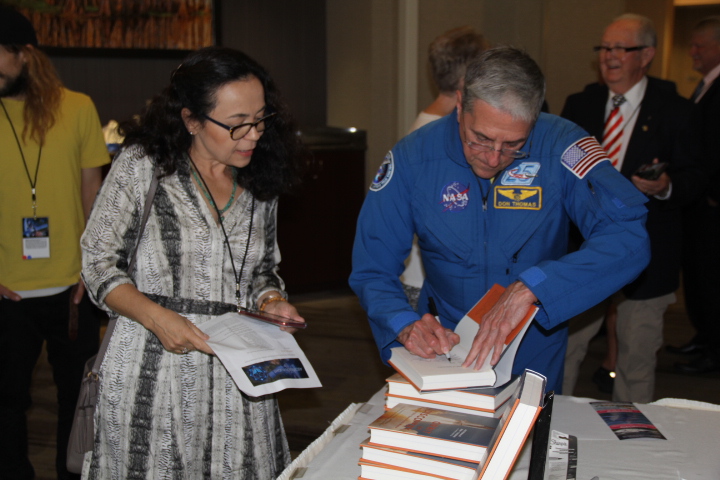 Astronaut Don Thomas signs copies of his book, Orbit of Discovery, for Celestis families on Tuesday, May 24, 2022. Photo credit: Rene Valdez.
His determination led him to view exquisite sights in orbit: "The first time I went to the [Shuttle] window and looked out, I just gasped at the beauty! You just go ahhhhh, and it takes your breath away. And a few things that are the most striking are how thin our atmosphere is. It is just a paper-thin layer. It's glowing bright blue, like a blue, fluorescent light along the edge of the Earth, and coming right up against that atmosphere is that pitch-black sky. And it's a darker black color than I've ever seen before. Just breathtaking."
 
At Celestis Memorial Spaceflights' Ascension Flight memorial service, Thomas spoke about what Celestis' families and friends would experience during their loved ones' space burial:
 
You're in for a great experience tomorrow. When they light the rockets, it will take 10 or 15 seconds for the sound waves to get to you, so it's going to be silent except for your yelling and screaming that's going to be going on – that would be the noise for all of you. Then you'll hear the roar of the engines, you'll feel the sound waves coming, and it'll just be spectacular.
 
About 10 minutes or so after the rocket launches, the first stage of the Falcon 9 rocket is going to come down and land. I saw the very first one that landed back here in Cape Canaveral…when it landed, I was about 10 miles away. You're going to be a lot closer than that. And when it landed, it was beyond the trees in the scrub. I couldn't see the actual landing. But as it went behind the trees, suddenly, there was a huge explosion. Boom! I thought, well, that thing just blew up. But it successfully landed – what I was listening to was a sonic boom. That took place probably 10 minutes earlier. It took that long for that soundwave to get back to me here on planet Earth. …That's like a salute to your friends and family.
 
Not a 21-gun salute, but this is one heck of a salute on their final journey into space.
***** 
Dr. Don Thomas' book Orbit of Discovery is available via his website's store. Some of the content for this piece was derived from "A Day in the Life at Celestis: Pre-Launch," written by Emily Carney.