Space Services Inc. and Celestis: A Past, Present, and Future of Firsts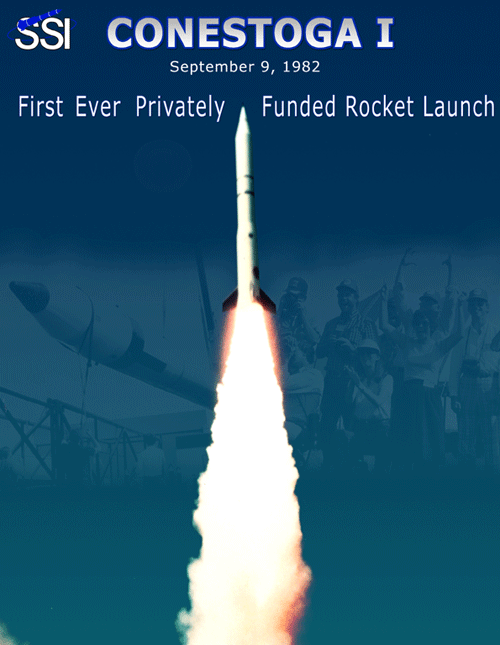 Conestoga 1 Image Credit: Gunter Krebs
Celestis and its parent company, Space Services Inc. of America (SSIoA), have a rich heritage spanning four decades from the dawn of commercial spaceflight. Unparalleled in tenacity, Celestis and SSIoA have overcome adversity to flourish in an ever-changing spaceflight industry. The Enterprise Flight – Celestis Memorial Spaceflights' first deep-space Voyager Service mission – will add a round of more "firsts" to the company's milestones.
First Privately Funded Launch Vehicle
SSIoA was founded in 1981 by Houston entrepreneur David Hannah, Jr. Inspired by an article he read in a 1976 issue of the Smithsonian magazine written by space settlement pioneer Dr. Gerard K. O'Neill, Hannah believed the private sector could innovate spaceflight technology more quickly than governmental agencies. In 1982, Hannah brought on retired NASA astronaut Donald K. "Deke" Slayton as a consultant, and the company began designing its entrée into the commercial space industry: the Conestoga 1 launch vehicle. 
According to a Space Services Inc. article, "Conestoga 1 required unprecedented action by industry and government actors to enable what was previously the sole province of sovereign nations. In a single year, investors were assembled, a surplus Minuteman 2 rocket was licensed by NASA, a dozen federal agencies granted regulatory approval, media and event teams were assembled, and a launch site was constructed on a remote Texas island. The result was a successful and historic mission broadcasted to a fascinated public worldwide."
Conestoga 1's successful launch from Matagorda Island, Texas, on September 9th, 1982 ushered in the era of privately funded spaceflight decades before SpaceX, Blue Origin, and Virgin Galactic were founded. Slayton became SSIoA's first president and dedicated the last decade of his life to commercial spaceflight endeavors. It also caught President Ronald Reagan's attention, who congratulated Hannah. Conestoga 1's launch led to more SSIoA industry firsts, including:
Congress, after receiving testimony from Hannah and Slayton, enacted the Commercial Space Launch Act of 1984 and the Land Remote Sensing Commercialization Act of 1984 to establish the regulatory framework that governs the commercial launch and imagery industries;
First NASA provision of retired missile assets to be converted to space launchers (Minuteman and Conestoga 1);
Utilization of a non-governmental, federally approved launch site (also Conestoga1); 
First mission approval from DOT/FAA for a private space mission to orbit;
First commercial launch license to conduct a private launch from DOT/FAA (Starfire 1, 1989);
First private launch from a USG launch site (Starfire 1 WSMR, U.S. Army); 
First-ever purchase of a commercial launch service by NASA (Starfire 1); 
The first agreement between NASA and a private launch company to lease NASA launch facilities (SSI/NASA Wallops Flight Facility, 1986);
First commercial smallsat Earth remote sensing venture (Space America subsidiary, 1984); and
First FCC application for LEO smallsat multi-satellite communications system (Globesat Express, 1987).
First Private Memorial Spaceflight
In 1994, former SSIoA employees Charles M. Chafer and R. Chan Tysor founded Celestis, Inc. Deke Slayton, who died in 1993, at one time envisioned memorial spaceflights as part of SSIoA's slate of services; Chafer and Tysor founded Celestis in part to realize Slayton's dream. On April 21st, 1997, the Founders Flight launched 24 brave participants, including Star Trek® creator Gene Roddenberry, 1960s counterculture figure Timothy Leary, rocket scientist Krafft Ehricke, and Dr. Gerard K. O'Neill – the Princeton scientist who inspired David Hannah, Jr. – into low Earth orbit aboard an Orbital Sciences Pegasus XL launch vehicle.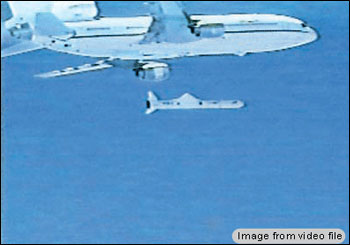 Video screenshot of the April 1997 Founders Flight. Image Credit: Celestis, Inc.
The Founders Flight also entered Celestis and its memorial spaceflights into the cultural ethos.  A previous Celestis Memorial Spaceflights blog enthused, "This Celestis Earth Orbit Service launch garnered worldwide media coverage, including the BBC, CNN, the New York Times, and the Washington Post." The idea of memorial spaceflights and "space burials" caught the attention of thousands seeking to pay tribute to loved ones and friends in a unique, truly "out-of-this-world" manner. Since then, Celestis has flown 17 more memorial spaceflights, the most recent being May 2022's Ascension Flight.

Contact us for more information or to receive launch updates
First Lunar Memorial Spaceflight
On January 6th, 1998, NASA's Lunar Prospector mission launched from Florida's Cape Canaveral Air Force Station carrying a special payload: a portion of Dr. Eugene Shoemaker's ashes. Shoemaker was one of the world's leading planetary scientists and dedicated much of his career to studying the lunar surface. At NASA's request, Celestis placed a symbolic portion of his ashes aboard the spacecraft. On July 31st, 1999, Lunar Prospector impacted a shadowed crater near the Moon's south pole, creating a fitting, permanent lunar monument to Shoemaker. This mission fulfilled Celestis' first Luna Service.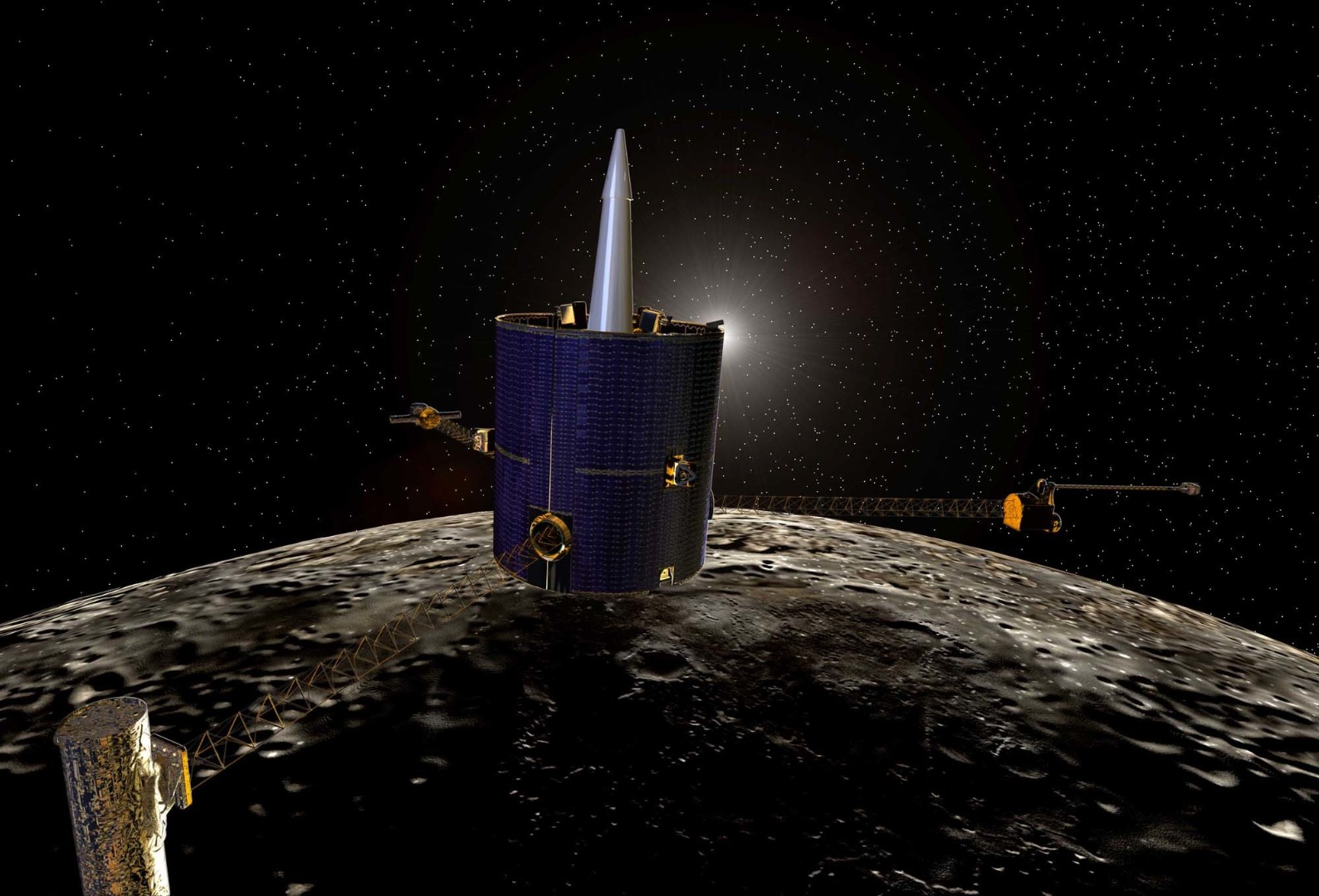 Artist's concept art of Lunar Prospector. Image Credit: NASA/Ames
Celestis' Tranquility Flight will be aboard Astrobotic's Peregrine spacecraft, the world's first commercial lunar lander. This mission will also be the first U.S. lunar landing since December 1972's Apollo 17, fulfilling yet more milestones for Celestis.
First Outpost of Humanity in Deep Space
Celestis Memorial Spaceflights' first Voyager Service mission, the Enterprise Flight, will be an evocative deep space voyage like none other. The Enterprise Flight will be renamed Enterprise Station once it reaches deep space and will be the first imprint of humanity – with its DNA, data, and memorial flights – to travel beyond the Earth-Moon system, becoming part of the deeper cosmos. The mission will also mark the first flight of ULA's Vulcan launch vehicle.
Moreover, Enterprise Station will serve as a beacon to "others" – a representation of Earth, its customs, and its culture to possible other lifeforms that may exist in our galaxy. It will be humanity's first outpost in deep space, rounding out Celestis' roster of milestones.
***** 
Portions of this article are excerpted from Celestis Firsts and About Space Services.