Making Space For The Future: Celestis, Commercial Spaceflight, and Fostering An Off-World Economy
Share
Making Space For The Future: Celestis, Commercial Spaceflight, and Fostering An Off-World Economy

:
SpaceX's Falcon Heavy lifted off on June 25, 2019, fulfilling Celestis' Heritage Flight. Image Credit: SpaceX
by Emily Carney
 
In September 1982, a small company called Space Services, Inc. of America (SSIoA) changed spaceflight forever. During a period when the U.S. Space Shuttle was just becoming "operational," SSIoA launched the world's first privately funded mission to space from America's first licensed private commercial spaceport in Matagorda Island, Texas. This successful mission underscored that NASA wouldn't be the only U.S. entity capable of launching rockets to space in the future. It not only opened the pathway to more non-NASA launches, but it also hinted at the future establishment of what Dr. Gerard K. O'Neill called "The High Frontier." In which, regular civilians – not necessarily affiliated with a space agency – would, one day, be able to work and live in space. SSIoA set the precedent for modern-day private spaceflight companies, such as SpaceX and Blue Origin.
Another company founded out of SSIoA would further change the face of spaceflight – it would not only provide families with an opportunity to give their loved ones a genuinely permanent tribute, but it also supported the ever-growing commercial space industry, thus helping to establish and maintain an off-world economy. That company, founded by Charles M. Chafer and R. Chan Tysor, was called Celestis, Inc. Since its very beginnings, Celestis has been a pioneer in the canon.
 
Celestis, Inc.'s Rich Heritage
 
Celestis' origins can be traced directly to SSIoA, led by former NASA "Mercury 7" astronaut Donald K. "Deke" Slayton, entrepreneur David Hannah, Jr., and Chafer. While Slayton's start in spaceflight was obviously at NASA, Hannah's interest in the field was ignited by O'Neill, whose visions of space settlements had made it to the front pages of national newspapers by the mid-1970s. In an interview with O'Neill's non-profit organization, Space Studies Institute, in late 1983, Hannah discussed what marked his entry into space entrepreneurship: "My start in the private venture was through the Smithsonian article by Dr. O'Neill in 1976. In that article, he explained how much closer we were to the utilization of space than anybody believed. I thought, 'Well, that's true, and I'll see what happens.'"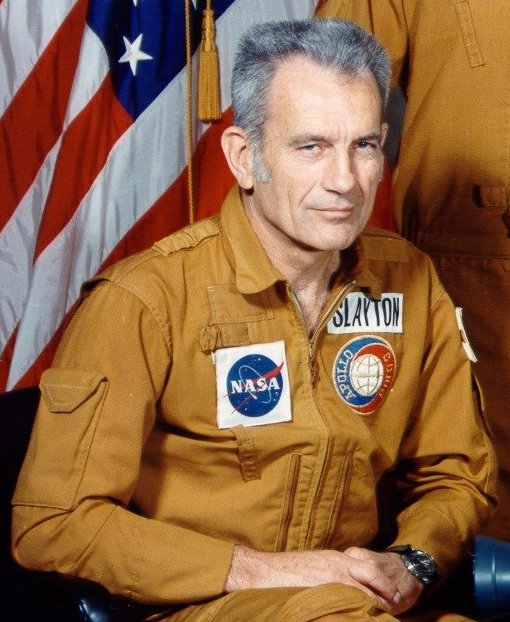 Donald K. "Deke" Slayton pictured circa 1975. Image Credit: NASA 
In that same interview, Hannah predicted that innovations in spaceflight could be adequately funded via private enterprise; in fact, he believed that developing space technologies could be better served using this model. He emphasized, "I think the main reason that we can fund it is that we can take state-of-the-art-space technology, and utilize it much more quickly than a government or an agency, or even a large corporation can. We can make changes in design better than any one of those three; that's what private enterprise can do best." By September 9th, 1982, after receiving its U.S. agency approvals, SSIoA was ready for its world debut with the launch of Conestoga 1. But would it be a success, or would the first attempt at a privately funded launch be nothing more than an embarrassing blunder?

Contact us for more information or to receive launch updates
Spoiler: Conestoga 1 was a resounding success. According to an SSIoA history of the historic first launch: "At 10:12 am, after a flawless countdown, Conestoga 1 lifted off from its concrete pad, roaring toward the sun and reached an apogee of over 160 miles before splashing down approximately 600 miles downrange in the Gulf of Mexico. The mission achieved all of its goals, and the commercial space age was born. As Gemini and Apollo astronaut Gene Cernan noted that evening on ABC News Nightline, 'I think we've got a start today that is motivating the minds and the ideas of a lot of other people out there who have nothing to do with Conestoga.'"
 
SSIoA not only achieved its goals for this first milestone but also received the first NASA contract for the launch of payloads aboard a commercial rocket, was granted permission via an agreement to use a U.S. launch site, and according to the aforementioned history article, pioneered "the introduction of the first commercial land remote sensing satellite mission." Conestoga 1 also gained the attention of President Ronald Reagan, who wrote in a letter to Hannah, "in blazing a new trail through the skies, you have shown the potential of private enterprise to perform even the most sophisticated technical feats." A previous Celestis blog post stated that by 1984, "…Reagan issued an Executive Order designating the Department of Transportation as the lead regulatory agency for commercial space transportation. In 1984, Congress enacted The Commercial Space Launch Act, which today remains the governing law enabling private space transportation."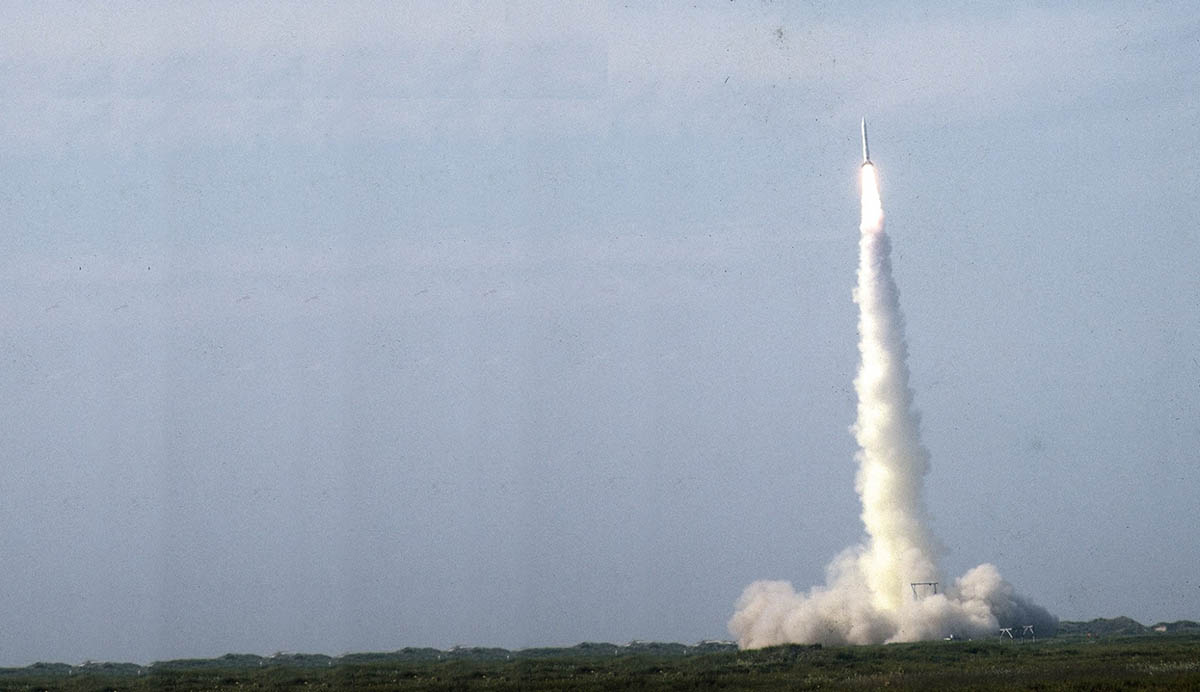 Conestoga 1 lifted off into the history books on September 9, 1982. Image Credit: Celestis, Inc.
During this time, Slayton became interested in flying memorial missions to space that were conceptually very similar to the current Celestis model. Chafer stated, "Deke was overjoyed when we landed our first paying customer – the Celestis Group of Melbourne, Florida." But ultimately, the idea fell through. In 1993, Slayton sadly passed away following a battle with brain cancer.
 
By 1994, Chafer and Tysor were ready to make Slayton's dream a reality: they founded Celestis, Inc. Very quickly, the new company's model – utilizing commercial space vehicles to fly memorial spaceflights, making space burials an affordable reality for families seeking one-of-a-kind tributes – gained attention and support from the larger space community. And preparations for Celestis' first spaceflight were already well underway.
 
Celestis Lifts Off
 
While the company began to synthesize its debut mission, the space community quickly recognized Celestis' visionary entry into the commercial spaceflight arena. In 1996, Chafer was awarded the Space Pioneer Award by the National Space Society in the areas of business and entrepreneurship. By early 1997, three short years after Celestis was founded, the nascent startup made its first memorial spaceflight, which was dubbed The Founders Flight. Just as SSIoA's historic flight had captured media interest worldwide, Celestis' first foray into space was granted unprecedented coverage for a commercial space endeavor – CNN, the 24-hour news cable network, carried the live launch. The network had previously covered Celestis in a 1996 article. By April 21st, everything was in place for the inaugural launch.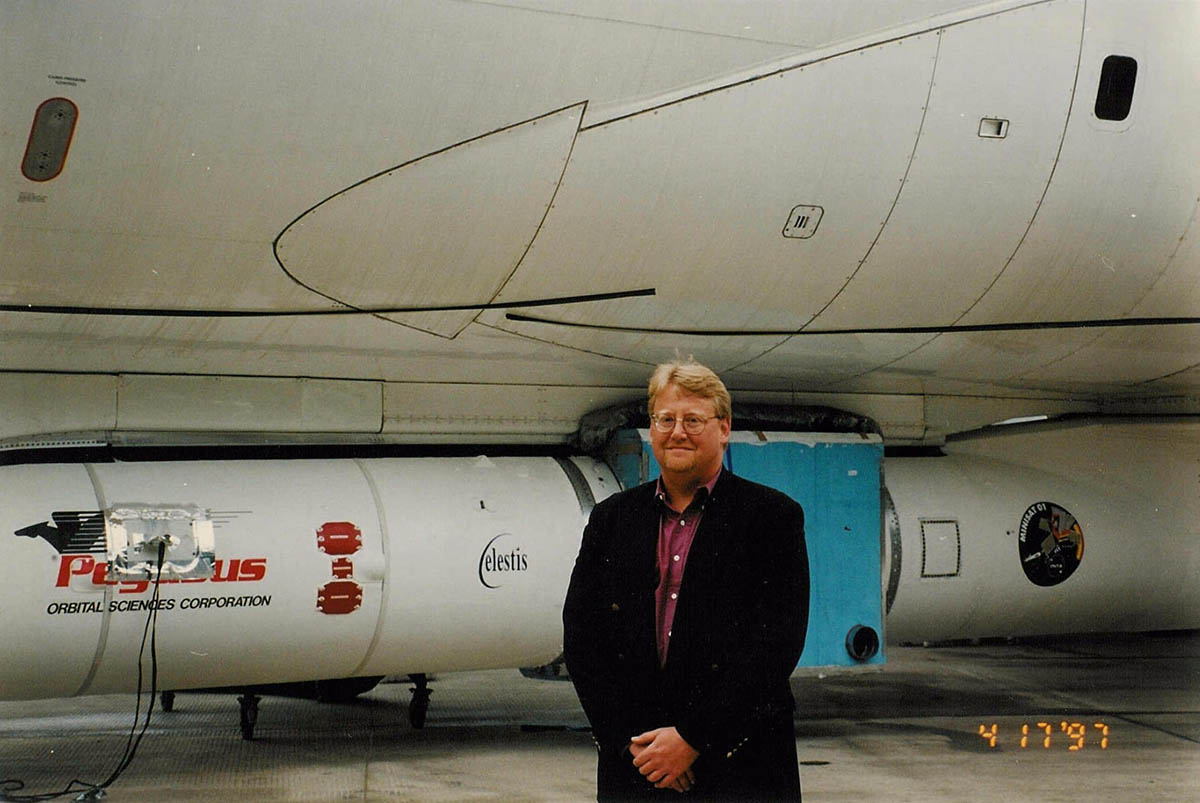 Charles M. Chafer, Celestis founder, with Orbital Science's Stargazer aircraft prior to The Founders Flight in 1997. Image Credit: Celestis, Inc.  
Carrying 24 pioneers – including the ashes of O'Neill, rocket scientist Dr. Krafft Ehricke, and 1960s counterculture figure Dr. Timothy Leary – an Orbital Sciences Pegasus XL booster was lofted by the Stargazer aircraft to an altitude of 38,000 feet, from where it was released over Spain's Canary Islands. Its main engine then ignited, and the rocket's three stages vaulted Celestis' payload successfully into low Earth orbit. The first memorial spaceflight was a success from start to finish, and the Space Frontier Foundation awarded Chafer 1997's "From Vision To Reality" award. Moreover, The Founders Flight set a precedent for decades of successful memorial spaceflights, boosted by privately-funded spacecraft.
Since 1997, Celestis has flown 17 other rocket-powered flights utilizing commercial launch providers. In 2012, the company was in worldwide headlines again when it was announced that James Doohan – Star Trek's "Mr. Scott" – chose Celestis to "bury" his ashes in space. Celestis and Star Trek continue to have a supportive relationship, decades following the death of its creator, Gene Roddenberry; in fact, on this year's first Voyager flight, dubbed The Enterprise Flight, Roddenberry and his widow Majel will finally "fly together" in deep space.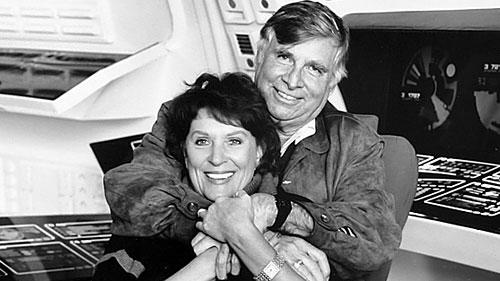 Gene and Majel Barrett-Roddenberry, on a Star Trek set, will fly together on the first Celestis deep space mission, The Enterprise Flight. Image Credit: Celestis, Inc. 
Celestis is a pioneer in supporting and utilizing the commercial space industry, but it has also supported the space community through its charitable contributions for several decades. Chafer stated in a recent interview that giving back to the community was one of the company's goals at the outset: "...We wanted to add the element of giving back to the community. So we wrote a mission statement that said we would choose projects, organizations, and individuals to support that we felt were advancing commercial space, exploration, and applications, as well as entities that were contributing to a better life on this planet." Since the 1990s, Celestis has helped financially contribute to the X Prize Foundation, Space Camp, the National Space Society, and more recently, the Space For Art Foundation, as well as other non-profits and charities.


It has nearly been 30 years following Celestis' entry into the world of spaceflight. The company has faced numerous challenges through the years – merely working in the commercial space arena has been something of a roller coaster. Moreover, within the last two years, the ongoing pandemic has challenged the space community along with the entire world. Still, Celestis proudly fulfills its founding principle of offering actual space missions to the global public. Looking fearlessly toward the future – The Enterprise Flight will see the company attain its goal of fulfilling its first deep-space mission profile, providing permanent, literally "out of this world" tributes for families and loved ones.
Contact us to make a reservation for the Enterprise Flight.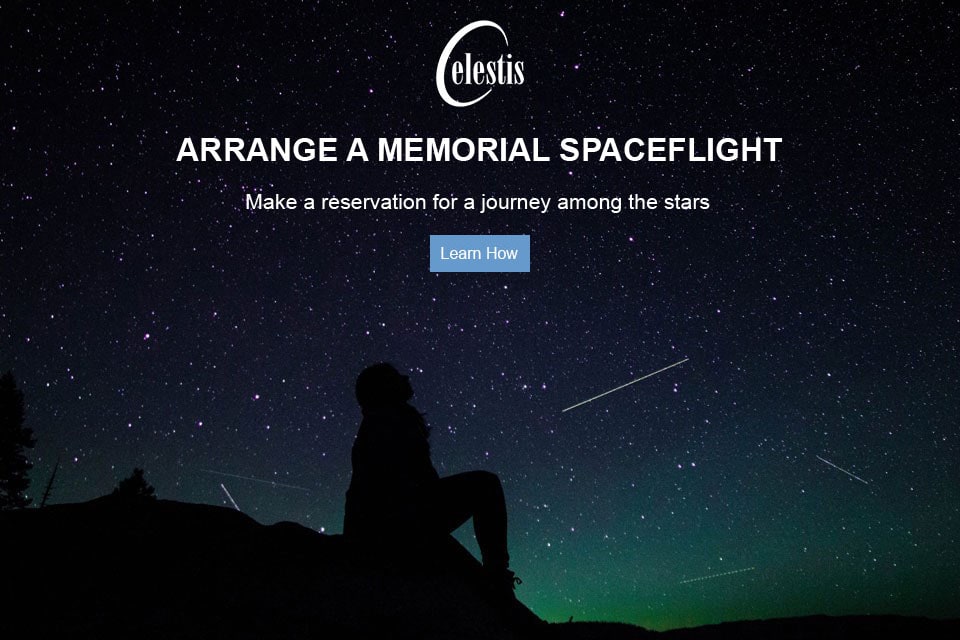 Further Reading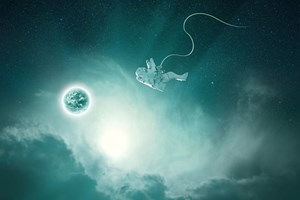 Why did Celestis' Director of Content, Emily Carney, purchase her own Celestis MindFile™? The answer is not as apparent as it might seem.

By Emily Carney on 11/25/2022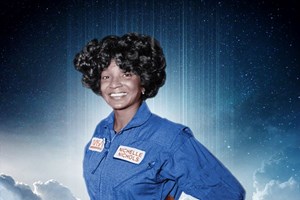 When Star Trek's Nichelle Nichols died in late July at age 89, she was lauded as the trailblazer she was during her lifetime. However, her story is far from over. In early 2023, she will fly alongside the DNA of her son, Kyle Johnson, aboard Celestis' Enterprise Flight. In addition, the Nichelle Nichols Foundation – announced today, on what would have been her 90th birthday – will continue to promote diversity in STEM fields.

By Celestis on 12/28/2022