New Frontier Flight
Celestis is pleased to announce the launch of our eleventh memorial spaceflight, The New Frontier Flight, a mission dedicated to the pioneering spirit of yesterday, today and tomorrow.
About the New Frontier Flight
The Celestis New Frontier Flight was launched aboard a Falcon 9 rocket with a primary payload of a Dragon Capsule loaded with supplies to deliver to the International Space Station - the first ever commercial delivery to the ISS.
Liftoff occurred at 2:44 am CDT, Tuesday, May 22, 2012 from Cape Canaveral, Florida.  Aboard were 320 Celestis participants – the largest Celestis mission ever – from the United States, Canada, Germany, the United Kingdom, China, India, Taiwan, Japan, Australia, the Netherlands, France, South Africa and Russia.
The New Frontier Flight is dedicated to three souls, one aboard, who passed away prior to seeing this mission completed but who contributed so much to Celestis and the dream of space for all of us:  David Hannah, Jr., Susan Schonfeld, and Jim Rogan (participant).
Earth Orbit Service
Mission Name:
New Frontier Flight
Launch Location:
Cape Canaveral, FL
Launch Date:
May 22, 2012
Launch Experience
Hundreds of friends and family members gathered to celebrate the lives of the 320 participants on board the New Frontier Flight.
Honored Participants
ABOARD THE NEW FRONTIER FLIGHT
What Our Families Are Saying
"We are pleased the sky is no longer the limit for Shawn. And when he comes down, he'll be a shooting star"
"He always spoke of being sent into space after his death, and I want to honor his request."
New Frontier Flight
Memorial Service
,
October 21, 2011
"I just received the DVD of the New Frontier Flight. It was beautiful and brought me to tears! Not only was the first part of the launch at night beautiful but the dedication to all the 'astronauts' that took their final voyage was inspiring! So many wonderful sendoffs for so many different people from all walks of life. I felt like I was actually there with everyone. Just beautiful!"
New Frontier Flight
226
,
June 02, 2015
"His request in the event of his death was that his remains be cremated and his ashes scattered into the winds from the highest peak his wife and kids could climb. Through Celestis Memorial Spaceflight service, a rocket - traveling faster than any wind on Earth - will climb into Earth orbit, higher than any peak on this planet. It will be through this memorial spaceflight that his dream of going into outer space will finally be fulfilled!"
New Frontier Flight
Memorial Service
,
October 21, 2011
"He was also a proud man who tried to live his dream until the dream was all that was left to him. He held inside of himself a spark and a vision that he passed on to his children. In the grand cosmic scheme of things he was an ordinary man who dreamed of a greater life. And that life was to be lived among the stars!....Thanks to Celestis, we can now, a decade after his passing, honor his wish and fulfill his life-long dream by sending him to the stars that were always his real home."
New Frontier Flight
226
,
October 21, 2011
"Scott was a fan of Star Trek from its very beginning. He liked Spock and his "logic" speeches. We, his family, believe that Scott will finally realize his dream of going into space. We are grateful for the services of Celestis, Inc."
"It is an honor to be able to fulfill his last wishes of being a part of the space that he so loved. He will forever now be looking over all of us."
"We continued to watch breathlessly as our loved ones began their journey into space. Some cried, others high-fived or hugged. I didn't cry as I expected, but instead a big smile crossed my face just as it had Steve's when he learned that he would be 'born anew as an astronaut.' I simply threw one arm skyward and shouted, 'Ad Astra, Steve.'"
New Frontier Flight
Memorial Service
,
October 11, 2011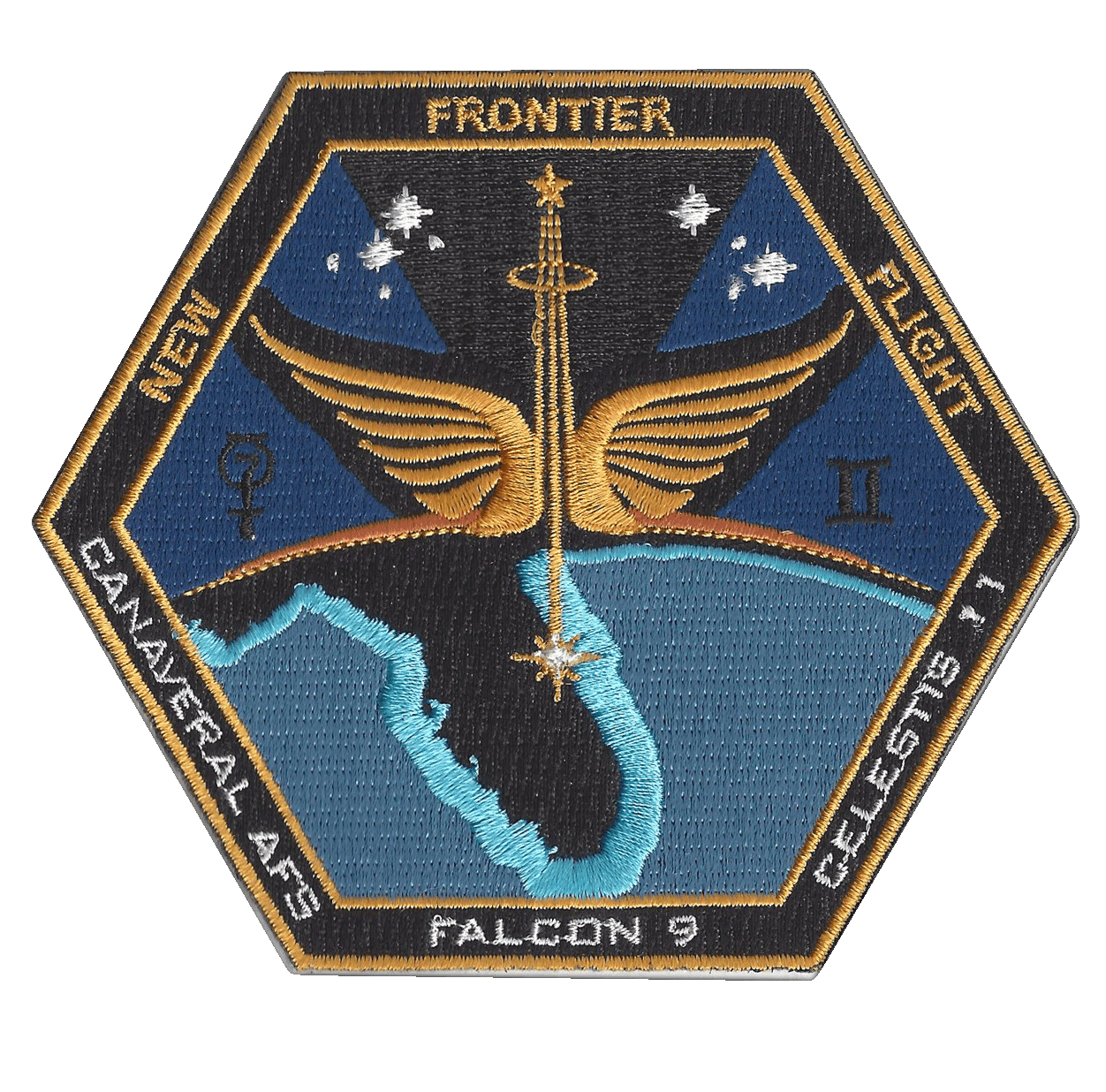 New Frontier Flight Mission Logo
The New Frontier Flight - The star burst in the center of the logo draws the eye to Cape Canaveral, Florida, home of the Canaveral Air Force Station and the launch pad for this mission. The Mercury symbol (left) and the Gemini symbol (right) remind of participant L. Gordon Cooper's flights to space during the time of John F. Kennedy's "New Frontier." The nine stars represent the nine engines on the Falcon 9 rocket needed to take bring this mission into orbit. Lastly, the wings in the center stand for the symbolic realization of space travel for all of the participants on the New Frontier Flight.
The New Frontier Flight logo is from well-known designer and illustrator Eric Gignac. Eric's portfolio also includes co-design of NASA Space Shuttle mission patches for the STS 128 and 133 missions.
Opens in a new window.
Opens an external site.
Opens an external site in a new window.
Subscription Result
Note: It is our responsibility to protect your privacy and we guarantee that your email address will be completely confidential.
×

Close