About the Millennial Flight
The Millennial Flight was launched December 20, 1999 at 11:13 p.m. Pacific Standard Time aboard an Orbital Sciences Corporation Taurus rocket. The launch occurred at Vandenberg Air Force Base, California. On board were participants from the USA, China, Japan, Germany and the Netherlands, including Greg Brown from Tulsa, Oklahoma.
Greg was only fourteen when he contracted a form of leukemia and became an early recipient of a bone marrow transplant because of the personal interest of US Representative Bill Young of Florida.  When Greg passed away, Rep. Young reached out to NASA to find out how to conduct a Memorial Spaceflight for Greg and NASA contacted Celestis.   
In addition to the Celestis payload, this flight included a Korean multi-purpose satellite (KOMPSAT), along with the NASA ACRIMSAT satellite designed for solar monitoring to study the level of radiation emitted by the Sun.
The Celestis spacecraft (designated as "CELESTIS 04/TAURUS R/B") is still in orbit and can be tracked here.  It is in a polar orbit approximately 430 miles in altitude and is expected to remain in orbit for approximately 240 years.
Earth Orbit Service #3
Celestis Memorial Spaceflight:
#4
Mission Name:
Millennial Flight
Launch Location:
Vandenberg AFB, Lompoc, California
Honored Participants
ABOARD THE MILLENNIAL FLIGHT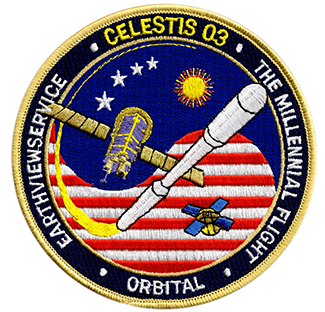 Millennial Flight Mission Logo
The Millennial Flight – With this mission, Celestis began to commission its own unique logo for each Memorial Spaceflight.  The primary payload - KOMPSAT 1, a high resolution imaging satellite built and operated by the Korean national space agency, as well as the secondary payload – ACRIMSAT, a NASA sun monitoring satellite – are depicted together with the Orbital Sciences Taurus launch vehicle.
Track Your Loved One In Space
Celestis provides an easy-to-use tracking tool that lets family and friends track the mission's progress as the Celestis satellite orbits the Earth or makes its way into deep space.
Create and plan additional remembrances and celebrations as the spacecraft orbits overhead or reaches key locations.
Opens in a new window.
Opens an external site.
Opens an external site in a new window.
Subscription Result
Note: It is our responsibility to protect your privacy and we guarantee that your email address will be completely confidential.
×

Close