The Ultimate Family Reunion: Star Trek® and Celestis' Enterprise Flight
Share
The Ultimate Family Reunion: Star Trek® and Celestis' Enterprise Flight

: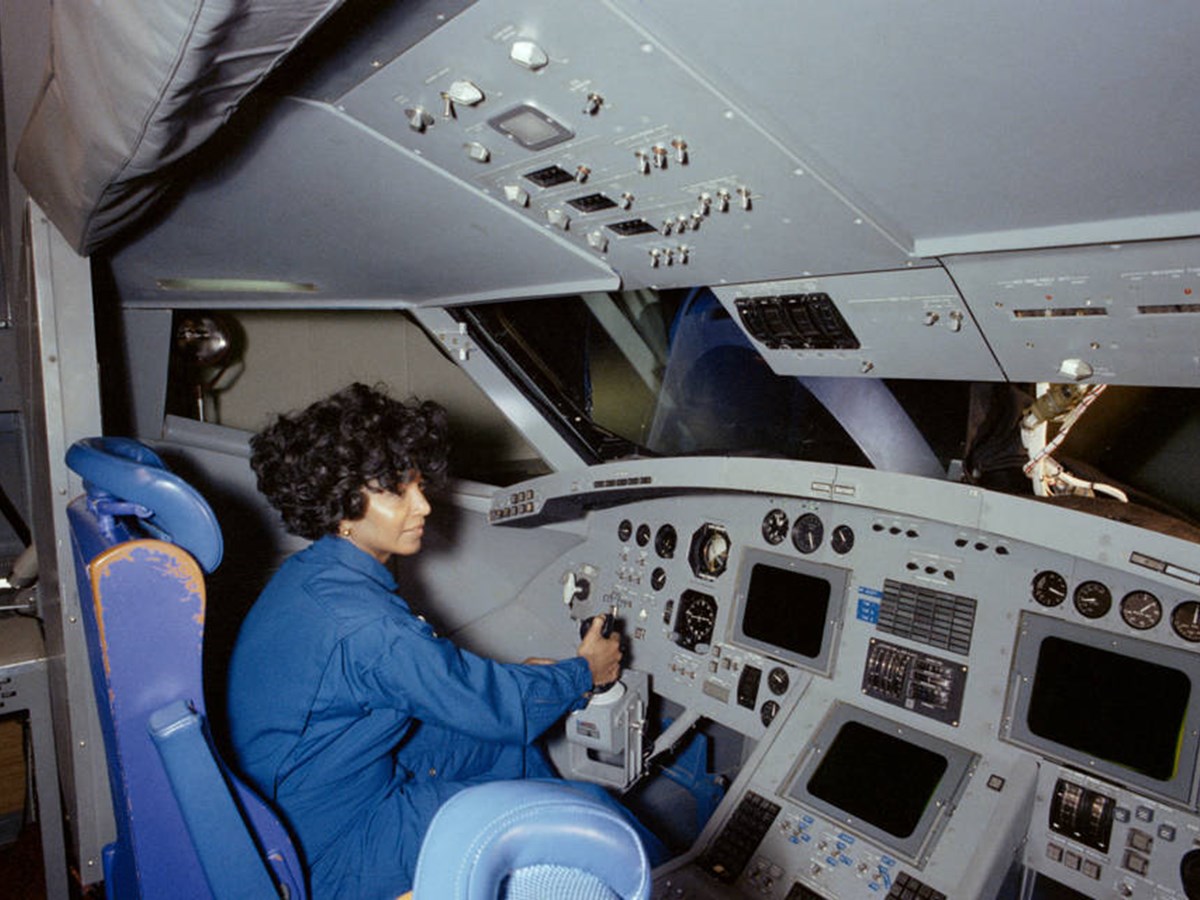 Nichelle Nichols at NASA's Johnson Space Center in March 1977. NASA photo
"I have been – and always shall be – your friend. Live long and prosper." 
The passing of Nichelle Nichols, who played Lt. Uhura on the original Star Trek® series, reminded many of how groundbreaking and futuristic the television show was when it debuted on American television in 1966. The crew of Starship Enterprise boasted a crew that was more representative of what actual humanity looked like versus the predominately middle-class white men who comprised the U.S. space program at that time; Nichols, for example, was one of the first African-American women in television history to play a woman on a mission. Modern science fiction, such as Apple TV+'s For All Mankind, couldn't exist without the extraordinary template created by Star Trek®. 
Actress Whoopi Goldberg, who later starred in Star Trek®: The Next Generation, once remarked that Nichols was one of the first Black women she'd seen on TV who wasn't playing a maid or "the help": "Nichelle was the first Black person I'd ever seen who made it to the future. She was head of communications. This show and this woman was a beacon that said yes, we'll be there. And it just made me feel like that was an amazing thing, and she helped propel other women to go into space." Legendary civil rights leader Martin Luther King Jr. even lauded Nichols for her influential presence on national television.
The original series' reach didn't stop even after its cancellation. During the mid-1970s, Nichols made a commercial that ran on local television stations, encouraging women and minorities to apply to be NASA astronauts. Her clarion call, "This is your NASA," opened the door for the first women, African-Americans, and Asian-Americans to join America's astronaut corps. It almost goes without writing that Gene Roddenberry's creation went far beyond the confines of television screens and movie theaters. Star Trek® showed diehard fans and casual viewers what wonders the future held – if we wanted it. 
Star Trek® also showed us how Earthly traditions would be extended to space as humanity branched beyond the Solar System. In Star Trek II: The Wrath of Khan, the series' second motion picture released in 1982, Spock sacrificed his own life to save the crew of the Enterprise. After his death, a space burial is held; Spock's casket is rocketed to the Genesis planet following a memorial service as Mr. Scott – played by James Doohan – plays "Amazing Grace" on bagpipes.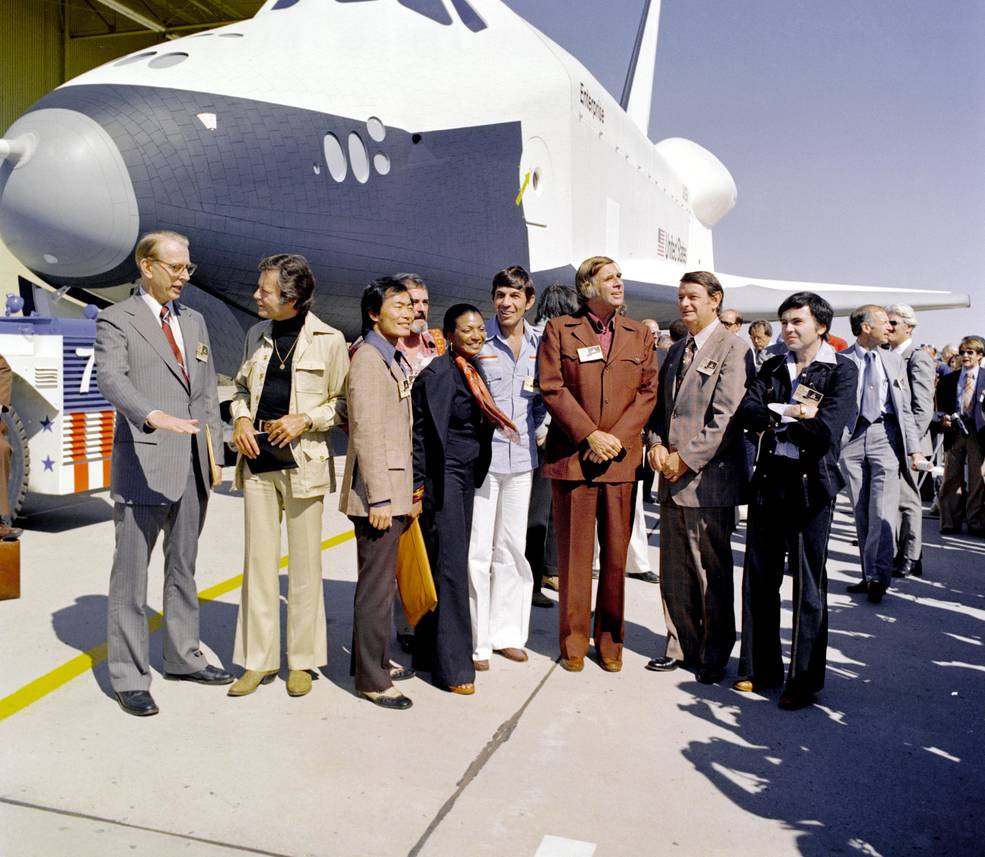 "The creator and cast members of Star Trek attend the rollout of Space Shuttle Enterprise with NASA Administrator Fletcher (at left)." 1977 NASA photo
Fast forward to 2022, and Earthly traditions are indeed extending to space. Celestis Memorial Spaceflights has been performing space burials since April 1997's Founders Flight. However, Celestis will soon fulfill its first Voyager Service deep space mission – the appropriately-named Enterprise Flight. This historic spaceflight will establish the first permanent outpost of humanity in deep space and will be the ultimate Star Trek® family reunion. Not only will James Doohan's ashes be flown aboard Enterprise Flight, but the ashes of series creator Gene Roddenberry, his widow and series actress Majel Barrett Roddenberry, and the DNA of their son, Eugene "Rod" Roddenberry, will be flown into deep space. 
Star Trek® and Celestis
Celestis Memorial Spaceflights has a long heritage intertwined with the Star Trek® fanbase and community, beginning with its first spaceflight. Shortly after Celestis was founded in 1994, company CEO and co-founder Charles M. Chafer was intrigued to hear that a portion of Gene Roddenberry's ashes had been flown aboard Space Shuttle Columbia in 1992 and returned from orbit. Chafer became interested in flying Gene aboard the inaugural Celestis flight. In a previous Celestis blog, he wrote, "…Shortly after co-founding Celestis, I reached out to my friend Lori Garver, then Executive Director of the National Space Society – and later NASA Deputy Administrator – seeking an introduction to Majel Barrett Roddenberry, who served on the NSS Board of Advisors. 
Majel Barrett Roddenberry and Gene Roddenberry. Photo credit: Celestis
"Majel expressed an interest in listening to our offer after checking out the status of startup Celestis, Inc. with her friend Bobbie Slayton – wife of legendary 'Right Stuff' astronaut Donald K. 'Deke' Slayton. Deke was my boss at Space Services Inc. of America when the Celestis concept first was introduced in the 1980s, and always believed in the memorial spaceflight business. Deke passed in 1993 and Bobbie was very supportive in the early years of Celestis." 

Contact us for more information or to receive launch updates
Majel agreed, but she asked Chafer for a favor when the Founders Flight was being prepared for its launch: "Celestis sponsored a gathering of family members, and Majel came…that's where first I met her. She said, 'You know, Charlie, the reason I told you yes is that I promised myself that when it was my time ago, I'd go on a forever space flight.' And I said, 'I think we'll be able to do that at some point.'…So, I said yes, having no idea then how to fulfill it, but I was confident in the upward – even back then, during the mid-Nineties – trajectory of commercial space missions. I said to her, 'Yes, certainly, we'll be able to do that.'"
The Founders Flight lofted Gene Roddenberry's ashes – and those of 23 other participants – into space on April 21, 1997. But Celestis' Star Trek® odyssey was far from over. Chafer was determined to keep his promise to Majel and fly her on a "forever spaceflight" alongside her beloved Gene. In the meantime, another Star Trek® luminary would achieve his space dreams because of Celestis. 
When the show's "Mr. Scott," James Doohan, passed away in 2005, it was announced that his ashes would also fly into space thanks to Celestis Memorial Spaceflights. Doohan always wanted to fly in space. His widow, Wende, remarked in an invitation to family and friends upon the announcement of his memorial spaceflight, "Jimmy absolutely adored playing the role of Scotty on Star Trek®. He promoted space exploration and travel wherever he went. He would have given almost anything to be able to actually go into space. When asked if he would ever ride the Space Shuttle, with a twinkle in his eye, he replied, 'In a heartbeat!'"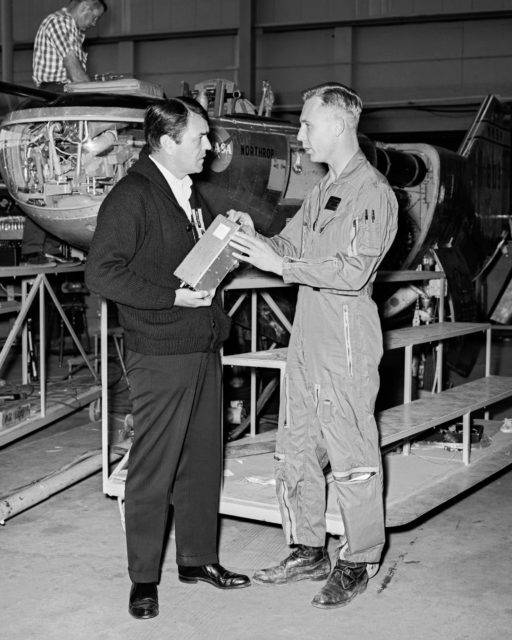 "James Doohan visiting Dryden in 1967 with NASA pilot Bruce Peterson, in front of the M2-F2 lifting body aircraft." NASA photo
His Star Trek® costar George Takei, who played "Mr. Sulu" in the original series, added in his pre-flight tribute to Doohan: "Jimmy Doohan was a hearty, down-to-earth guy. Now, he will be more than that. He has asked that his remains be shot out to space. That is so you, Jimmy. When all of us who loved you look up at the vastness of the twinkling night sky, we'll know that you are truly there among the stars, beaming down at us from the heavens with that wonderful, sparkling smile of yours." Doohan thus far has made three Celestis Memorial Spaceflights: the Explorers, Legacy, and New FrontiersFlights.
…And soon, he – alongside Gene, Majel, and the DNA of their son Rod Roddenberry – will make a fourth Celestis spaceflight. The Enterprise Flight will fulfill Celestis Memorial Spaceflights' first Voyager Service and will be a deep space journey like none other. According to a previous Celestis blog post, "Following its launch, the [United Launch Alliance Vulcan launch vehicle's] Centaur stage will leave Earth's field of gravity en route to Peregrine's Trans-Lunar Insertion (TLI) orbit. Once Astrobotic's Peregrine Lunar Lander has separated from the Centaur upper stage, it will continue its journey to the Moon (and fulfill the Tranquility Flight). Shortly after Peregrine's separation, the Centaur upper stage carrying the Enterprise Flight crew will be restarted, beginning its journey beyond the Earth-Moon system into the Solar System." Once Enterprise Flight establishes a stable orbit, it will be renamed Enterprise Station.
Enterprise Station will not only be the first permanent outpost representing humanity in deep space with its ashes, DNA, and data, but will also function as the ultimate Star Trek® family reunion. Rod Roddenberry, who carried on his family's legacy as a television producer, enthused, "I remember being impressed that [my father] went where so few had gone before…I am very happy [my mother] will join my father. For anyone who is forward thinking or really embraces the future that my father envisioned in Star Trek®, it really seems like a unique and cool opportunity to put yourself up there and orbit the Sun for a thousand, or a hundred thousand years!"
***** 
The Enterprise Flight will close a circle for Celestis Memorial Spaceflights, as it will fulfill the company's Voyager Service for the first time, as well as realize Majel Barrett Roddenberry's wish of joining her husband in space; moreover, its payload represents the past, present, and future of Star Trek®. It's a fitting mission paying tribute to those who strived to make spaceflight accessible and equitable for all through the medium of one of the world's most enduring, popular science fiction franchises.
At the end of The Wrath of Khan, after Spock is launched to the Genesis planet, he is remembered by Dr. McCoy and Captain Kirk; Kirk remarks on the nature of Spock's final resting place:
McCoy: He's not really dead. As long as we remember him.
Kirk: [Paraphrasing Charles Dickens' A Tale of Two Cities] It's a far, far better thing I do than I have ever done before. A far better resting place that I go to than I have ever known.
Further Reading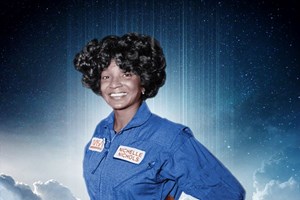 When Star Trek's Nichelle Nichols died in late July at age 89, she was lauded as the trailblazer she was during her lifetime. However, her story is far from over. In early 2023, she will fly alongside the DNA of her son, Kyle Johnson, aboard Celestis' Enterprise Flight. In addition, the Nichelle Nichols Foundation – announced today, on what would have been her 90th birthday – will continue to promote diversity in STEM fields.

By Celestis on 12/28/2022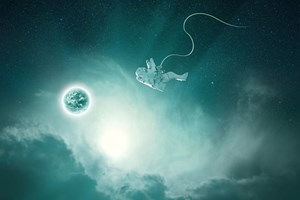 Why did Celestis' Director of Content, Emily Carney, purchase her own Celestis MindFile™? The answer is not as apparent as it might seem.

By Emily Carney on 11/25/2022