Celestis Spotlight: Donald K. "Deke" Slayton, Space Services Inc. of America's First President
Share
Celestis Spotlight: Donald K. "Deke" Slayton, Space Services Inc. of America's First President

: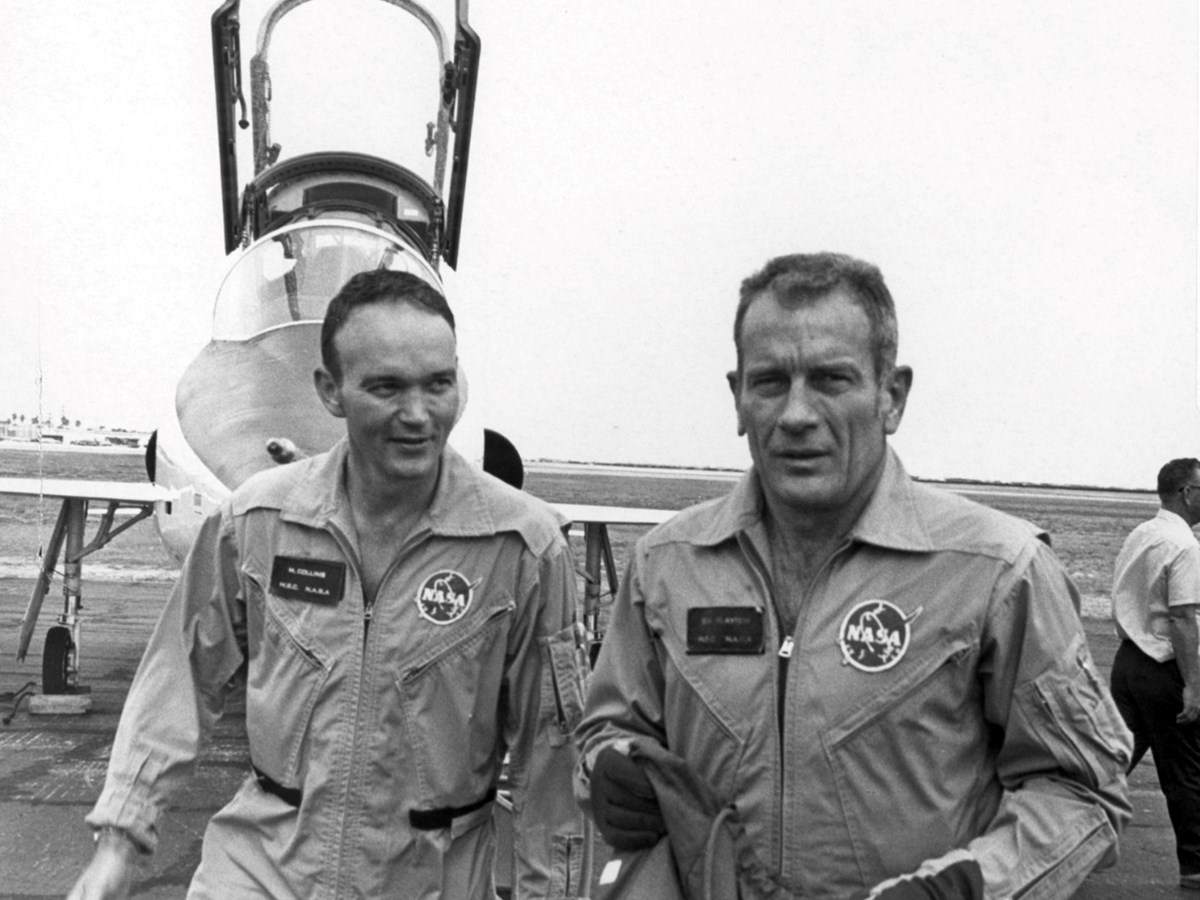 Astronauts Michael Collins and Donald K. "Deke" Slayton pictured before July 1969's Apollo 11 spaceflight. Photo Credit: NASA
Celestis, Inc. is a company that knows a lot about perseverance and survival despite adversity, having weathered the ups and downs of the commercial spaceflight industry throughout the last four decades. This quality was exemplified by the first president of Celestis' parent company. Mercury astronaut and spaceflight pioneer Donald K. "Deke" Slayton knew a lot about never taking "no" as a final answer. 
Deke Slayton's NASA Career
Born in Sparta, Wisconsin, on March 1, 1924, Slayton joined the U.S. Army Air Forces during World War II and flew multiple combat missions. He earned a degree in aeronautical engineering from the University of Minnesota post-war. Eventually, he resumed his Air Force career after being briefly disqualified from flying due to a minor eyesight issue. This wasn't even the first obstacle he had to overcome to achieve his goal of becoming a test pilot; during his childhood, he lost his right ring finger in a farming accident, which nearly disqualified him from military service. After becoming a test pilot, he was selected as a candidate for NASA's Project Mercury, the United States' first crewed spacecraft program. Assigned to the first group of NASA's astronauts, the "Mercury 7," in April 1959, he was expected to fly in space within two or three years.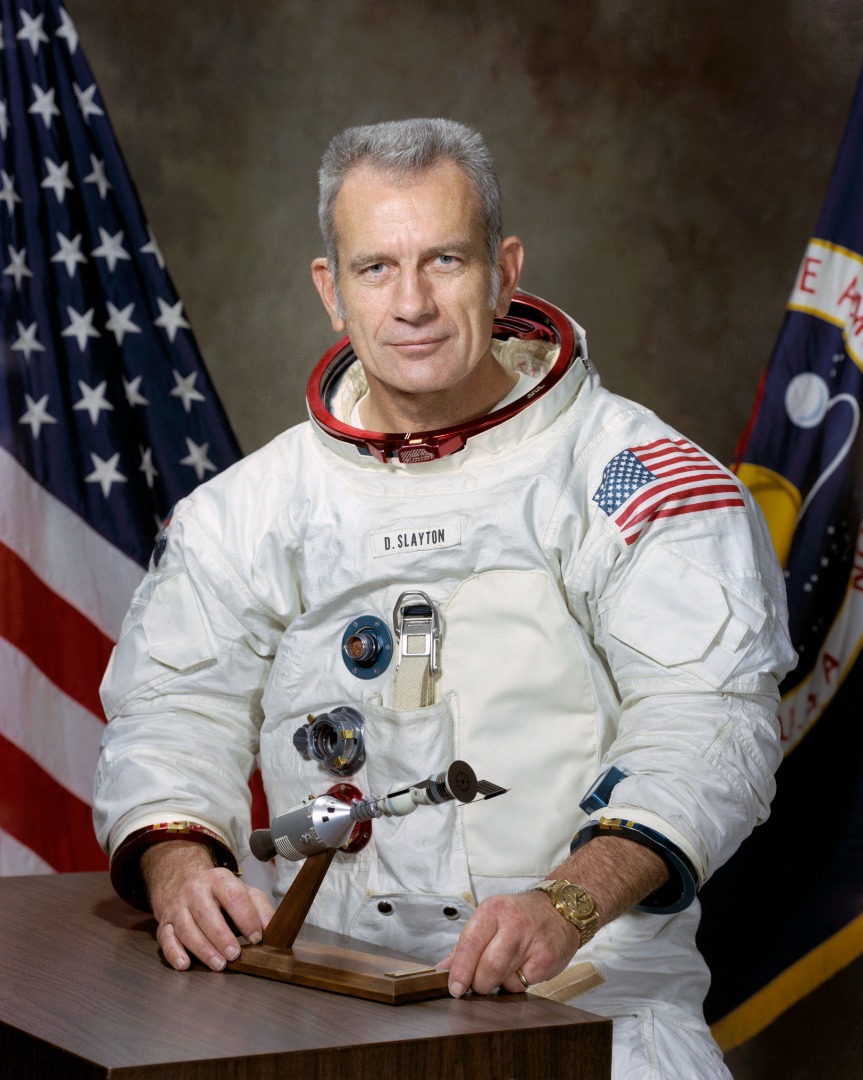 Deke Slayton pictured in 1973. NASA photo
However, Slayton's participation as an astronaut during Project Mercury was not to be. In 1962, an investigation was opened into incidences of an erratic heartbeat that had taken place during some centrifuge tests. As a result, Slayton was medically disqualified from spaceflight. He was bitterly disappointed, but in early 1962 he received a "consolation prize": he was appointed the head of NASA's astronaut office. Even though he did not fly in space as hoped during the 1960s, Slayton left his indelible stamp all over spaceflight history. His knowledge of the astronaut corps, its personalities, and his astronauts' strengths and weaknesses enabled Slayton to put together the iconic crews of NASA's Gemini two-person missions and the Apollo lunar missions.
Despite his disqualification, Slayton was still determined to fly in space and embarked upon an arduous health regimen of exercise and vitamins. In 1971, he went to the Mayo Clinic to undergo further testing and was pronounced healthy; his heart condition was no longer detected. In 1972, after a decade of believing he'd never fly in space, Slayton was restored to full flight status. And he was soon assigned his first spaceflight: the upcoming Apollo-Soyuz Test Project mission, the U.S.' first joint mission with the Soviet Union.
On July 15, 1975, the U.S. Apollo and the Soviet Soyuz spacecraft launched. On July 17, they both rendezvoused in space, with U.S. mission commander General Thomas P. Stafford and Soviet commander Alexei Leonov making a famous "handshake" in Earth orbit, signifying détente in space. Slayton, the U.S. Apollo's Docking Module Pilot, was thrilled to finally ascend to orbit: "Man, I tell you, this is worth waiting 16 years for!"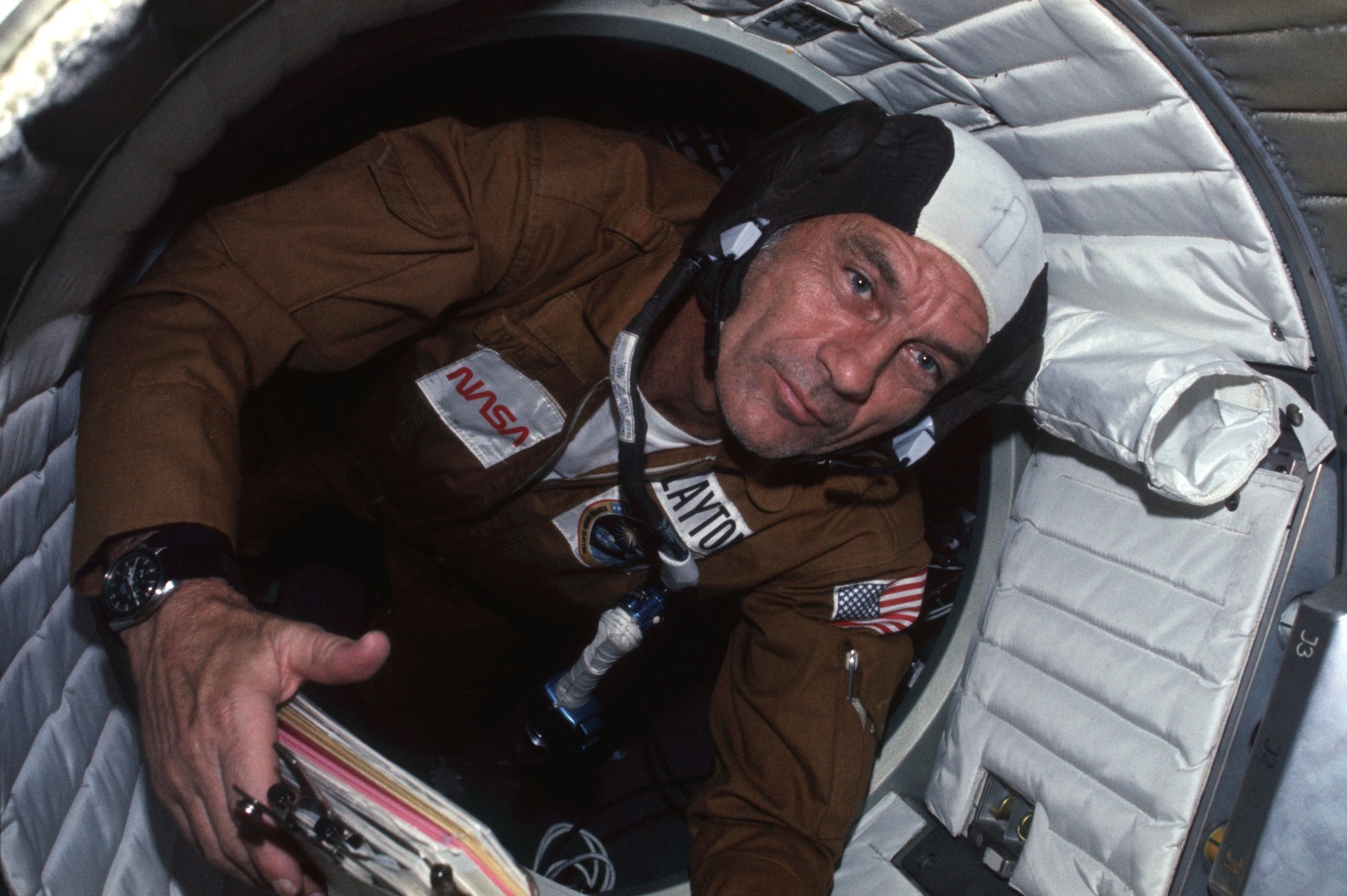 Deke Slayton photographed during July 1975's Apollo-Soyuz Test Project mission. NASA photo
Following Apollo-Soyuz, Slayton was assigned to the Space Shuttle's Approach and Landing Test Program, which would see Shuttle Enterprise make five successful free flights and landings at Edwards Air Force Base. Increasingly disillusioned by the Space Shuttle program and changes at NASA, Slayton resigned from his NASA post in early 1982 in search of new opportunities.
Here's his NASA career by the numbers:
     

One of the first seven astronauts selected in 1959;

      Spent 19 years in the United States Air Force;

      Spent nine days, one hour, and 28 minutes in low Earth orbit;

      One docking and one redocking with the Soviet Soyuz spacecraft; and

      Logged 7,164 hours of flying time.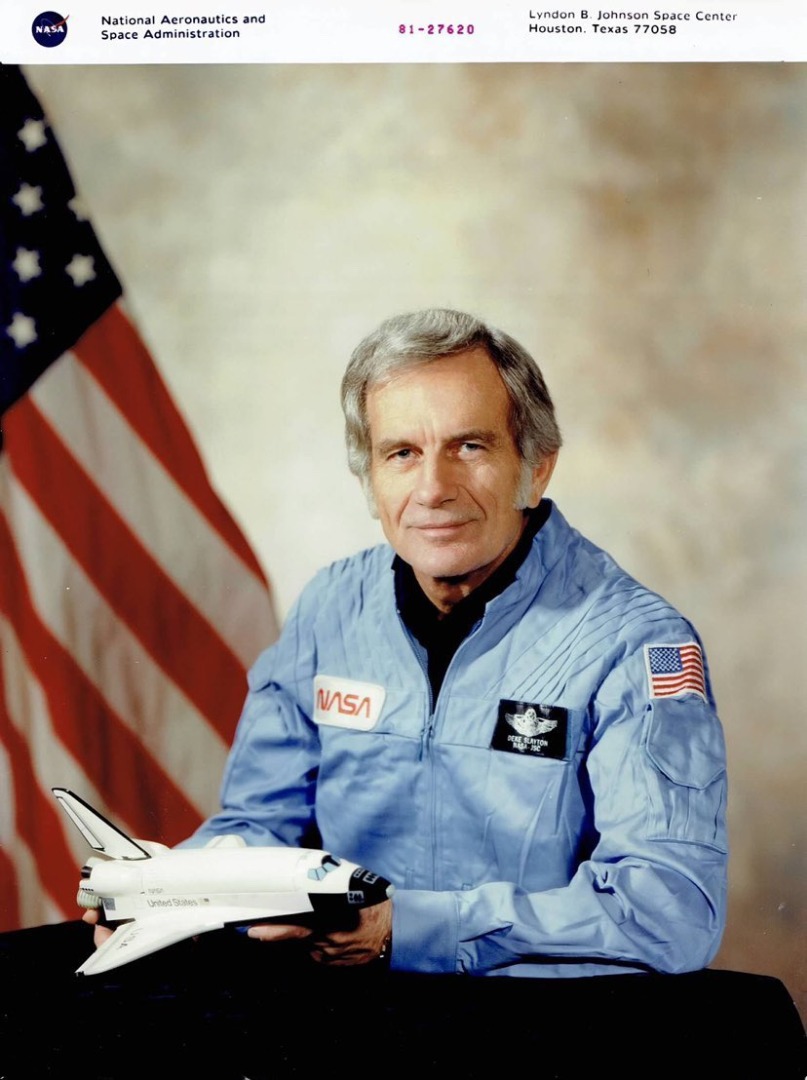 Deke Slayton photographed circa 1981. Photo Credit: NASA, supplied by Jim Frangione
Slayton's Space Services Inc. Career
In 1976, shortly after Slayton completed his Apollo-Soyuz Test Project spaceflight, Texas entrepreneur David Hannah, Jr. was mesmerized by an article about space settlements published in Smithsonian Magazine by Dr. Gerard K. O'Neill, who had recently authored The High Frontier: Human Colonies in Space. Fascinated by O'Neill's "do it yourself" approach, Hannah endeavored to create a commercial, privately funded space program outside of NASA's purview.

Contact us for more information or to receive launch updates
By early 1982, Hannah's path intersected with that of Slayton's, who was hired as a consultant at Hannah's company, Space Services Inc. of America (SSIoA). Slayton stated during that period, "The entrepreneurial approach appealed to me." Within six months, the rocket that Slayton had helped design – Conestoga 1 – became the world's first privately-funded launch vehicle with its successful launch from Texas' Matagorda Island.
According to a previous Celestis Memorial Spaceflights blog post, "At 10:12 am, after a flawless countdown, Conestoga 1 lifted off from its concrete pad, roaring toward the sun and reached an apogee of over 160 miles before splashing down approximately 600 miles downrange in the Gulf of Mexico. The mission achieved its goals, and the commercial space age was born. As Gemini and Apollo astronaut Gene Cernan noted that evening on ABC News Nightline, 'I think we've got a start today that is motivating the minds and the ideas of a lot of other people out there who have nothing to do with Conestoga.'" Slayton added humorously in his autobiography Deke! written with space historian Michael Cassutt, "Since [the launch] had gone okay, I was elected president of the company."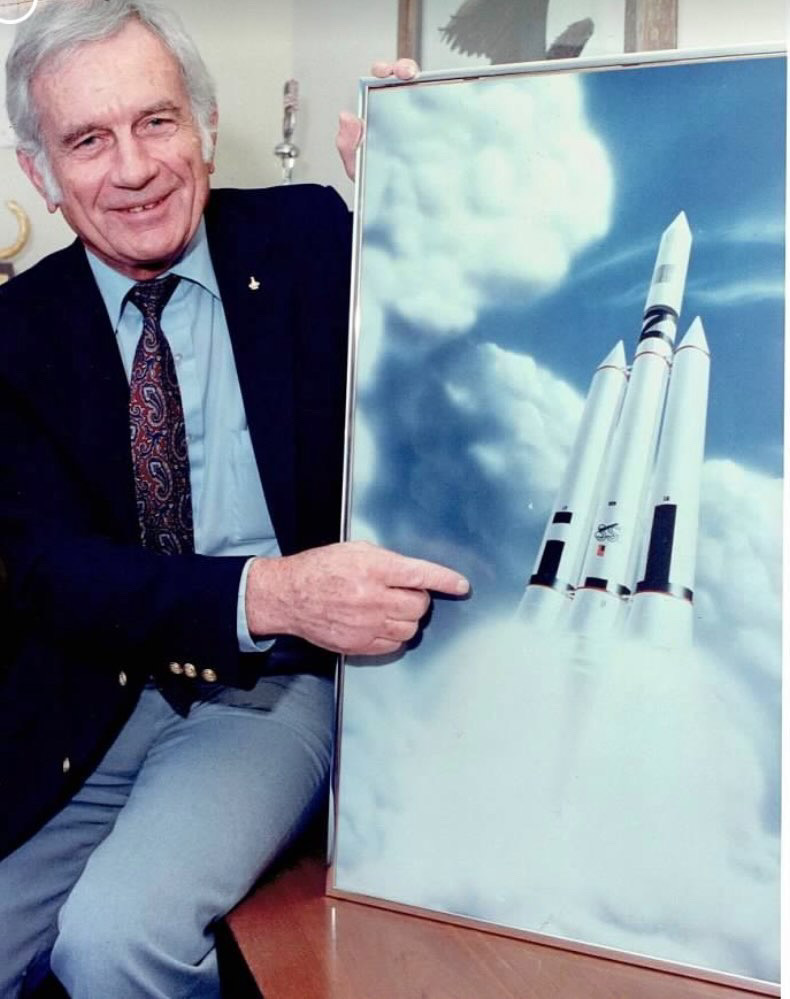 Slayton circa mid-1980s in entrepreneurial mode. Photo Credit: SSIoA (courtesy of Jim Frangione)
Slayton's early involvement with commercial spaceflight speaks volumes about his visionary nature. He once stated, "I feel that I'm in on the ground floor of something that human beings will be concentrating on for the next 1,000 years if we don't destroy ourselves in the meantime. It's possible that 50 years from now we're going to end up out of this solar system, batting around the universe, at least within our galaxy, investigating other stars and other systems."
Slayton was intrigued that a grassroots company could ostensibly reduce the costs of launching satellites and small payloads. Among his goals during this time was to start memorial spaceflights. He worked with a firm in Melbourne, Florida, called Celestis, to make this dream a reality; he was also interested in launching small satellites and GPS constellations, but in his blunt words, "The problem was nobody had any money." Unfortunately, neither of these ideas came to fruition at this time. By the early 1990s, Slayton was fighting a new adversary: a malignant brain tumor. Sadly, his life drew to a close on June 13, 1993.
Slayton's Legacy
In 1994, SSIoA's Charles M. Chafer and R. Chan Tysor founded Celestis, Inc., which remains the industry's iconic leader in memorial spaceflights. Within three years of the company's founding, Slayton's dream of memorial spaceflights was realized with Celestis' Founders Flight, which lofted the cremains of 24 brave passengers into low Earth orbit, including those of Dr. Gerard K. O'Neill, whose Smithsonian article kickstarted SSIoA in 1976. Celestis recently completed its 18th memorial spaceflight, the Ascension Flight, and is ramping up for its next four to take place within the year: the Aurora Flight, the Tranquility Flight, the Enterprise Flight, and the Destiny Flight.
Slayton's legacy also is deeply felt at his namesake museum in his hometown, Sparta, Wisconsin. The Deke Slayton Memorial Space & Bicycle Museum educates hundreds of school-age students yearly about his magnificent career and devotion to never giving up.
Celestis, Inc.'s current president, Colby Youngblood, is humbled by the company's rich heritage. He enthused in a recent interview, "It's definitely an honor. When you start looking at the heritage of Celestis, where it all started with Space Services, Inc. of America…I believe Deke Slayton was considered its [Space Services, Inc. of America] first president."
He added, "And then, you look at what Charlie has done; he's a true commercial space pioneer. What a humbling experience it is for me to come in and say, 'Okay, I'm going to be the third senior leader among these first commercial space companies; the first one, Deke, being one of the first Mercury astronauts. And then, wow, and the second senior leader to run the company is Charlie, who worked directly with Deke and David Hannah, Jr., and put Celestis where it is today. How cool is that?"
If you'd like to know more about Deke Slayton's career, please check out these books:
Slayton, D. K., & Cassutt, M. (1993). Deke! U.S. Manned Space: From Mercury To The Shuttle. Forge.
Cassutt, M. (2018). The Astronaut Maker: How One Mysterious Engineer Ran Human Spaceflight For A Generation. Chicago Review Press, Inc.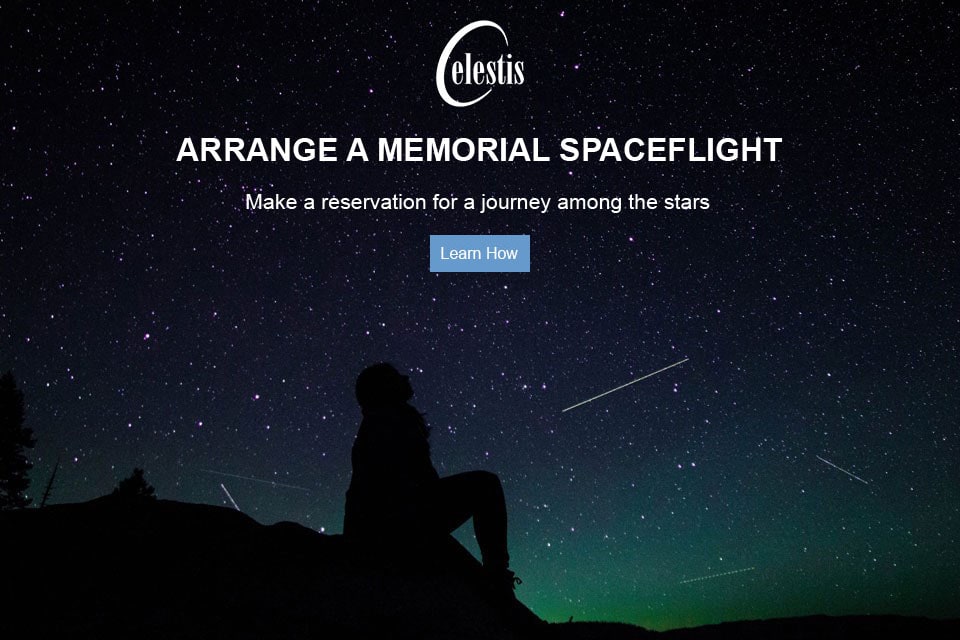 Further Reading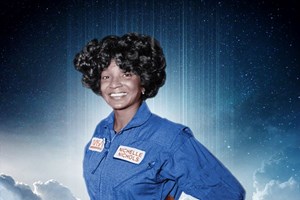 When Star Trek's Nichelle Nichols died in late July at age 89, she was lauded as the trailblazer she was during her lifetime. However, her story is far from over. In early 2023, she will fly alongside the DNA of her son, Kyle Johnson, aboard Celestis' Enterprise Flight. In addition, the Nichelle Nichols Foundation – announced today, on what would have been her 90th birthday – will continue to promote diversity in STEM fields.

By Celestis on 12/28/2022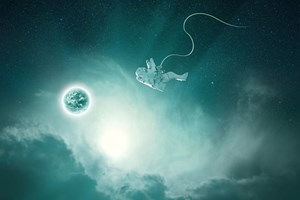 Why did Celestis' Director of Content, Emily Carney, purchase her own Celestis MindFile™? The answer is not as apparent as it might seem.

By Emily Carney on 11/25/2022