Celestis' Enterprise and Tranquility Flights: Updates and Progress Towards Launch
Share
Celestis' Enterprise and Tranquility Flights: Updates and Progress Towards Launch

: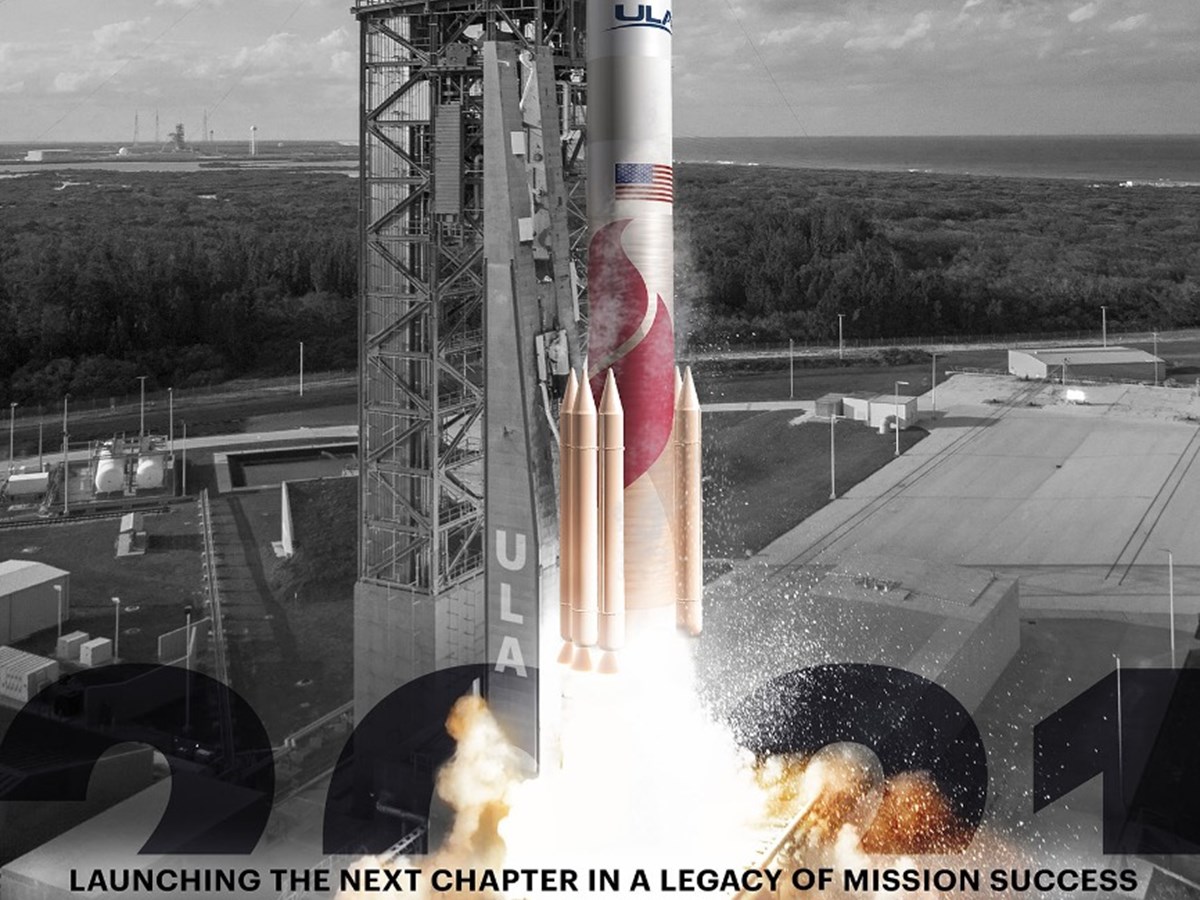 Image Credit: United Launch Alliance
By Emily Carney 
Spaceflight success indeed hinges on what takes place before launch. Before the exhilarating launches and seemingly effortless trips to the stars, the work behind the scenes – which can be very unglamorous – is unrelenting. Launch service providers must test, test, and test to ensure their space vehicles work in the unforgiving space environment and achieve mission success, period. To quote science fiction and space legend Arthur C. Clarke, also a Tranquility Flight participant, "One does not replace a blown fuse – until one knows just why it has blown." While Clarke wrote this sentence in the sci-fi classic 2001: A Space Odyssey, his words relate just as well to real-life spaceflight.
Before Celestis' Tranquility and Enterprise Flights voyage to their respective lunar and deep space destinations, they must launch from Florida's Cape Canaveral Space Force Station aboard United Launch Alliance's (ULA's) newest heavy-lift rocket, Vulcan Centaur. A powerful high-energy upper stage tops the two-stage rocket, christened the Centaur V; the Centaur will propel the Enterprise Flight into a solar orbit once the Moon-bound Astrobotic Peregrine Lunar Lander carrying the Tranquility Flight is released and verified to be on its way to the lunar surface. ULA is working hard to ensure each payload aboard its inaugural Vulcan Centaur launch – including Celestis' participant flight capsules – makes it to their intended destinations, and at present, has just completed a Flight Readiness Firing, one of the final steps required before the vehicle is ready for launch.
Vulcan Centaur Updates 
ULA has a long heritage of flight success, having delivered "more than 150 missions to orbit that provide critical capabilities for troops in the field, aid meteorologists in tracking severe weather, enable personal device-based GPS navigation, and unlock the mysteries of our solar system." ULA's culture of testing is why they have a long series of successes.
On March 29, ULA's Chief Executive Officer Tory Bruno informed followers via Twitter, "During qual testing of Centaur V structural article at [Huntsville, Alabama's Marshall Space Flight Center], the hardware experienced an anomaly. This is why we thoroughly and rigorously exercise every possible condition on the ground before flight. The investigation is underway. Vulcan will fly when complete." ULA is still testing the Centaur V stage to ensure it is flight ready through every possible condition, as Bruno emphasized in the Tweet. 
In Cape Canaveral, where the Vulcan Centaur flight article was delivered in January, more testing is underway to verify that the rocket is ready for its first flight. In early March, tanking tests were successfully performed on the rocket's first stage and Centaur V. On Wednesday, June 7, the Flight Readiness Firing was completed successfully. According to ULA's Twitter feed, "The engine start sequence began at T-4.88 seconds, the engines throttled up to the target level for two seconds and then powered down. The team is reviewing the data from the systems involved in today's test and, in parallel, continue with the Centaur V test stand anomaly investigation. Pending the data review and the investigation results, we will develop a plan for launch."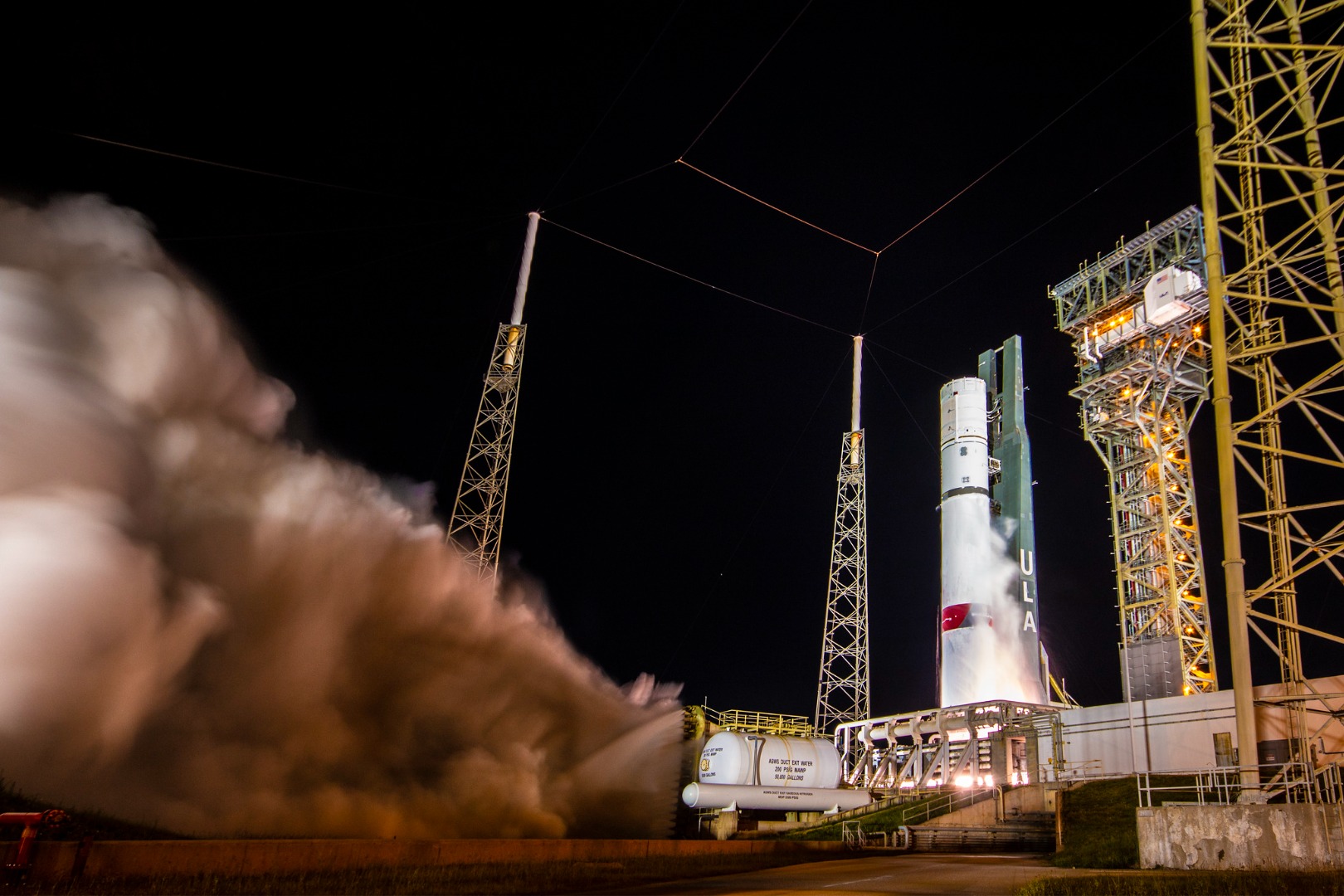 Photo Credit: United Launch Alliance. "The United Launch Alliance (ULA) Vulcan Certification-1 (Cert-1) rocket performs the Flight Readiness Firing FRF) at Space Launch Complex-41 at Cape Canaveral Space Force Station in preparation for the inaugural flight."
Video Credit: United Launch Alliance 
Indeed, following the FRF, ULA confirmed its dedication to flight testing via Twitter: "Testing is an integral part of our launch vehicle development program, and we will fly when we believe it is safe to launch."
It is hoped that the investigation into the Centaur V anomaly in Huntsville will be completed shortly, and the Vulcan Centaur will launch as soon as 3rd quarter this year.
Celestis' Enterprise and Tranquility Flight Profiles 
When Celestis' Vulcan Centaur lifts off from Cape Canaveral Space Launch Complex 41, the launch will begin with the ignition of Vulcan's two BE-4 engines, manufactured by Blue Origin and each providing 550,000 pounds of thrust, and two Northrop Grumman Graphite Epoxy Motor (GEM) 63XL SRBs. The SRBs will fire for 90 seconds, each adding approximately 460,000 pounds of thrust to the launch vehicle. With the additional boost provided by the SRBs, Vulcan will appear to "leap" off the launch pad! Don't worry about taking photos – ULA and Celestis' photographers will snap plenty; we encourage families and friends to watch and enjoy the launch's mighty power.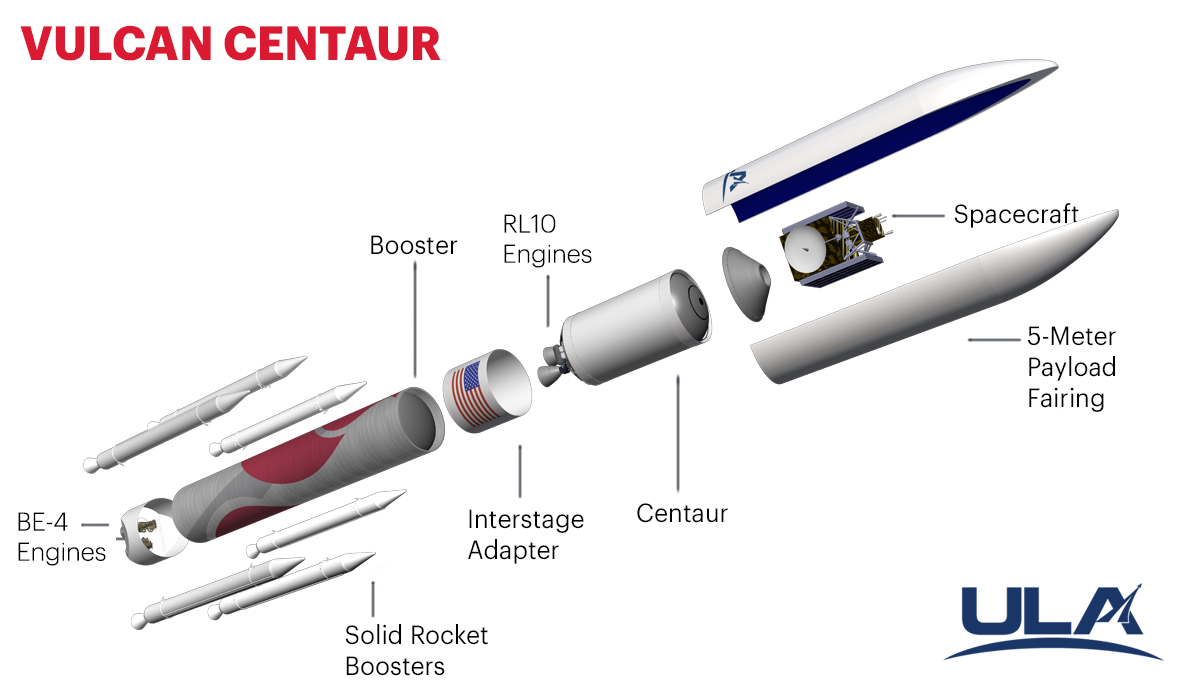 "An expanded view of the Vulcan Centaur, United Launch Alliance's (ULA's) next-generation American rocket. ULA has selected Blue Origin's BE-4 engine for the booster, Aerojet Rocketdyne's RL10 engine for the Centaur upper stage, Northrop Grumman solid rocket boosters, L 3 Avionics Systems avionics, and RUAG's payload fairings and composite structures for the new Vulcan Centaur rocket system. Image Credit: United Launch Alliance"
After the SRBs are jettisoned, the BE-4 engines will continue to power Vulcan's ascent. Approximately five minutes into the flight, the BE-4 engines will be shut down, and the Vulcan booster will separate from the Centaur upper stage, followed shortly by ignition of the Centaur upper stage engines and jettison of the payload fairing. After the separation of the payload fairing, the Centaur V upper stage, with its two RL10C engines built by Aerojet Rocketdyne, will carry the payloads to their mission orbits. 
Following its launch, the Centaur stage will leave Earth's field of gravity en route to Peregrine's Trans-Lunar Insertion (TLI) orbit. Once Astrobotic's Peregrine Lunar Lander has separated from the Centaur upper stage, it will continue its journey to the Moon (and fulfill the Tranquility Flight). Shortly after Peregrine's separation, the Centaur upper stage carrying the Enterprise Flight crew will be restarted, beginning its journey beyond the Earth-Moon system into the Solar System. Once its stable solar orbit has been established, the Enterprise Flight will be renamed Enterprise Station and will be the first imprint of humanity – with its Celestis DNA™, MindFiles™, and memorial flights – to venture beyond the Earth-Moon system, becoming part of the deeper cosmos.
Celestis Memorial Spaceflights is prepared and will announce launch site activities, venues, and schedules as soon as ULA announces a specific Vulcan Centaur launch date. To be among the first to learn of the launch date, please join the Celestis Enterprise Flight and Tranquility Flight groups on Facebook. In addition, please follow Celestis Memorial Spaceflights on Facebook, Twitter, YouTube, LinkedIn, and Instagram for the latest updates on each of our memorial spaceflights, including Enterprise and Tranquility.
*****
Some text in this article is from a previous Celestis article, Enterprise Flight to Enterprise Station: Humanity's First Outpost in Deep Space.
Further Reading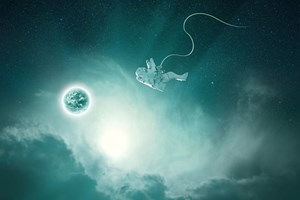 Why did Celestis' Director of Content, Emily Carney, purchase her own Celestis MindFile™? The answer is not as apparent as it might seem.

By Emily Carney on 11/25/2022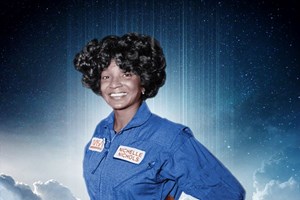 When Star Trek's Nichelle Nichols died in late July at age 89, she was lauded as the trailblazer she was during her lifetime. However, her story is far from over. In early 2023, she will fly alongside the DNA of her son, Kyle Johnson, aboard Celestis' Enterprise Flight. In addition, the Nichelle Nichols Foundation – announced today, on what would have been her 90th birthday – will continue to promote diversity in STEM fields.

By Celestis on 12/28/2022