A "Voyager" Entering New Realms: The Enterprise Flight, And Its Heritage
Share
A "Voyager" Entering New Realms: The Enterprise Flight, And Its Heritage

:
In 1976, NASA's space shuttle Enterprise rolled out of the Palmdale manufacturing facilities and was greeted by NASA officials and cast members from the 'Star Trek' television series. From left to right they are: NASA Administrator Dr. James D. Fletcher; DeForest Kelley, who portrayed Dr. "Bones" McCoy on the series; George Takei (Mr. Sulu); James Doohan (Chief Engineer Montgomery "Scotty" Scott); Nichelle Nichols (Lt. Uhura); Leonard Nimoy (Mr. Spock); series creator Gene Roddenberry; U.S. Rep. Don Fuqua (D.-Fla.); and, Walter Koenig (Ensign Pavel Chekov). Image Credit: NASA
by Emily Carney
If you're reading this article, like many spaceflight enthusiasts, it's likely you may be something of a Star Trek fan. It's the science fiction franchise that defied disappearing into the cultural background, even after its original television series was canceled during the late 1960s. Instead, Star Trek continued to blossom, yielding further television shows, beloved characters, merchandise, conventions, conversations, and hit movies.
It also changed the course of actual human spaceflight. NASA's first space shuttle, which flew during 1977's Approach and Landing Tests, was rechristened Enterprise after the show's fans staged a massive letter writing campaign to then-President Gerald Ford to have its name changed from Constitution. The original series' "Lieutenant Uhura," Nichelle Nichols, actively recruited NASA's 1978 astronaut class, the first to include women, Asian-Americans, and African-Americans. It's no surprise that the original series' Captain James T. Kirk, William Shatner, recently experienced the opportunity of a lifetime: becoming the world's eldest space traveler during Blue Origin's suborbital New Shepard 4 flight.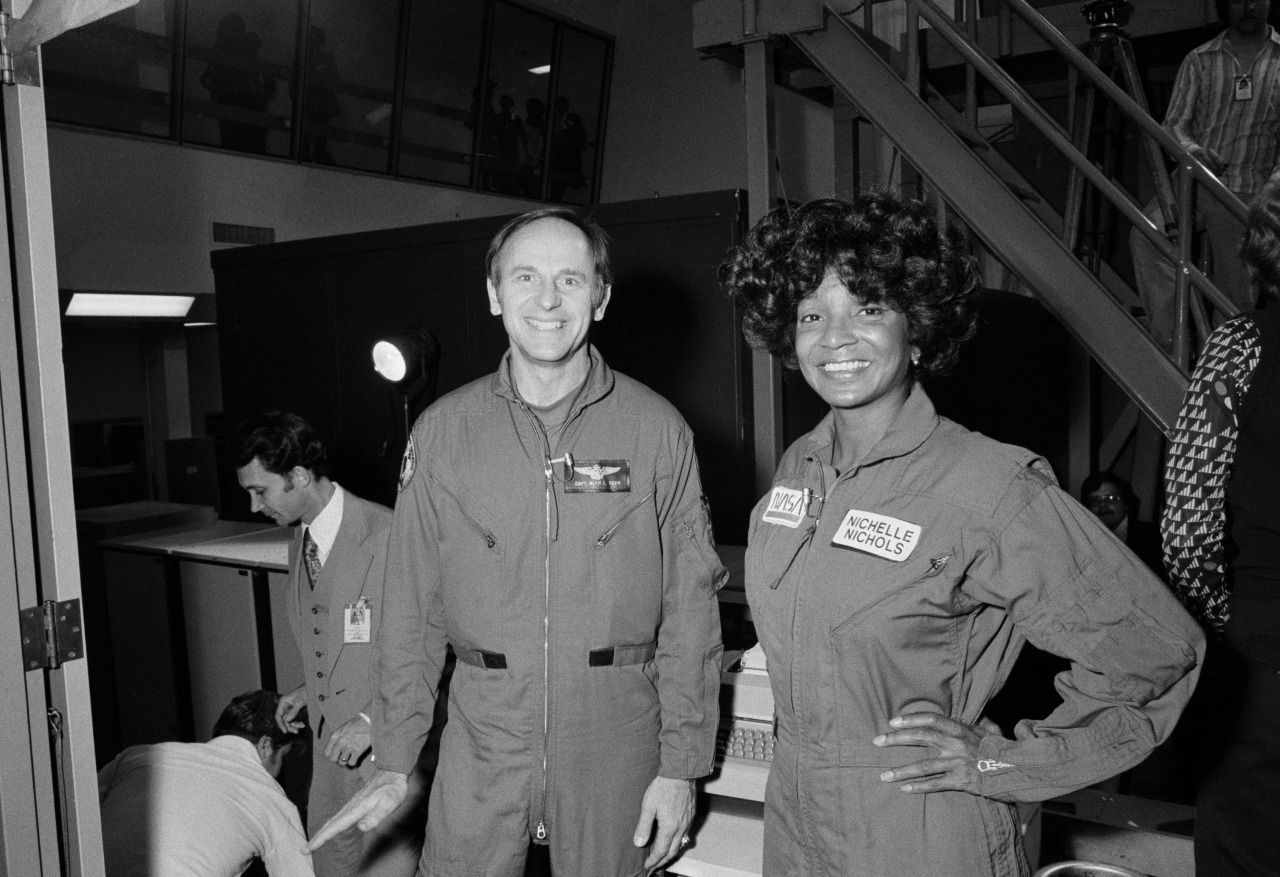 NASA astronaut Alan Bean and Star Trek's Nichelle Nichols working on a NASA recruitment film, circa mid-1970s. Image Credit: NASA
Star Trek's creator, Gene Roddenberry, couldn't have predicted the series' enduring popularity when it premiered on September 8, 1966. So why does a 55+ year old franchise still have such a hold on not only the spaceflight community, but also mainstream media consumers? To quote Celestis Memorial Spaceflights CEO and founder Charles M. Chafer, "Roddenberry's vision is what drove the series, continues to drive the series, and in many ways, to me, is more resonant these days even more so than back then. People forget that diversity, inclusion, women in power, all of these concepts that we're tending to struggle with these days were introduced in the Sixties via Star Trek. I think that's why it continues to resonate even today, and the vision continues. There continue to be really good post-Roddenberry Star Trek efforts also. But at the core was his vision." Chafer, who was honored to meet Roddenberry at a luncheon during his college years, added, "There are people in history who just get it."
And Roddenberry got it. Like Shatner's recent entry into the history books, it's also not surprising that Celestis has a long relationship with Star Trek's key figures including Roddenberry, his family, its actors, and now…its fans. As Celestis prepares for the first flight in its Voyager deep space mission series, fittingly called The Enterprise Flight after the iconic Star Trek spaceship, the company continues to honor Roddenberry's legacy by introducing a more diverse slate of mission experiences.
Star Trek and The Founders Flight
The history of Star Trek and Celestis can be traced to 1997's Founders Flight, which saw an Orbital Science's Pegasus XL booster launch its payload into low Earth orbit over Spain's Canary Islands: 24 "passengers," including the cremated remains of 1960s guru Timothy Leary, space settlement pioneer Dr. Gerard K. O'Neill, and Gene Roddenberry. While a portion of Roddenberry's ashes had flown in space previously aboard space shuttle Columbia in 1992, the Pegasus XL flight would enable a portion of his ashes to stay in orbit for five years. During preparations for that flight, Chafer and Roddenberry's widow, Majel, would have a conversation that would directly influence the creation of Celestis' Voyager missions, even though these missions wouldn't fly for decades.
"I had read Roddenberry's biography, and it discussed NASA shuttle astronaut Jim Wetherbee's decision to take a portion of Roddenberry's remains in his personal astronaut flight kit…but it was all kept quiet until Majel Roddenberry revealed it after the flight. As we were building our first mission during the 1994 – 1995 time frame, I thought, 'Wouldn't it be great since some of his ashes came back, if we flew some of Gene Roddenberry on our first flight?'" Through networking, Chafer was able to contact Majel: "She agreed it would be a cool thing…and she said yes."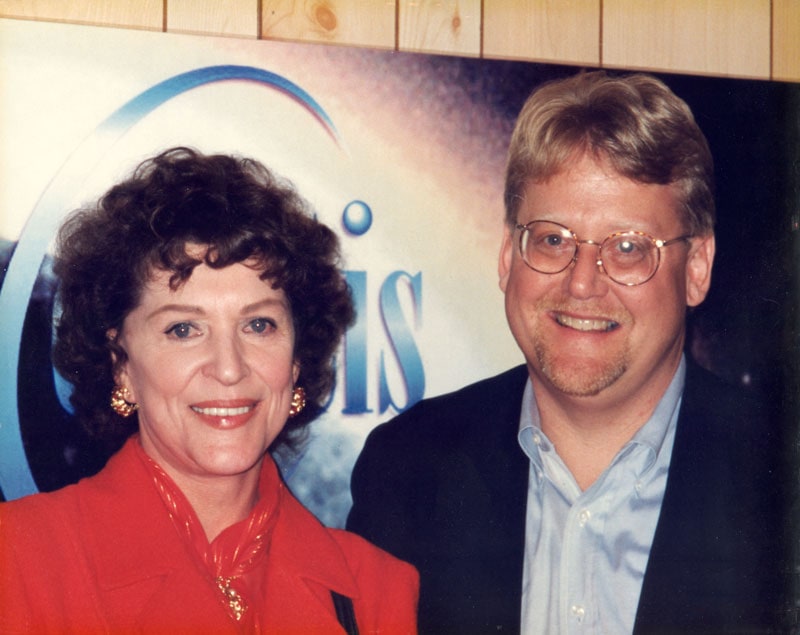 Celestis CEO and founder Charles M. Chafer together with Majel Barret Roddenberry in 1997.
Fast forward to when The Founders Flight was announced circa 1997. "Celestis sponsored a gathering of family members, and Majel came…that's where first I met her. She said, 'You know, Charlie, the reason I told you yes is that I promised myself that when it was my time ago, I'd go on a forever space flight.' And I said, 'I think we'll be able to do that at some point.'" Majel added that "when the time comes, let me know if you'll be able to fly us together," meaning that she wanted a "space burial" alongside her beloved Gene.
"So I said yes, having no idea then how to fulfill it, but I was confident in the upward – even back then, during the mid-Nineties – trajectory of commercial space missions. I said to her, 'Yes, certainly, we'll be able to do that.' She actually said that in a couple of interviews." Indeed, Majel promoted Celestis' vision in press clippings from that time. In one newspaper interview, she enthused, "What a marvelous place to go. There's nothing that's going to be in your way, and I would love to just keep on going out into space, although I know I'll never know about it. I just think the thought is there."
Chafer continued, "At the time of her passing, her son, Rod, who was aware of the agreement and enthusiastically supported the agreement, invited me out to her funeral service…Rod actually announced from the stage, 'Mom's going to fly with Dad on a deep space mission.' I'm honor-bound, because I promised Majel for several years that I'd find the ability to fulfill her request. The coming of this mission next year represents to me a full circle. That's the genesis of Voyager." Celestis will realize Majel's dream when The Enterprise Flight launches.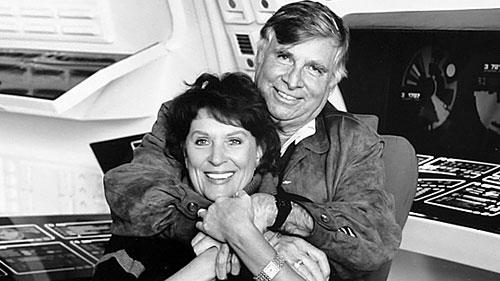 Gene and Majel Barrett-Roddenberry, on a Star Trek set, will fly together on the first Celestis deep space mission, The Enterprise Flight. Image Credit: Celestis
Star Trek's influence upon the Enterprise mission can be felt deeply even in the mission's patch, which was designed by space artist Eric Gignac. According to Celestis, the patch depicts "the dominant star…crossed by a version of the traditional NASA astronaut logo – a shooting star borne on a winged column – signifying that all those aboard will reach space and, symbolically, become astronauts as they make their final journey among the stars."

Contact us for more information or to receive launch updates
New Adventures With Scotty, Sulu, and Fans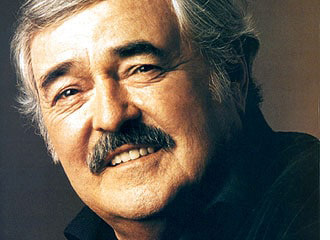 In 2005, the original series' beloved "Mr. Scott," James Doohan, passed away. But his posthumous life was just beginning, and Celestis played a hand in fulfilling his multiple final missions. When it was announced that "Scotty's" ashes would fly aboard a Celestis memorial spaceflight, the company's website crashed. Star Trek's fans clamored to know more about the service that symbolically would make Enterprise's engineer an actual space traveler. To meet this demand, Celestis introduced new services to their slate of spaceflights.
Chafer emphasized, "The fans come to us. We got so much web traffic with the announcement that Jimmy Doohan was going to fly with us that we ended up setting up a way on our website that people could write messages that we would digitize, and fly alongside him on his journey. And we [received] thousands and thousands of messages. We didn't advertise it; it was an all-organic thing." One can still send messages into deep space on the upcoming Enterprise Flight.
It bears mentioning that Gene and Majel Roddenberry aren't the only Star Trek royalty to fly aboard this mission. Doohan will be making his fourth Celestis flight, his ashes having previously flown aboard the company's Explorers, Legacy, and New Frontier flights. Doohan's widow, Wende, said in a statement, "I can't think of a more fitting send off than having some of his fans attend this, his final journey. If you wish to send a few words of tribute, they will be digitized and sent with Jimmy, as part of the payload on this launch. For those who wish to attend the launch, you are more than welcome. And for those who can't, just look to the heavens on the launch date and know that you are sharing a WorldWide Memorial." His co-star George Takei, who played Sulu on the original series, added, "Jimmy Doohan was a hearty, down-to-earth guy. Now, he will be more than that. He has asked that his remains be shot out to space. That is so you, Jimmy. When all of us who loved you look up at the vastness of the twinkling night sky, we'll know that you are truly there among the stars, beaming down at us from the heavens with that wonderful, sparkling smile of yours."
Celestis has also introduced another service to allow loved ones to "fly" alongside their relatives. The company recently announced that it will be able to fly human DNA – the complete, unique genome – into space, regardless of a person's final burial choices. This means that one can "fly" aboard a Celestis spaceflight, even if they do not elect to choose cremation. This newer service is still available for the Enterprise Flight, and is open to all who would like to symbolically travel alongside beloved relatives forever, or simply want to preserve their DNA to send to deep space. Chafer stated, "We will undoubtedly have a few DNA capsules on our Enterprise Flight, and I know we have DNA capsules on our lunar flight (Tranquility Flight), which is scheduled to launch next year with Astrobotic."
What can those who have loved ones aboard the Enterprise mission – or choose to be a part of the mission – expect? Chafer added, "The mission itself right now has been under development for some time; we hope to announce the final details of it before the end of the year. It's scheduled to fly in the middle of next year, and it will go to deep space, at least a quarter of a million miles outward, and will be done in a very cool manner…all of our launches come with a three-day event culminating in viewing the liftoff of the launcher. I think we're all really excited about doing that mission next year."
Enterprise not only closes a circle for Chafer and the Roddenberry family, but also for Celestis, as the company will have executed each of its mission profiles (Earth orbit missions, lunar missions, and deep space missions). To end paraphrasing the most famous line from Star Trek's universe, Celestis Memorial Spaceflights' services ensure that its participants will always be remembered, and "live long and prosper" well outside of Earth's gravity.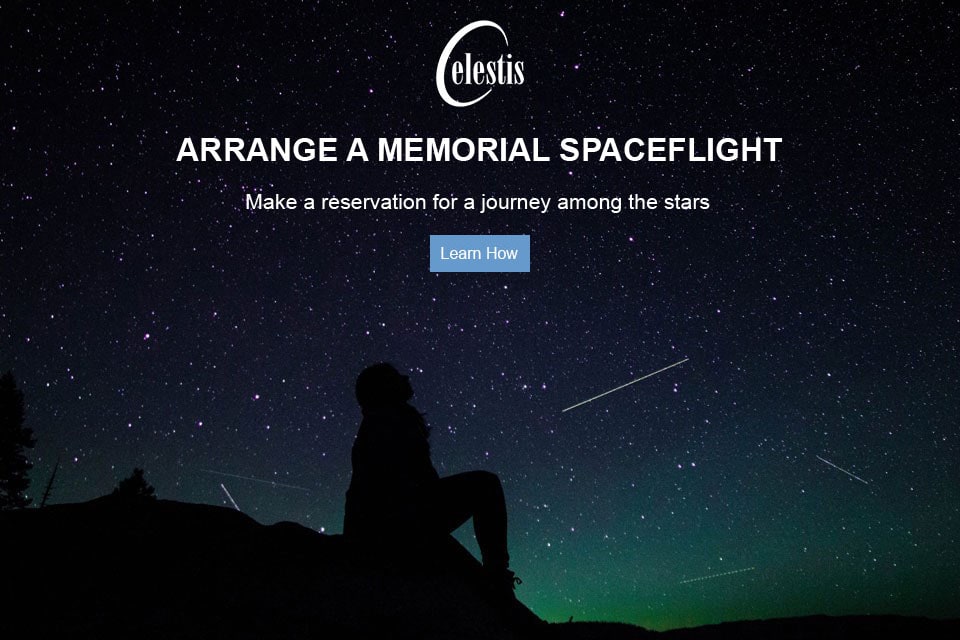 Further Reading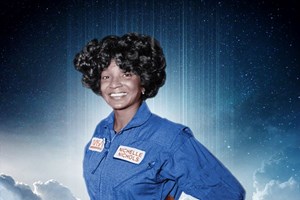 When Star Trek's Nichelle Nichols died in late July at age 89, she was lauded as the trailblazer she was during her lifetime. However, her story is far from over. In early 2023, she will fly alongside the DNA of her son, Kyle Johnson, aboard Celestis' Enterprise Flight. In addition, the Nichelle Nichols Foundation – announced today, on what would have been her 90th birthday – will continue to promote diversity in STEM fields.

By Celestis on 12/28/2022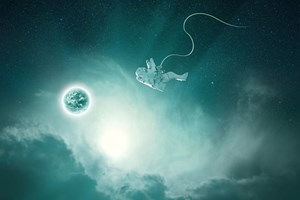 Why did Celestis' Director of Content, Emily Carney, purchase her own Celestis MindFile™? The answer is not as apparent as it might seem.

By Emily Carney on 11/25/2022