Space Burials in Pop Culture, Part Two
Share
Space Burials in Pop Culture, Part Two

: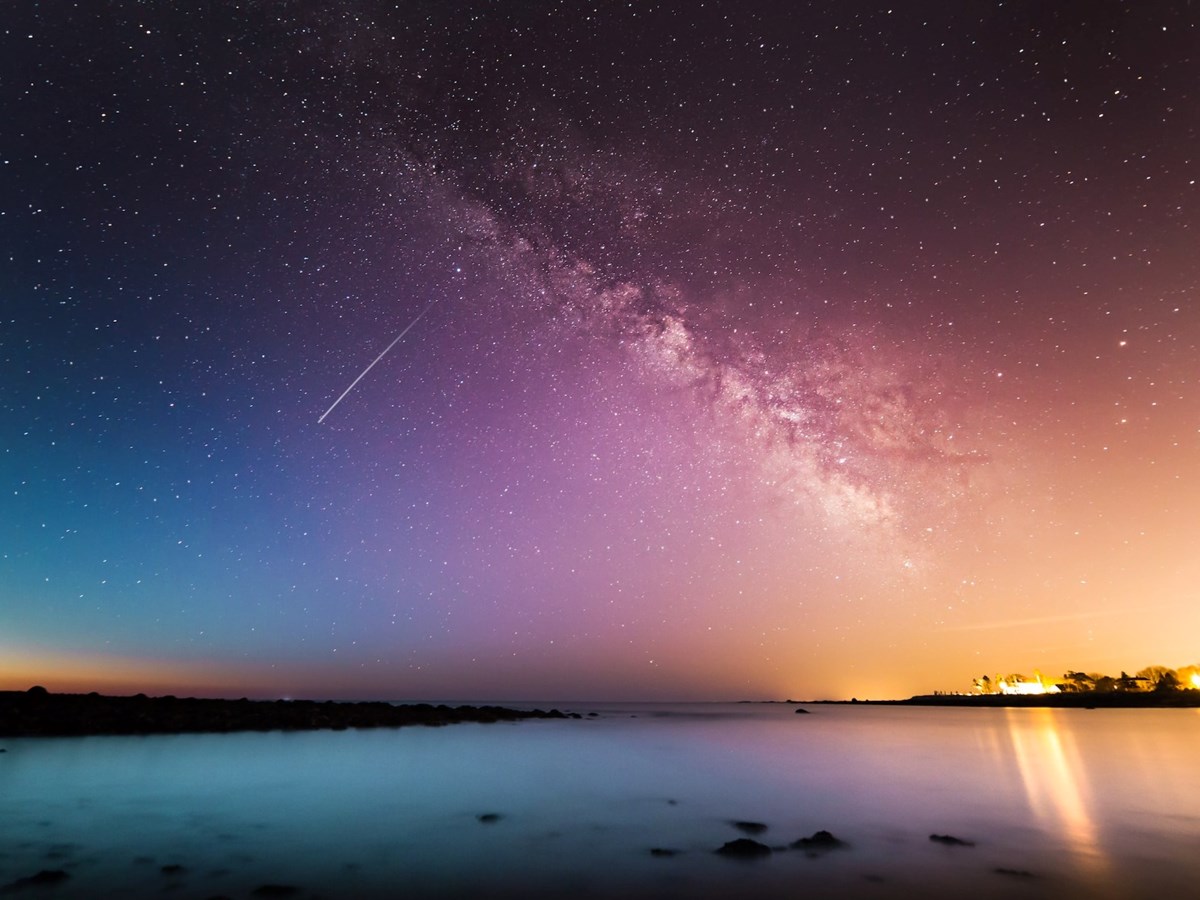 Photo by Kristopher Roller on Unsplash 
The Celestis Memorial Spaceflights idea was predicted as early as the mid-1960s when a satirical feature film took on the funeral industry, which had been the subject of a then-recent scathing popular book. In addition, Celestis itself has been featured in television, movies, art, and even board games since its founding in 1994. Part two of this article series will continue to underscore how the memorial spaceflights concept has galvanized the conversation of how to hold a proper "send-off" and how the idea was predicted decades before Celestis' Founders Flight, the company's first memorial spaceflight in 1997.
The Loved One, 1965
The Loved One was a satirical 1965 movie based on the book with the same title by Evelyn Waugh, the British novelist who also wrote Brideshead Revisited. The film also drew from a famous critique of the funeral industry, The American Way of Death, written by Jessica Mitford.
There is historical context surrounding this movie. The Mitford book was tremendously influential during the 1960s and caused many to rethink the rituals surrounding funerals and memorials, including expensive, ornate caskets. The book even influenced how First Lady Jacqueline Kennedy decided to bury her late husband, President John F. Kennedy, after his November 1963 assassination. For example, instead of having the President lie in an open casket to be viewed by the mourning public, she endeavored to keep it closed to safeguard his dignity. The American Way of Death made many reconsider how their memorial journey would take place, and popularized cremations versus traditional funerals with a casket lowered into the ground and a fancy gravestone. At present, the majority of chosen final dispositions involve cremations.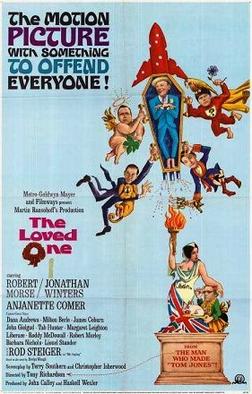 Image credit: Wikipedia page for The Loved One
The Loved One featured a diverse comedic cast, including Robert Morse, Jonathan Winters, Rod Steiger, Milton Berle, Sir John Gielgud, and even Liberace (who plays a campy funeral counselor showing his finest caskets). Its plot revolves around the travails experienced by a British expatriate (played by Morse) as he navigates his way through Hollywood's funeral industry. But what is most striking about the movie is that it depicts (albeit satirically) the Celestis Memorial Spaceflights concept for the first time in cinema history. At the film's conclusion, the recently-deceased female mortician protagonist (Aimée, played by Anjanette Comer) is rocketed into Earth orbit via a "casket rocket."
While the Celestis Memorial Spaceflights' experience is much different from the "space burial" depicted in The Loved One, the movie remains the first cinema artifact that depicts the basic concept and acknowledges that some desired a different funeral experience than the ones that had dominated the funeral industry for decades.

Contact us for more information or to receive launch updates
Celestis in Pop Culture
Comic strips, movies, television, board games, magazines, newspapers…the list goes on and on. Since the founding of Celestis in 1994, the memorial spaceflights concept has been showcased multiple times in the media. A previous Celestis blog stated, "Celestis' first memorial spaceflight, 1997's Founders Flight, was covered by media around the world. Pop culture icon Timothy Leary, Star Trek creator Gene Roddenberry and 22 others were on board this mission. The flight was recorded in the Guinness Book of World Records, and was even added to the board game Trivial Pursuit. Popular music from country and western to electronica has been composed and released highlighting the Celestis service. And actors including Jonathan Frakes, Patrick Stewart, and Tom Hanks have announced their own interest in a space funeral." The Founders Flight launch was covered live by CNN and was a television event analogous to the first Space Shuttle flights. Celestis has also been the subject of a New Yorker cartoon and even was the subject of a Saturday Night Live sketch.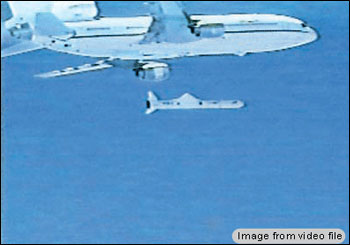 Screenshot of Celestis' Founders Flight launch in April 1997. Image credit: Celestis
Celestis Memorial Spaceflights was also featured in a Home Box Office (HBO) documentary, Alternate Endings: Six New Ways to Die in America. It is described as a showcase depicting how many "are choosing to both find meaning and celebrate life as it comes to an end." According to a previous Celestis blog: 
An HBO film crew followed Celestis client Sara Snider Green, her two children and a family friend as they participated in the launch-related events for Celestis' Starseeker Flight that flew into space from Spaceport America, New Mexico in September 2018. Green flew her father, Alfred C. "Tuna" Snider, the Founder and Director of the World Debate Institute. Alternative Endings traces Ms. Green's steps: from when she arrived at the airport; to her speech at the Celestis memorial service where she discussed how a Celestis Memorial Spaceflight was such a meaningful way to commemorate her father's life; and to the exciting liftoff of her father -- she and the crowd cheer as the Starseeker Flight fulfills the spaceflight dreams of all on board.
Celestis has also been featured in museums worldwide, including the Cube Design Museum in the Netherlands and the Tulsa Air & Space Museum. More recently, news that Star Trek® royalty – including "Lt. Uhura" Nichelle Nichols and "Dr. McCoy" DeForest Kelley – will participate in Celestis' first deep space Voyager Service, the Enterprise Flight, made headline news worldwide. 
As Celestis Memorial Spaceflights venture into deep space for the first time – and to the Moon, for the second time, via the Tranquility Flight – there's no doubt that the visibility of "space burials" in pop culture and the public eye will continue to rocket upward (pardon the pun).
Further Reading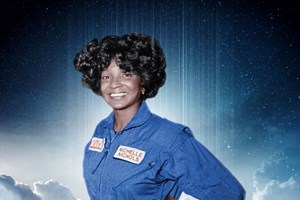 When Star Trek's Nichelle Nichols died in late July at age 89, she was lauded as the trailblazer she was during her lifetime. However, her story is far from over. In early 2023, she will fly alongside the DNA of her son, Kyle Johnson, aboard Celestis' Enterprise Flight. In addition, the Nichelle Nichols Foundation – announced today, on what would have been her 90th birthday – will continue to promote diversity in STEM fields.
By
Celestis
Opens in a new window.
Opens an external site.
Opens an external site in a new window.
Subscription Result
Note: It is our responsibility to protect your privacy and we guarantee that your email address will be completely confidential.
×

Close