Horizon Flight Details
Mission Status: Launched successfully
Honor the dream and memory of your departed loved one aboard the next Earth Orbit Service spaceflight. This Earth Orbit service includes
Personal flight capsule launched to Earth orbit aboard a commercial rocket.
Invitation to attend the launch and view from a preferred location.*

Attendance at the non-sectarian, pre-launch memorial service where you can share memories of your loved one.

Unable to travel to see the launch? No problem. Watch the memorial service and the launch live, via webcast. 

Service performance is guaranteed.
* Launch dates are subject to change.
Starting at $4,995
Remaining space aboard this flight is limited.
View Other Missions
About the Horizon Flight
For someone who always loved space, longed to journey among the stars, or simply found peace and tranquility in the evening sky, orbiting Earth aboard a Celestis spacecraft is a truly befitting way to celebrate and remember a life.
Earth Orbit Service #8
Celestis Memorial Spaceflight: #17
Mission Name: Horizon Flight
Mission Status: Launched successfully
Launch Location: Cape Canaveral, Florida
Launch Date: January 24, 2021
Spaceflight Industries
Celestis contracted with Spaceflight Industries of Seattle, Washington to fly the Horizon Flight into Earth orbit. Spaceflight Industries is a premier launch services and mission management provider, offering routine, cost-effective access to space.
Honored Participants
ABOARD THE HORIZON FLIGHT
What Our Families Are Saying
"I cannot express how thrilled my family is about the launch.  It is truly a wonderful day.  We watched from our homes but we celebrated with the entire Celestis and New Frontier family.  Thank you, a million times over, for this opportunity.  This was the only idea about which Dad showed any enthusiasm as we talked with him about his memorial service - and oh, the enthusiasm he had for this."
New Frontier Flight Memorial Service , May 21, 2015
"I just received the DVD of the New Frontier Flight. It was beautiful and brought me to tears! Not only was the first part of the launch at night beautiful but the dedication to all the 'astronauts' that took their final voyage was inspiring! So many wonderful sendoffs for so many different people from all walks of life. I felt like I was actually there with everyone. Just beautiful!"
New Frontier Flight 226 , June 02, 2015
"Thank you so much for helping us fulfill my husband Michael's dream of spaceflight! I couldn't think of a more fitting send-off!"
Conestoga Flight Launch Event , October 22, 2014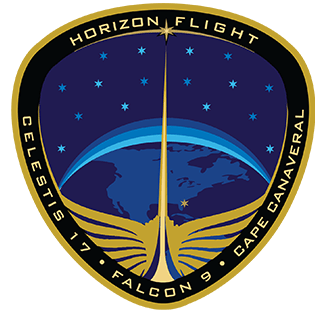 Horizon Flight Mission Logo
The Horizon Flight fulfills the dreams of spaceflight for Celestis participants with a flight among the stars on orbit around the Earth. From the vantage point of their satellite one will always see the horizon of Earth, set against the spectacular vista of outer space. The eight stars in the logo represent Celestis' eight Earth Orbit missions, including the Horizon Flight.
Celestis Mementos Store
Track Your Loved One In Space
Celestis provides an easy-to-use tracking tool that lets family and friends track the mission's progress as the Celestis satellite orbits the Earth or makes its way into deep space.
Create and plan additional remembrances and celebrations as the spacecraft orbits overhead or reaches key locations.
Opens in a new window. Opens an external site. Opens an external site in a new window.
Subscription Result
Note: It is our responsibility to protect your privacy and we guarantee that your email address will be completely confidential.
× Close