The Mercury 7 and Celestis
Share
The Mercury 7 and Celestis

:
[caption id="attachment_1170" align="alignnone" width="550"]
During the April 9, 1959 NASA news conference that introduced the Mercury 7 astronauts, they were asked, "Who wants to be the first man launched into space?" All seven raised their hands -- Walter Schirra and John Glenn raising both hands. From the left are Donald Slayton, Alan Shepard, Schirra, Gus Grissom, Glenn, Gordon Cooper and Scott Carpenter.
Image Credit: NASA[/caption] In a Washington D.C. news conference on April 9, 1959, NASA announced the names of the first group of astronauts -- the Mercury 7.  Two of those space pioneers would figure into the history of Celestis and its parent company, Space Services Holdings, Inc. [caption id="attachment_1173" align="alignleft" width="300"]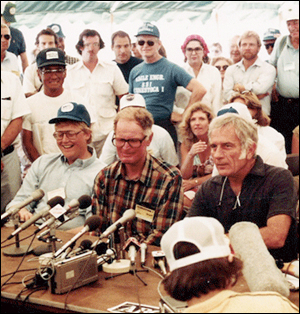 Conestoga 1 post launch press conference, September 9, 1982. Seated from right: Deke Slayton (retired Mercury 7 astronaut and SSIA president), David Hannah, Jr. (SSIA founder and chairman), Charles M. Chafer (president of today's Celestis, Inc.).[/caption] Under the direction of former
Mercury 7 astronaut Donald K. "Deke" Slayton
, Space Services, Inc. of America (
SSIA
) made history as the first private enterprise to launch a rocket into outer space: Conestoga 1. On Sept. 9, 1982, SSIA successfully launched its Conestoga I rocket from Matagorda Island, Texas. The launch marked the world's first privately funded mission to space, and would lead to the creation of a billion dollar market for private aerospace firms. Prior to liftoff, the SSIA crew underwent the process of clearing all legal and regulatory hurdles for the launch, laying the foundation for future commercial space launches. The effort was primarily funded by David Hannah, Jr., Toddie Lee Wynne, and other donors confident in their ability to succeed. Following the launch, dozens of aspiring firms entered the space business in an effort to get a portion of the substantial profits to be had, thus establishing the commercial space industry. Today's Space Services Holdings, Inc. (SSHI) a corporate descendant of Hannah's original company, has conducted over a dozen commercial space missions, has two spacecraft on orbit, and is partnered with major aerospace companies and large, public Internet firms interested in tapping into new commercial space markets. SSHI continues to strive toward bolstering the commercial space industry to ensure that, 30 years down the road, it experiences the same significant growth that followed the Conestoga launch over 30 years ago.
Read Deke Slayton's NASA biography...
[caption id="attachment_1182" align="alignleft" width="300"]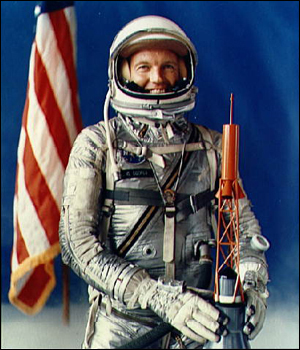 NASA photo of Mercury 7 astronaut L. Gordon Cooper[/caption]
L. Gordon "Gordo" Cooper
became a leading celebrity of the new Space Age when he was selected as one of the Mercury 7 astronauts in April 1959. In May 1963 he piloted the Faith 7 spacecraft on the Mercury 9 mission – the last of the Project Mercury missions. In August 1965 he commanded the Gemini 5 mission, where he and astronaut Charles Conrad set a new space endurance record at the time, orbiting Earth for approximately eight days. The mission demonstrated that astronauts could survive trips to the Moon and back. This flight also made Gordo the first human to fly on two missions on Earth orbit. Additionally, Gordo served as a backup astronaut for the Gemini 12 and Apollo 10 missions. All told, Gordo logged 222 hours in space. Gordo left NASA and retired from the Air Force as a colonel in 1970. After his passing in 2004, his family decided to honor Gordo's life with the Celestis memorial spaceflight service. Gordo was a participant on board Celestis' 2007 Legacy Flight, 2008 Explorers Flight and 2012 New Frontier Flight that orbited Earth.
Read L. Gordon Cooper's Celestis biography...
Further Reading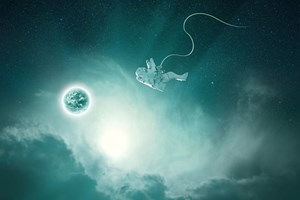 Why did Celestis' Director of Content, Emily Carney, purchase her own Celestis MindFile™? The answer is not as apparent as it might seem.

By Emily Carney on 11/25/2022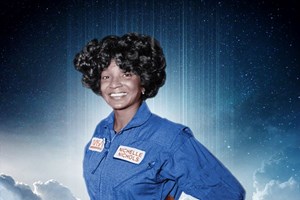 When Star Trek's Nichelle Nichols died in late July at age 89, she was lauded as the trailblazer she was during her lifetime. However, her story is far from over. In early 2023, she will fly alongside the DNA of her son, Kyle Johnson, aboard Celestis' Enterprise Flight. In addition, the Nichelle Nichols Foundation – announced today, on what would have been her 90th birthday – will continue to promote diversity in STEM fields.

By Celestis on 12/28/2022