"I Will Make It": Fred Haise's New Website Reveals Space History Treasure Trove
Share
"I Will Make It": Fred Haise's New Website Reveals Space History Treasure Trove

: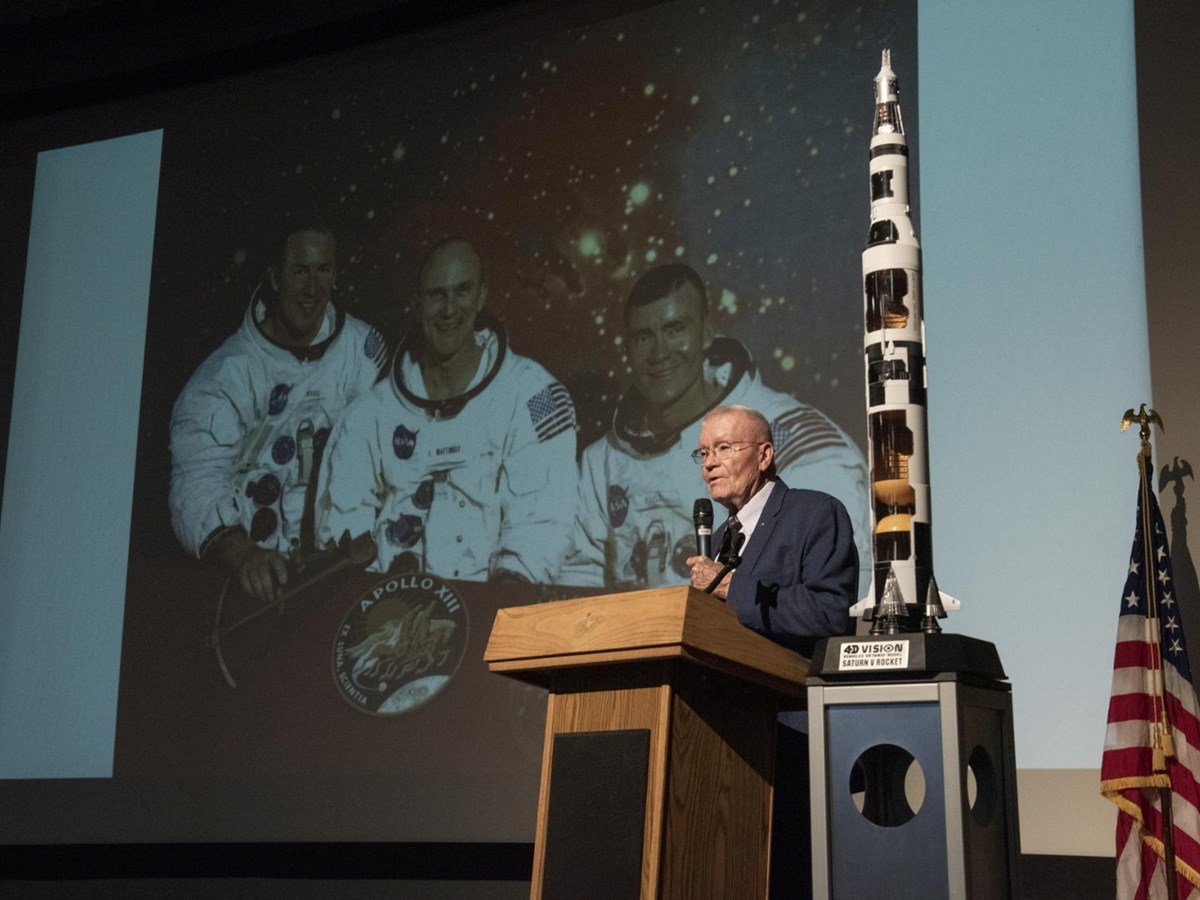 Fred W. Haise, Jr. speaks at NASA's Armstrong Flight Research Center in 2019. NASA photo
Astronaut Fred Haise, who will speak at Celestis Memorial Spaceflights' Tranquility Flight, is one of the few astronauts who participated in both the Apollo and Space Shuttle programs. Haise was the first of his astronaut group to be assigned to a backup crew; he was the backup lunar module pilot on Apollos 8 and 11. In 1970, he was to walk on the Moon during Apollo 13, but fate intervened, and the crew made a free-return trajectory utilizing the lunar module Aquarius as a "lifeboat." During the mid-1970s, Haise began work on the Space Shuttle program. During these periods in his life, Haise kept a journal; selections from his journal have been published on his new website, fredhaise.space. 
*****
August 20, 1968, covering period 8/13 to 8/20
This commences a new phase in my documentation due to a change in responsibility from a hardware manager to a member of a flight crew. Things have progressed so fast I still haven't mentally adjusted – but I'm happy, oh so happy. I've got to be the luckiest guy alive. – Fred Haise's diary entry following his assignment to Apollo 8's backup crew 
Fred Haise's recently-published autobiography, Never Panic Early (written with space historian Bill Moore), filled in many gaps related to the Apollo and Shuttle astronaut's incredible career. Now, Haise, with the assistance of Logan Jaeren, has unveiled a website chock-full of previously unseen photos and documents that reveal more about the great – and sometimes terrible – days that dotted his life and times.
The documents and photos encompass Haise's early, pre-astronaut days as a test pilot, his Apollo years (including Apollo 13, the mission that made him an inadvertent superstar with the release of director Ron Howard's namesake movie in 1995), early Space Shuttle development, and later, his years in upper management and leadership, working to develop Space Station Freedom (which would eventually lead to the International Space Station).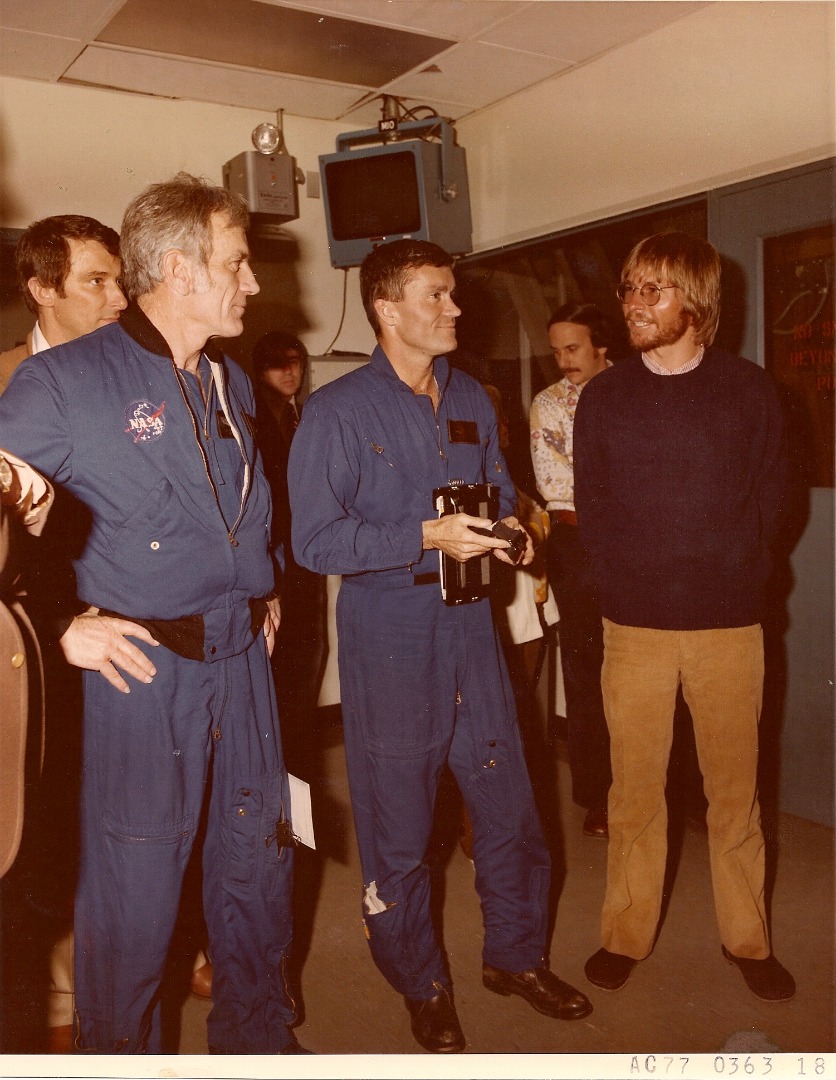 Donald K. "Deke" Slayton, Fred W. Haise, Jr., and singer John Denver pictured at NASA's Ames Research Center in 1977. Photo credit: fredhaise.space
His diary entries from these years illuminate not only his professional responsibilities but also focus on his sometimes arduous personal circumstances – including the August 1973 plane crash that nearly ended his life at age 39. Haise suffered second and third-degree burns on over 65 percent of his body when the Vultee B-13 he was piloting cartwheeled upon landing. Trapped upside-down in the burning airplane's cockpit, he was forced to kick his way through its canopy. Haise spent 11 hellish weeks in the University of Texas Hospital in Galveston's burn ward and underwent agonizing treatments to restore the skin on his legs and arms.
Here it is, Dec. 23 [1973] and I finally am in the proper frame of mind to catch you up diary. To take [you] through some very dark days. ­– Haise's first diary entry after his near-fatal August 1973 plane crash
Days following his release from the hospital, Haise was back at work on Space Shuttle development at his NASA desk. In the months following his near-death experience, as his body healed from skin grafts, he visited children who were burn patients at a neighboring Shriners hospital. These diary entries from this period are difficult and often heartbreaking to read. But this author understands why he made them available: they illustrate Fred Haise's triumph of the heart – how someone who went through seemingly the worst can persevere, enjoy a successful career, and move forward to live a prosperous, long life. 
[I] am sorry I cannot report being successfully through flight physical & return to flight status. [I] will accomplish before end of year which was my original decreed milestone. [I] will make it with better odds than Shuttle's key milestones. – Haise's profound yet humorous November 15, 1974 diary entry. 
Haise was eventually returned to flight status and commanded three of the five Shuttle Enterprise Approach and Landing Tests in 1977.
Visit Fred Haise's new website at fredhaise.space.
Emily Carney's review of Never Panic Early can be accessed here via the National Space Society website. Clifford R. McMurray's review of Never Panic Early is also available on NSS' blog.
*****
This piece was originally published on Medium.com on September 1, 2022. To learn more about Celestis' Moon-bound Tranquility Flight, please visit our website.
Further Reading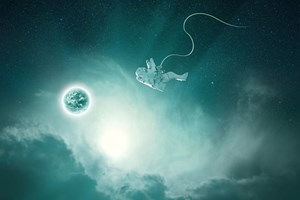 Why did Celestis' Director of Content, Emily Carney, purchase her own Celestis MindFile™? The answer is not as apparent as it might seem.

By Emily Carney on 11/25/2022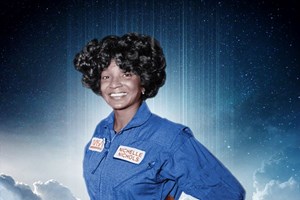 When Star Trek's Nichelle Nichols died in late July at age 89, she was lauded as the trailblazer she was during her lifetime. However, her story is far from over. In early 2023, she will fly alongside the DNA of her son, Kyle Johnson, aboard Celestis' Enterprise Flight. In addition, the Nichelle Nichols Foundation – announced today, on what would have been her 90th birthday – will continue to promote diversity in STEM fields.

By Celestis on 12/28/2022