[caption id="attachment_1896" align="alignleft" width="144"]

Charles Carr, 1956-1999, "Ad Astra, Charlie"[/caption] In the relatively modern fields of space education and space entertainment, few people have contributed more to bringing the vastness of space home to the public than Charles A. Carr. Charlie was born on January 3, 1956, in Effingham, Illinois. His family moved to Los Angeles, California, when he was a child, and he continued to live and work on the West Coast. Charlie was always a supporter of the world's space programs beginning with the Apollo 11 moon landing he watched as a child. In college he majored in astronomy at the University of Southern California. There he helped to develop the space education program at the California Museum of Science & Industry (CMSI) at Exposition Park. At CMSI Charlie developed the traveling Flying Museum that was housed in a DC-3 aircraft. He also oversaw the design and construction of the new CMSI IMAX theater that opened in 1984, and presided over numerous statewide science fairs. Always the educator and space activist, Charlie was involved with many grassroots organizations that supported making space travel accessible to everyone. Some of these groups included The World Space Foundation, The Orange County Space Society, the Aerospace Legacy Foundation, and The Space Tourism Society. Since the mid-1980s, Charlie was deeply involved in the conceptual design of space-related projects, including programs that blended the concept of space education, entertainment, and space tourism. His "edutainment" projects toured the country and were features at popular locations such as Knotts Berry Farm, Six Flags Theme Parks, and the Queen Mary. Several of these projects included a full-scale space shuttle model, the first ever in a touring exhibit. Charlie's daughter Christa, named for the teacher lost on the space shuttle Challenger, was often his companion on stargazing and meteor shower adventures. She adored her father for his ready smile and hugs, his instant spinning of a fanciful bedtime story, and his sense of wonder and adventure. When Christa packed some of his ashes for transport aboard the Celestis mission, she said she hoped that some of the ashes were from her daddy's heart because his heart loved space so much. Now she will gaze at the skies after dark, as they used to do together. Perhaps she'll see a shooting star that could be her daddy soaring free through the night, lighting up the sky the way he illuminated her life, and so many others. Charlie departed this life too soon and too young on August 20, 1999. He was a gifted, highly intelligent, articulate man who was a loving son, husband, and father. He was often called "a gentle giant" by his many friends and associates. As we draw closer to the day when space travel is available to everyone, we will surely be riding on the shoulders of that gentle giant. Ad Astra, Charlie. You are loved and you are missed. Someday we hope to catch up with you in space.
---
Charles A. Carr was a participant on Celestis' third
Earth Orbit Service
memorial spaceflight, The Millennial Flight.
Further Reading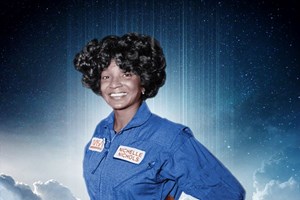 When Star Trek's Nichelle Nichols died in late July at age 89, she was lauded as the trailblazer she was during her lifetime. However, her story is far from over. In early 2023, she will fly alongside the DNA of her son, Kyle Johnson, aboard Celestis' Enterprise Flight. In addition, the Nichelle Nichols Foundation – announced today, on what would have been her 90th birthday – will continue to promote diversity in STEM fields.

By Celestis on 12/28/2022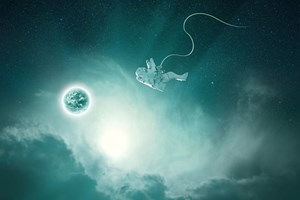 Why did Celestis' Director of Content, Emily Carney, purchase her own Celestis MindFile™? The answer is not as apparent as it might seem.

By Emily Carney on 11/25/2022