Boldly Gone…New film captures the spirit of a Celestis launch
Share
Boldly Gone…New film captures the spirit of a Celestis launch

:
[caption id="attachment_1598" align="alignleft" width="350"]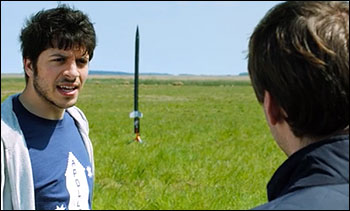 Two brothers (actors Dimitri Leonidas and Sean Biggerstaff) discuss the impending liftoff of their father's ashes in
Boldly Gone
.[/caption] A new short feature -
Boldly Gone
- produced by London indie studio
x
and directed by
Mark Buchanan
, tells the story of two estranged brothers reunited as they attempt to launch their father's ashes on a home built rocket into low earth orbit - from a field on England's stunning North Norfolk Coast. Starring Sean Biggerstaff (
Harry Potter and the Philosopher's Stone
) and Dimitri Leonidas (
Monuments Men, Rosewater
) with a cameo by legendary
Buck Rogers
actor Gil Gerard, the film blends all of the elements of a Celestis launch – grief, anticipation, exhilaration, closure, and joy – with the human story of two brothers rediscovering their own relationship. If you've ever thought about choosing a Celestis Memorial Spaceflight for yourself or a loved one – or if you already have – watch this film:
Boldly Gone
from
xFilm
on
Vimeo
. Celestis Co-Founder and CEO Charles M. Chafer recently reached out to the producer, thanking the
Boldly Gone
team for their work and saying "it brought a tear to my eye." In reply, producer Paul Thomas noted, "I'm sure you can see that the film was influenced by the work you do, and the fact that the ashes of Gene Roddenberry and James Doohan had been sent into space." Released to the public on February 3, 2016, the film has been advance showing at various festivals – including Texas' own SXSW - for over a year. [caption id="attachment_1632" align="alignright" width="350"]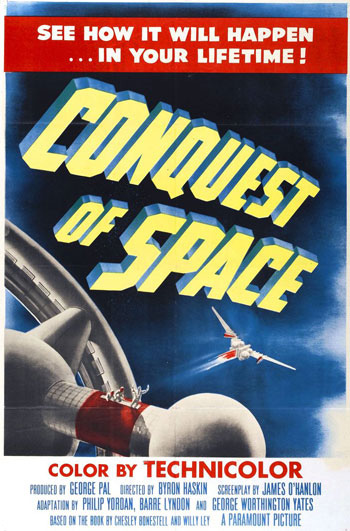 Movie poster for George Pal's
Conquest of Space
(1955). Image Credit: Pinterest.com[/caption] This isn't the first time the topic of space funerals has made it to the movies. Science fiction movies like George Pal's
Conquest of Space
(1955), or
Star Trek: The Wrath of Khan
(1982) portrayed funerals and memorial services in space.
The Loved One
, 1965's satirical portrait of the California funeral industry of the 60s, included a space funeral. It wasn't until after the Celestis Founders Flight in 1997 that popular culture, including films, began to portray the reality of burial in space. 2001's global hit Amelie included a mention of burial in space as something the character wanted to do. In 2008's
I Know You Know
, Welsh film maker Justin Kerrigan included as the final scene actual footage of the Celestis Ad Astra Flight on which his father was a participant. Kerrigan has won numerous international awards, including the British Academy of Film and Television Arts Best Director award for 2000's
Human Traffic
. Even as more and more elements of our culture explore the notion of memorial spaceflights in art, song, film, and literature, it is unlikely that
Boldly Gone
will be eclipsed in its simple meaning and elegant story telling.
Further Reading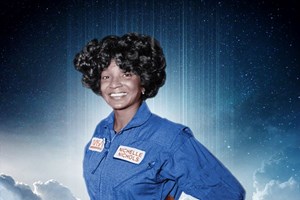 When Star Trek's Nichelle Nichols died in late July at age 89, she was lauded as the trailblazer she was during her lifetime. However, her story is far from over. In early 2023, she will fly alongside the DNA of her son, Kyle Johnson, aboard Celestis' Enterprise Flight. In addition, the Nichelle Nichols Foundation – announced today, on what would have been her 90th birthday – will continue to promote diversity in STEM fields.

By Celestis on 12/28/2022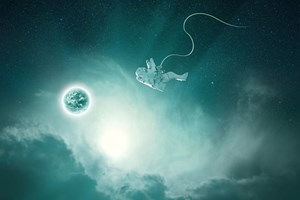 Why did Celestis' Director of Content, Emily Carney, purchase her own Celestis MindFile™? The answer is not as apparent as it might seem.

By Emily Carney on 11/25/2022