Share
Astronauts and Celestis

:
When people fly on Celestis Memorial Spaceflights they follow in the footsteps of the astronauts. Sometimes they even fly with astronauts -- and their families even meet astronauts.

Astronaut Deke Slayton and the Origins of Celestis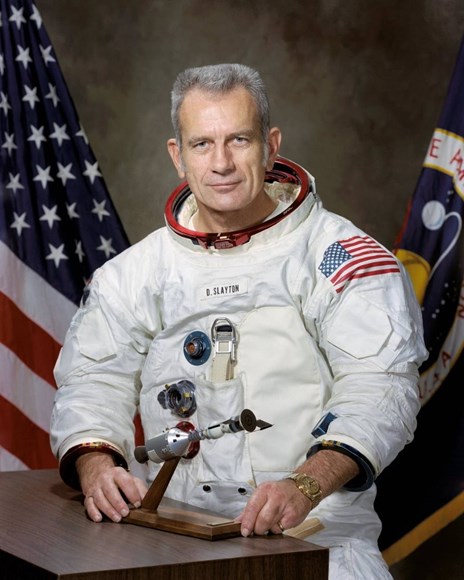 Astronaut Deke Slayton
Astronauts have played an important role in the history of Celestis. Celestis was first championed by Mercury 7 and Apollo-Soyuz astronaut Deke Slayton who embraced the concept when the Celestis Group of Melbourne, Florida first presented the idea to Space Services, Inc. of America (SSIoA) in the mid 1980s, when Slayton headed the company.

The Celestis Group was licensed in 1984 by the FAA's Office of Commercial Space Transportation to fly human cremated remains as a payload aboard SSIoA's Conestoga launch vehicle. While ultimately unable to conduct the launch, the Celestis Group proved that people all over the world sought memorial spaceflights for themselves and their loved ones. In 1994, former SSIoA employees Charles M. Chafer and R. Chan Tysor founded a new company, Celestis, Inc.

Celestis Inc.'s Founders Flight (April 1997) inaugurated the era of private memorial spaceflights and included Star Trek creator Gene Roddenberry, 1960s icon Dr. Timothy Leary, and Princeton University physicist Dr. Gerard K. O'Neill among the 24 pioneers aboard. Since then Celestis has flown 16 more memorial spaceflights on which two astronauts have flown.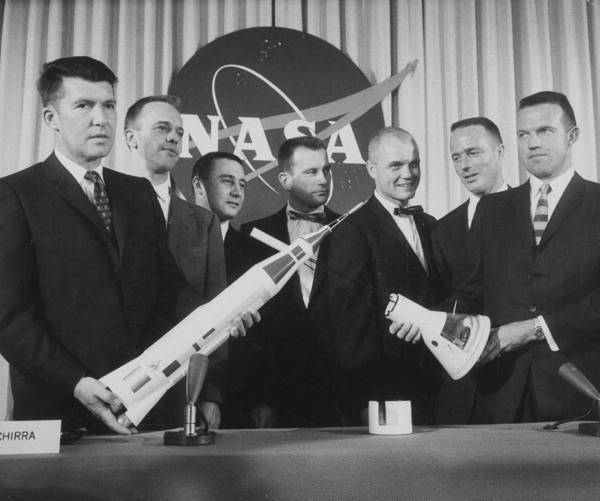 The Mercury 7 astronauts (left to right) Schirra, Shepard, Grissom, Slayton, Glenn, Carpenter, and Cooper holding models of an Atlas rocket and a Mercury capsule on April 9, 1959 – the day NASA formally introduced the Mercury 7 astronauts.
Astronaut L. Gordon Cooper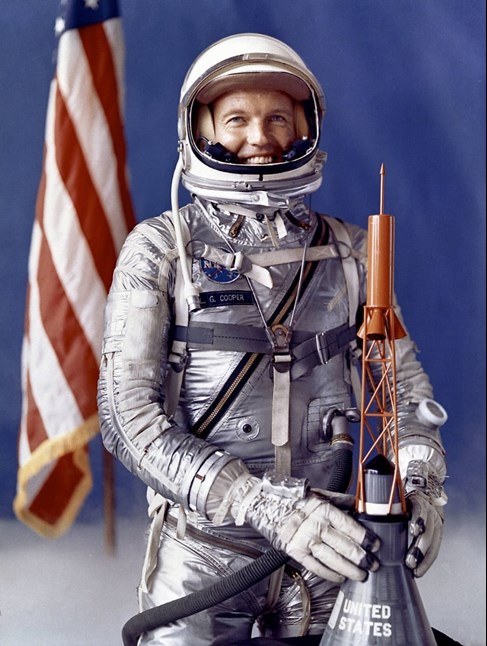 Astronaut L. Gordon Cooper, Jr.
Mercury 7 astronaut L. Gordon Cooper's family chose to fly his cremated remains on three Celestis missions: Explorers, Legacy and New Frontier. In May 1963 Cooper piloted the Faith 7 spacecraft on the Mercury 9 mission - the last of the Project Mercury missions. In August 1965 he commanded the Gemini 5 mission, where he and astronaut Charles Conrad set a new space endurance record at the time, orbiting Earth for approximately eight days. The mission demonstrated that astronauts could survive trips to the Moon and back. This flight also made Cooper the first human to fly on two missions on Earth orbit. Additionally, Cooper served as a backup astronaut for the Gemini 12 and Apollo 10 missions. All told, he logged 222 hours in space

Skylab Astronaut William Pogue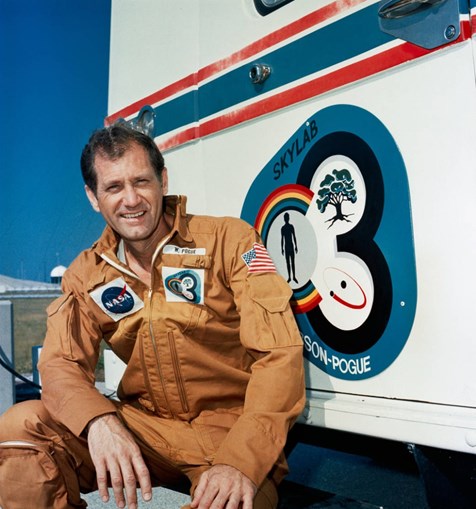 Astronaut William Pogue
NASA astronaut William Reid Pogue flew into Earth orbit from NASA's Kennedy Space Center on June 25, 2019 with 155 other participants on Celestis' Heritage Flight. He was selected in the fifth group of astronauts in 1966 and was on the support crews for Apollos 7, 11 and 14. His 84-day spaceflight aboard the Skylab space station ('73-'74) with astronauts Jerry Carr and Ed Gibson set eight endurance and distance records. He made two space walks (one for a new record of over seven hours) and conducted numerous experiments related to studies of the Earth, the Sun and the long-term effects of zero gravity on crew members.

Apollo Astronaut Philip Kenyon Chapman ScD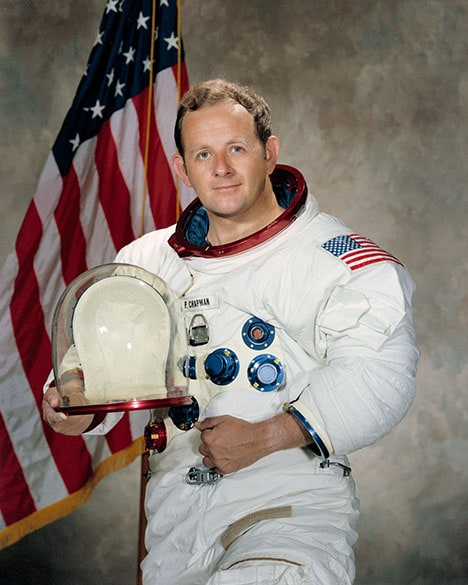 Astronaut Philip Kenyon Chapman ScD
Apollo era Astronaut Philip K. Chapman will fly on two Celestis Memorial Spaceflights: The Aurora Flight into space with return to Earth, and the Enterprise Flight into deep space. Born and raised in Australia, Dr. Chapman earned advanced degrees at MIT, became an American citizen and was chosen by NASA in 1967 to be a scientist-astronaut. While he trained to fly on Apollo 14 and was scheduled for flight on Skylab B, he never flew in space. Celestis is proud to fulfill his dream of spaceflight – as well as the spaceflight dreams of all those who fly with Celestis.

Astronauts Speaking with Celestis Families

Astronauts have not only flown on Celestis missions but have also inspired Celestis families who have attended Celestis Memorial Spaceflight launches over the years. One of the features of Celestis Earth Orbit launch events is our Astronaut Dinner, normally held the evening before liftoff. These dinners are an important part of what makes Celestis memorial spaceflights such an unforgettable memorial.

Astronaut Jean-Loup Chrétien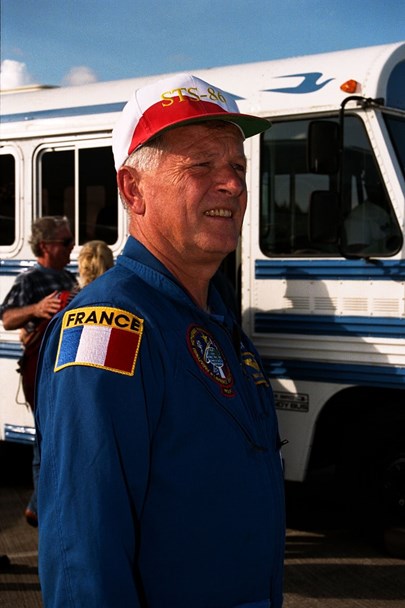 Astronaut Jean-Loup Chrétien
French Astronaut Jean-Loup Chrétien spoke before the families of the more than 200 Celestis participants on Celestis' 2007 Legacy Flight, launched from Spaceport America, New Mexico on an UP Aerospace SpaceLoft XL rocket. The Legacy Flight marked the first Celestis Earth Rise service mission and was one of the earliest launches from Spaceport America, New Mexico. In June 1982 Chrétien flew to the USSR's Salyut 7 space station, thus becoming the first western European to fly in space. He flew to the Soviet's Mir space station in 1988, and returned to Mir once more as a mission specialist on board NASA's space shuttle Atlantis in 1997.

Astronaut Jon McBride

In 2012 NASA astronaut Jon McBride (Captain, USN, Ret.) spoke at the Astronaut Dinner for Celestis' New Frontier Flight, which flew into Earth orbit from the Kennedy Space Center aboard a Falcon 9 rocket. The Falcon 9's primary payload was a Dragon Capsule loaded with supplies to deliver to the International Space Station - the first ever commercial delivery to the ISS. Aboard were 320 Celestis participants – the largest Celestis mission ever.


Captain Jon McBride speaking at the Celestis New Frontier Flight memorial service
Captain McBride was pilot of space shuttle mission STS 41-G, which launched from Kennedy Space Center, Florida on October 5, 1984, aboard the space shuttle Challenger. This was the first crew of seven. Captain McBride was scheduled to fly next in March 1986, as the commander of the STS 61-E crew. This flight was one of several deferred by NASA in the wake of the Challenger accident in January 1986. On July 30, 1987, Captain McBride was assigned to NASA Headquarters to serve as Assistant Administrator for Congressional Relations. He held this post from September 1987 through March 1989.

Speaking at the memorial service before hundreds of Celestis families in attendance, Captain McBride discussed the feelings he experienced when he was about to liftoff from the Kennedy Space Center, and how meaningful the New Frontier Flight would be for those on board. "It's a wonderful thing you're doing," he said. "I know your loved ones can't wait, because I knew I couldn't wait!"

Astronaut Winston Scott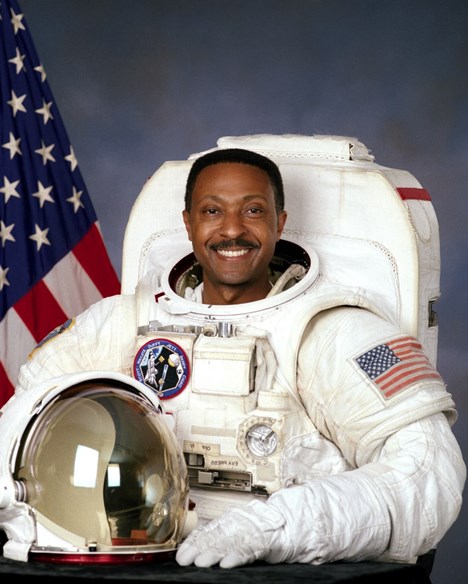 Astronaut Winston Scott
"When we pass away from this life, with all of its turmoil and all of its hassles, we want to go to a place of perfect peace. And I can think of no place else than going into Earth orbit."

So said space shuttle astronaut Winston Scott in an inspiring speech to the families of Celestis Heritage Flight participants on June 14, 2019 -- the day prior to the liftoff of their loved ones from NASA's Kennedy Space Center. He served as a mission specialist on STS-72 in 1996 and STS-87 in 1997, and logged a total of 24 days, 14 hours and 34 minutes in space. Mr. Scott took three spacewalks totaling 19 hours and 26 minutes during the missions to support technical planning for the International Space Station and to capture, by hand, the Spartan satellite.

The Mercury 7 astronauts who opened the space age of the 20th century through the astronauts of today have been an inspiration to everyone at Celestis – including the people who have flown on board our memorial spaceflights. Indeed, Celestis is an iconic pioneer and global leader of today's commercial space age due both to the influence of astronauts and the support of families who have chosen to commemorate their loved ones with a memorial spaceflight.
Further Reading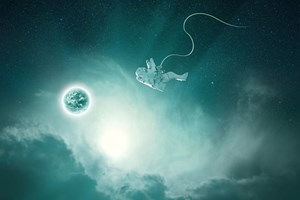 Why did Celestis' Director of Content, Emily Carney, purchase her own Celestis MindFile™? The answer is not as apparent as it might seem.

By Emily Carney on 11/25/2022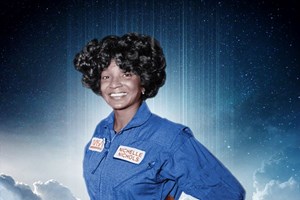 When Star Trek's Nichelle Nichols died in late July at age 89, she was lauded as the trailblazer she was during her lifetime. However, her story is far from over. In early 2023, she will fly alongside the DNA of her son, Kyle Johnson, aboard Celestis' Enterprise Flight. In addition, the Nichelle Nichols Foundation – announced today, on what would have been her 90th birthday – will continue to promote diversity in STEM fields.

By Celestis on 12/28/2022