Astronaut Mike Mullane to Speak at Celestis Memorial Spaceflights' Aurora Flight
Share
Astronaut Mike Mullane to Speak at Celestis Memorial Spaceflights' Aurora Flight

: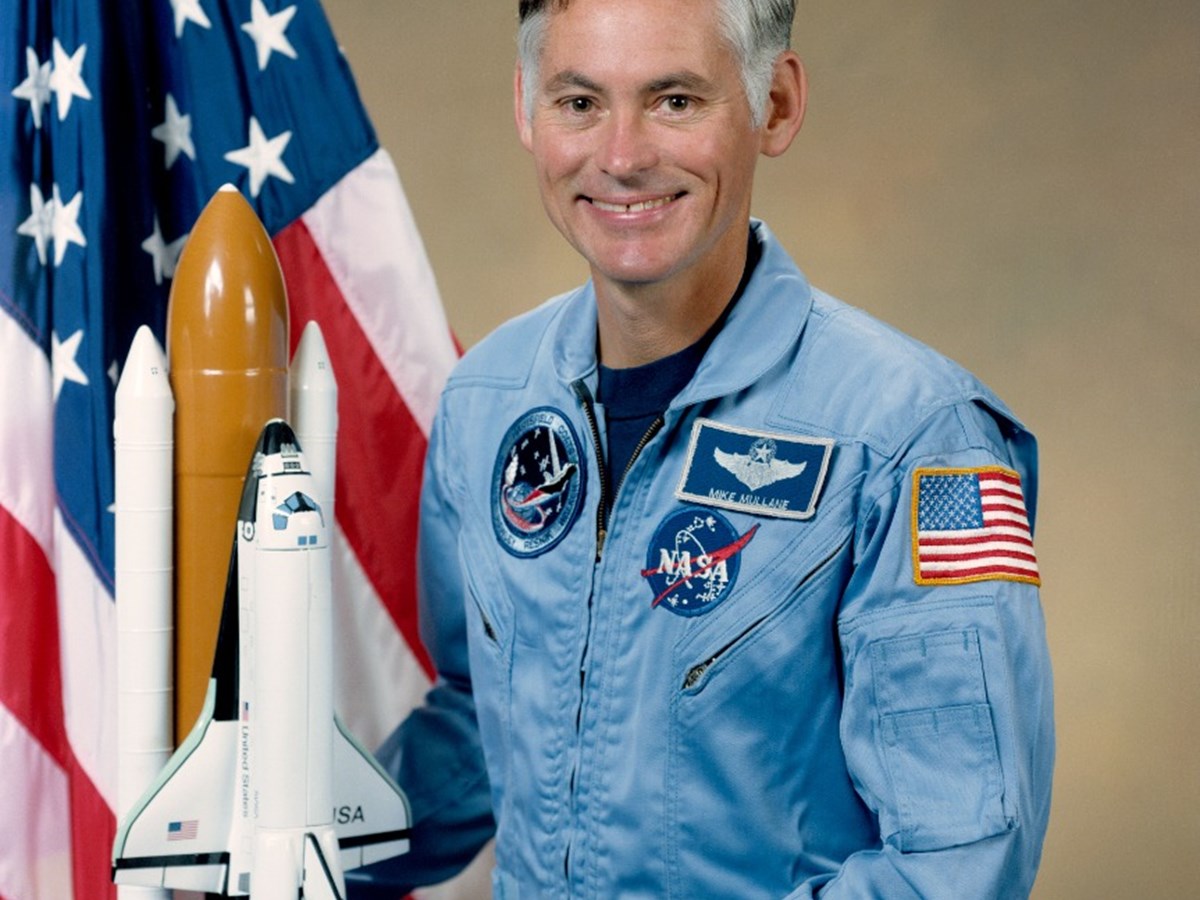 1986 NASA portrait of astronaut Mike Mullane. NASA photo
Celestis Memorial Spaceflights is honored to announce that NASA astronaut Richard Michael "Mike" Mullane (USAF Colonel, retired) will speak at Celestis Memorial Spaceflights' next Earth Rise Service, the Aurora Flight. The Aurora Flight will launch from New Mexico's Spaceport America on Wednesday, November 30th, 2022. Mullane, who grew up and currently resides in Albuquerque, New Mexico, is a veteran of three Space Shuttle flights. He has authored four books, including his autobiography Riding Rockets: The Outrageous Tales of a Space Shuttle Astronaut.
Mike Mullane's Career Milestones
Mullane graduated from the United States Military Academy at West Point, New York, in 1967 and joined the U.S. Air Force shortly after that. According to his website, "As a Weapon Systems Operator aboard RF-4C Phantom aircraft, he completed 134 combat missions in Vietnam. He holds a Master of Science Degree in Aeronautical Engineering from the Air Force Institute of Technology and is also a graduate of the Air Force Flight Test Engineer School at Edwards Air Force Base, California."
A longtime space enthusiast who built and launched model rockets, Mullane always sought to join the astronaut corps. But he despaired over his less-than-perfect eyesight, which did not allow him to become an Air Force test pilot. However, NASA was gearing up to build a group of astronauts that better reflected a new, post-Apollo generation. During the mid-1970s, NASA launched a press campaign led by Star Trek's "Lt. Uhura," Nichelle Nichols, to entice a more diverse population to sign up. In January 1978, Mullane was selected to NASA's eighth group of astronauts, the first class dedicated solely to flying Space Shuttle missions. The group, nicknamed "TFNG" or the "Thirty-Five New Guys," boasted NASA's first African American, Asian, and women astronaut candidates in the space agency's history.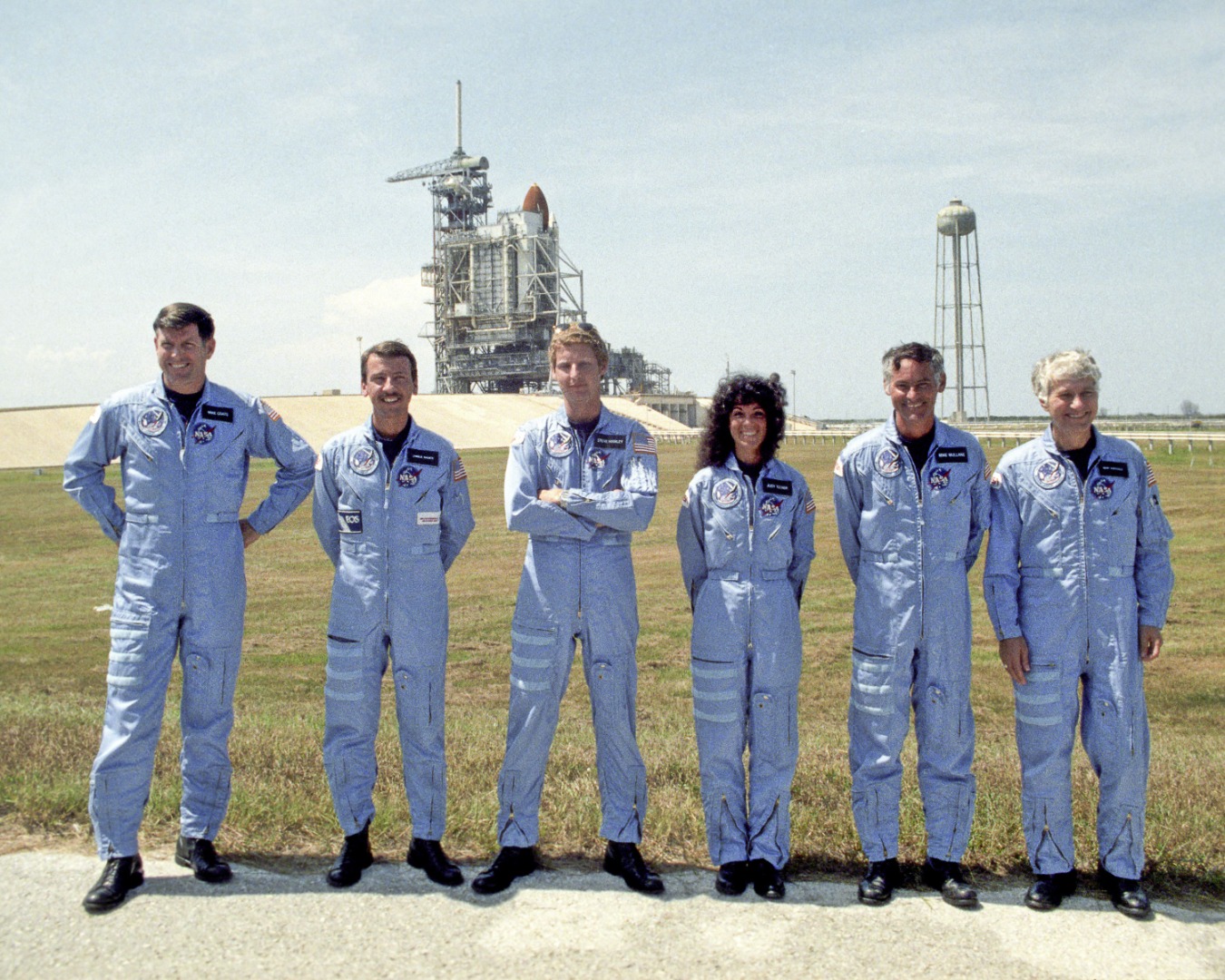 "Members of the STS-41D flight crew are, from left to right, Michael L. Coats, Charles D. Walker, Steven A. Hawley, Judith A. Resnik, Richard M. Mullane, and Henry Hartsfield. Photo credit: NASA." 1984 photo.
Mullane's first Space Shuttle mission was aboard the maiden flight of orbiter Discovery during August 1984's STS-41D, which completed 96 Earth orbits. He was then assigned to STS-62A, which would have been the first-ever Space Shuttle launch from Vandenberg Air Force Base's Space Launch Complex 6; it also would have been the first Shuttle mission to fly in a polar (north to south) orbit. However, January 1986's Challenger disaster caused all launches from Vandenberg to be canceled. Shortly after the Space Shuttle returned to flight, in December 1988, he launched aboard STS-27 Atlantis, a Department of Defense mission. This mission saw orbiter Atlantis sustain severe tile damage, the worst documented until STS-107, which resulted in orbiter Columbia's loss in 2003.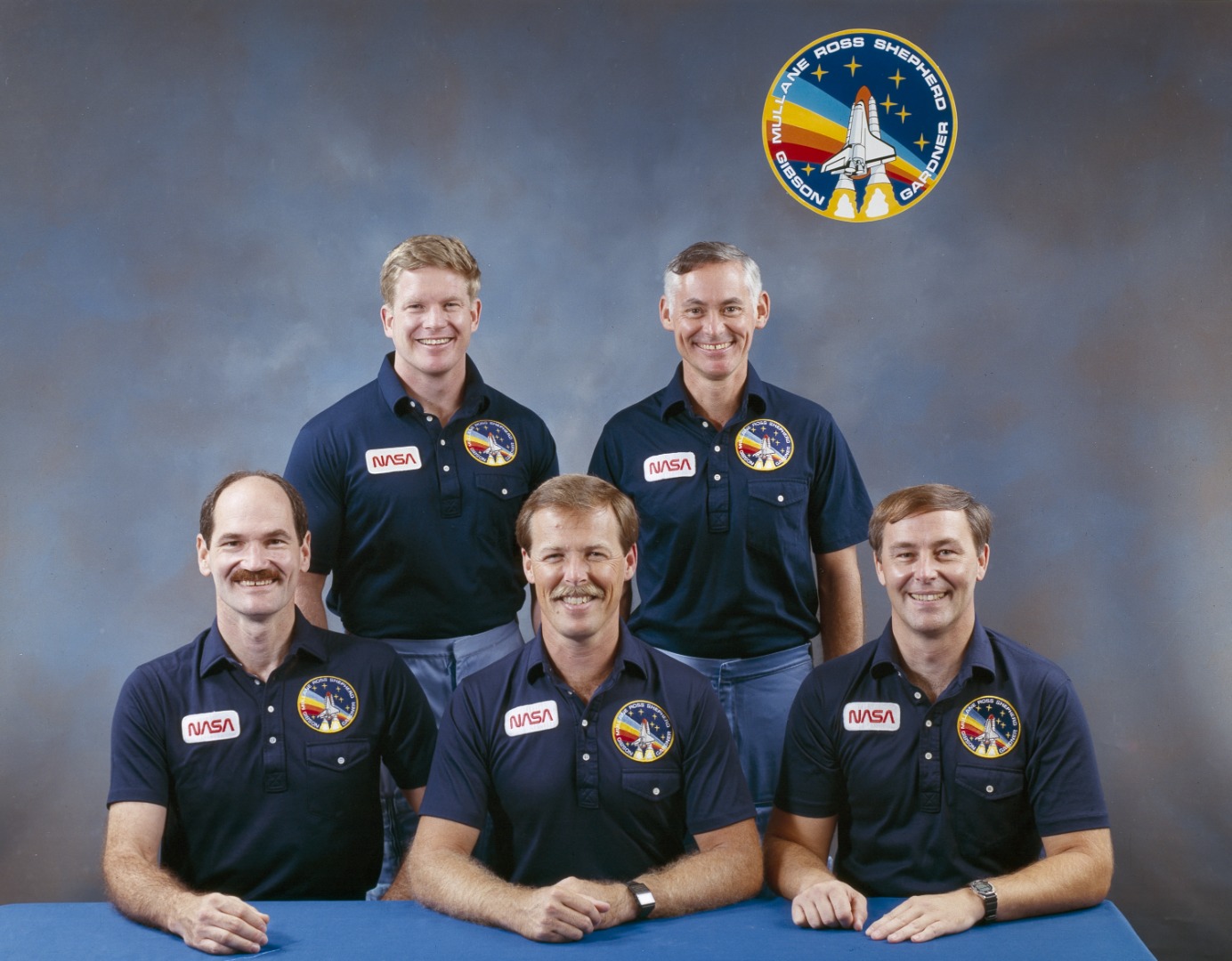 "The STS-27 crew portrait features 5 astronauts. Seated, left to right, are Jerry L. Ross, mission specialist; Guy S. Gardner, pilot; and Robert L. Gibson, commander. On the back row, left to right, are mission specialists Richard M. Mullane, and William M. Shepherd." 1988 NASA photo
In February 1990, Mullane launched aboard his third spaceflight as a mission specialist, STS-36 Atlantis. Upon its landing on March 4, 1990, Mullane had completed a total of 356 hours in space. That same year, he retired from NASA and the U.S. Air Force. His autobiography, Riding Rockets, was published in 2006; the book discusses his years as an astronaut against the backdrop of a changing culture at NASA and within the astronaut corps. His book also showcases the tumultuous time at NASA post-Challenger, and STS-27's frightening "near miss" after Shuttle Atlantis sustained severe tile damage. Riding Rockets is available via Mullane's website and Amazon; also, Mullane will sign copies at the launch event.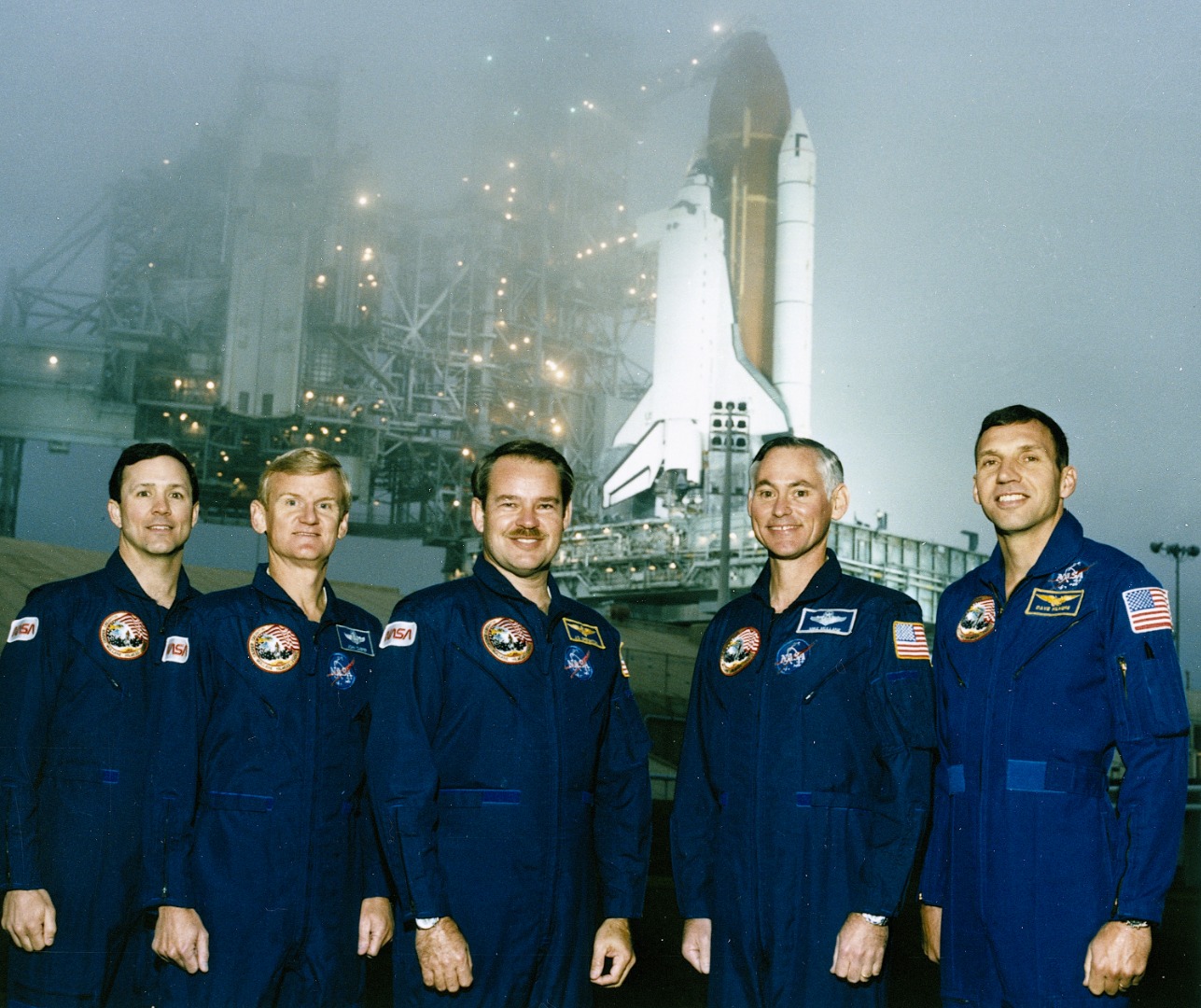 "The STS-36 crew portrait features 5 astronauts who served in the 6th Department of Defense (DOD) mission. Posed near the Space Shuttle Orbiter are (left to right) Pierre J. Thuot, mission specialist 3; John H. Caster, pilot; John H. Creighton, commander; Richard M. (Mike) Mullane, mission specialist 1; and David. C. Hilmers, mission specialist 2." 1990 NASA photo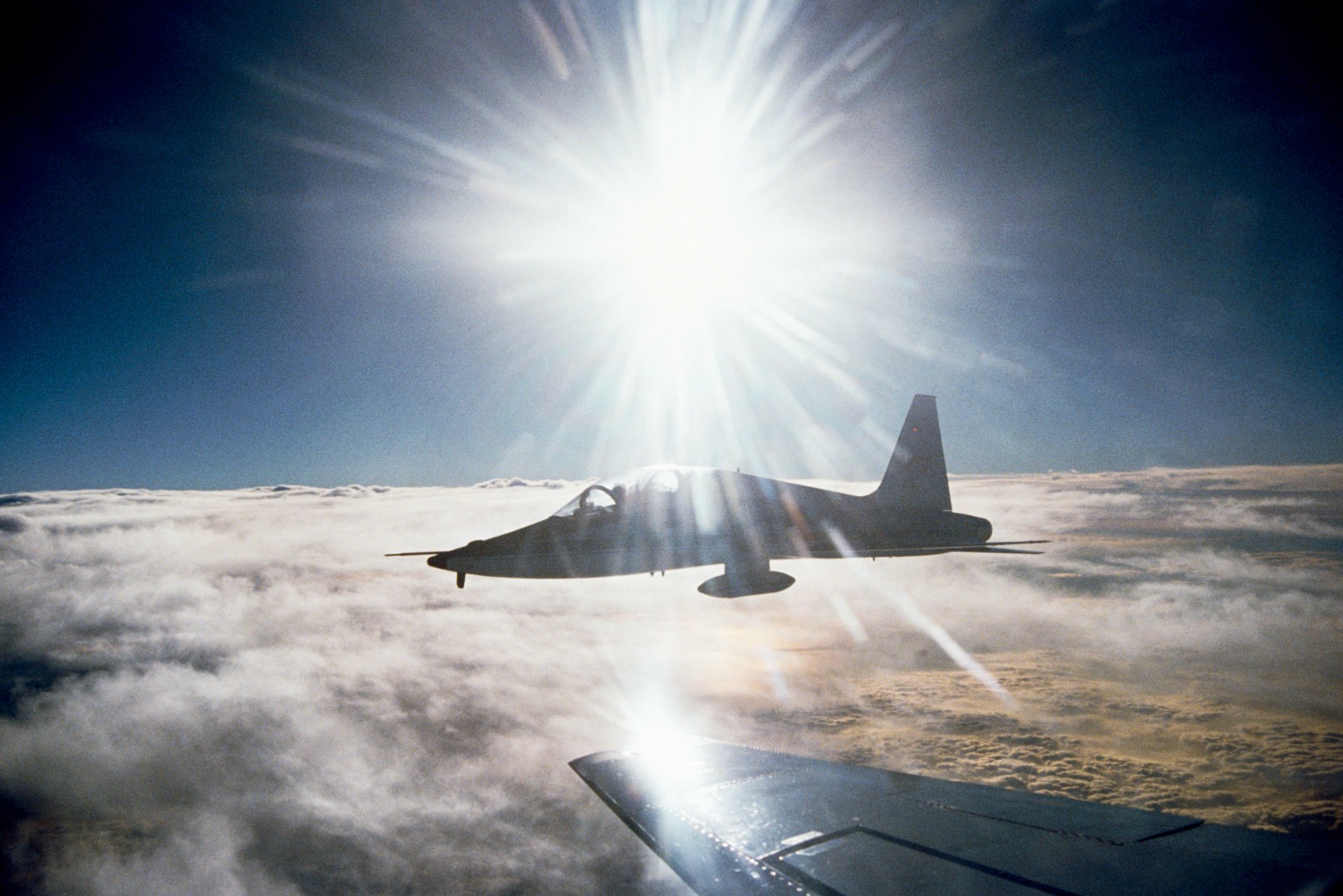 "An airborne view of a T-38 taken from the Atlantis (STS-36) while landing at Edwards Air Force Base, California 03/04/90 by Mission Specialist Richard M. 'Mike' Mullane." NASA photo
Mullane has received many awards, including the Air Force Distinguished Flying Cross, Legion of Merit, and the NASA Space Flight Medal. He has also been inducted into the International Space Hall of Fame, part of the New Mexico Museum of Space History.
According to his website, Mullane is still very active at age 76: "Mullane has a lifelong passion for mountain climbing, averaging nearly 500 miles per year of backpacking in the mountains of the West. Since age 60, he has summited Africa's highest peak, Mt. Kilimanjaro; the glaciered peak of Mt. Rainier; and forty of Colorado's 14,000-foot peaks." He remains an in-demand public speaker and has lectured to audiences numbering thousands about teamwork, safety, and leadership, often with a humorous take on these subjects. Mullane has been married to his wife, Donna, since 1967; they have three children and six grandchildren. His son, Patrick, recently published his memoir The Father, Son, and Holy Shuttle: Growing Up an Astronaut's Kid in the Glorious 80s, which chronicles his time as an astronaut's child during the "decade of the Space Shuttle."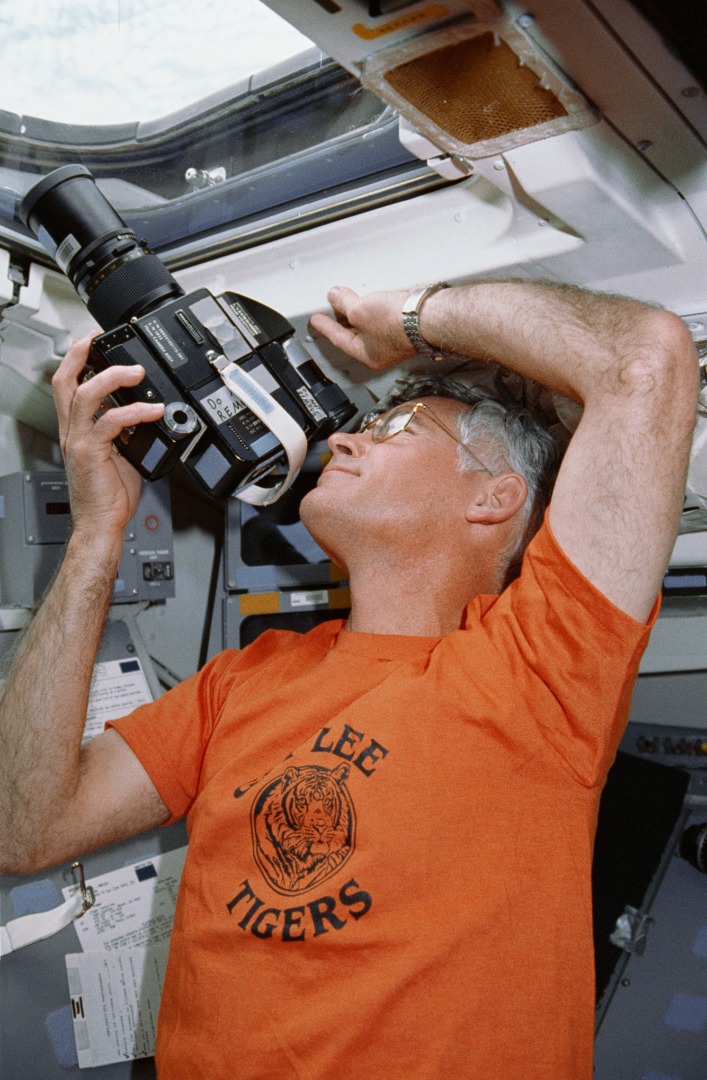 "Astronaut Richard M. (Mike) Mullane, on the aft flight deck of the Earth-orbiting Atlantis, uses the 70mm Hasselblad camera to record Earth imagery. Mullane and four other NASA astronauts spent four days, 10 hours and 19 minutes aboard the spacecraft for the DOD-devoted mission." 1990 NASA photo
Celestis Memorial Spaceflights' Aurora Flight
The Aurora Flight is Celestis Memorial Spaceflights' next Earth Rise Service flight and is scheduled to launch on Wednesday, November 30th, 2022, from Spaceport America near Las Cruces, New Mexico. Celestis' Aurora pre-launch services – including launch pad tours, a tour of Spaceport America's facilities, a memorial service, and a talk by Mullane – will start on Monday, November 28th.
Reservations for the Aurora Flight will close on September 15th, 2022. As the Earth Rise Service is our most affordable, intimate service with guests able to experience up-close tours of the launch facilities at Spaceport America, we expect slots to fill very soon. Don't hesitate to contact Celestis Memorial Spaceflights if you are interested in flying your loved one's ashes or your DNA aboard the Aurora Flight.
Further Reading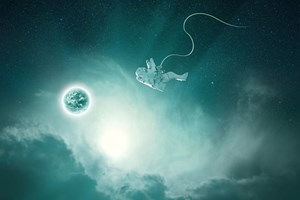 Why did Celestis' Director of Content, Emily Carney, purchase her own Celestis MindFile™? The answer is not as apparent as it might seem.

By Emily Carney on 11/25/2022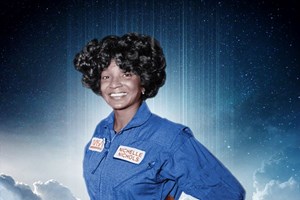 When Star Trek's Nichelle Nichols died in late July at age 89, she was lauded as the trailblazer she was during her lifetime. However, her story is far from over. In early 2023, she will fly alongside the DNA of her son, Kyle Johnson, aboard Celestis' Enterprise Flight. In addition, the Nichelle Nichols Foundation – announced today, on what would have been her 90th birthday – will continue to promote diversity in STEM fields.

By Celestis on 12/28/2022