Apollo 13 Astronaut Fred Haise to Speak at Celestis' Tranquility Flight
Share
Apollo 13 Astronaut Fred Haise to Speak at Celestis' Tranquility Flight

: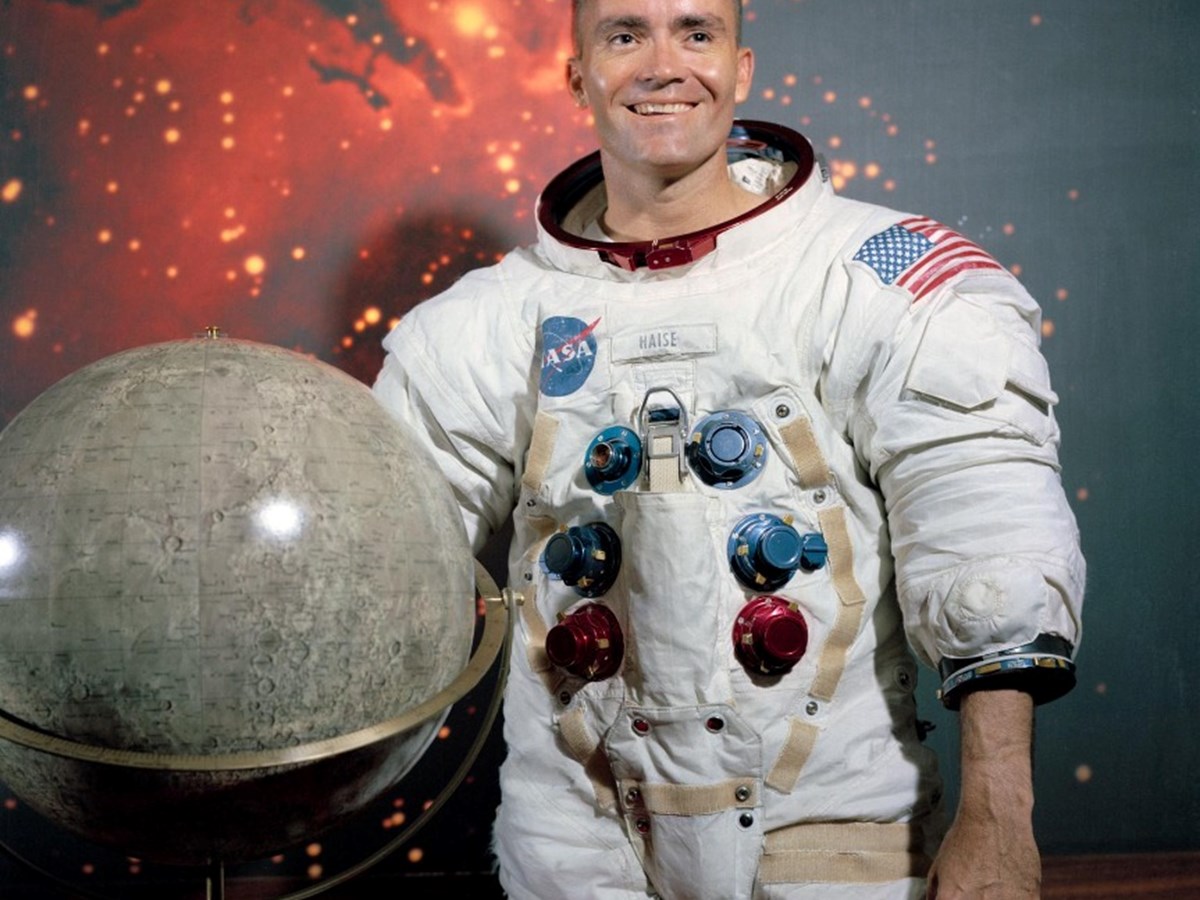 Astronaut Fred Haise pictured in 1969. NASA photo
Celestis Memorial Spaceflights proudly announces that Apollo and Space Shuttle legend Fred W. Haise, Jr. will speak at its Moon-bound Tranquility Flight. Haise's career began at NASA years before he became an astronaut, as he had been a civilian research pilot for the space agency. In April 1970, Haise inadvertently became a worldwide celebrity when the Apollo 13 mission experienced a near-disaster in space.
After an oxygen tank exploded during that mission, the crew – Haise, commander Jim Lovell, and command module pilot John L. "Jack" Swigert – were forced to abandon their planned Moon landing and return home on a free-return trajectory. Despite the circumstances during that mission, Haise was able to view the Moon from a perspective very few humans alive have been able to. In 1995, he was portrayed by actor Bill Paxton in the Ron Howard blockbuster Apollo 13, based on the book Lost Moon by Lovell and Jeffrey Kluger. He recently authored his autobiography with space historian Bill Moore, Never Panic Early, published by Smithsonian Books.
Early Years at NASA 
Years before becoming an astronaut, Fred Haise worked for NASA as a civilian test pilot and performed research on various experimental aircraft. Before he became an astronaut candidate in April 1966, Haise had been assigned to perform flutter testing on the Piper PA-30, which had been involved in several accidents involving instability affecting the plane's tail section. On his website, he recounted, "I encountered a flutter when I rapped the control yoke below the aircraft-certified speed on April 5, 1966. The recorded motion captured on high-speed film sort of looks like a manta ray swimming but fortunately the horizontal tail broke internally and did not separate from the aircraft…This flight was the day after I received the call from [astronaut chief] Deke [Slayton] regarding my selection … so I could have made history as the astronaut with the shortest career!" YouTube video of this incident exists and underscores the danger inherent in Haise's flight test career.
According to Gemini 10 and Apollo 11 astronaut Michael Collins' memoir Carrying the Fire, Haise was rated first among his 1966 astronaut group before selection. Having been assigned to Grumman to assist with lunar module development, Haise was the first of his group to be designated as a backup crew member; he was the backup lunar module pilot for Apollos 8 and 11. By mid-1969, he was preparing for his mission as a lunar module pilot, Apollo 13, alongside space veteran Lovell and rookie Ken Mattingly. In an unexpected twist of fate, Mattingly was exposed to measles, necessitating the need for Swigert to replace him on the prime crew days before launch. (Mattingly eventually flew to the Moon on Apollo 16.)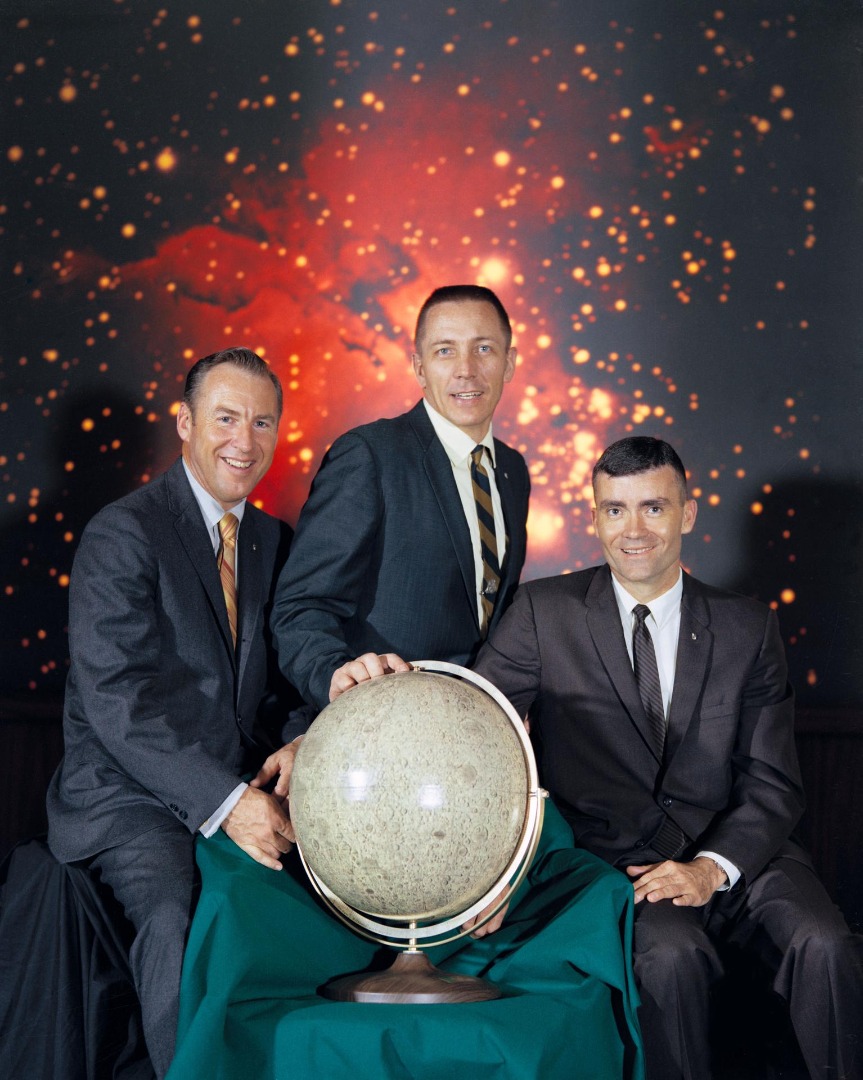 The Apollo 13 crew that flew to the Moon in April 1970. From left, commander Jim Lovell, lunar module pilot Fred Haise, and command module pilot Jack Swigert. 1970 NASA photo
During the 1970s, Haise conquered more than one period of adversity. As previously mentioned, an oxygen tank explosion thousands of miles from Earth scuttled any hopes of the Apollo 13 crew making a successful lunar landing. The focus became getting Lovell, Haise, and Swigert home alive, and the crew was forced to use the lunar module Aquarius as a "lifeboat." While Haise did not return home exactly unscathed (he developed a kidney infection during the flight due to restricted drinking water and subfreezing temperatures), the crew splashed down in the Pacific Ocean on April 17th; Apollo 13, while a "successful failure," was a triumph demonstrating that a concerted effort by the crew, the ground, and various Apollo contractors could save imperiled astronauts.
Following Apollo 13, Haise served as the backup commander for Apollo 16, which flew in April 1972. He was in line to command Apollo 19; however, that mission was canceled in 1970. Apollo 17 would prove to be the Apollo program's swansong in December 1972. Haise went on to work in Space Shuttle development during this period.
However, his work was interrupted by a near-fatal accident on August 22, 1973. Haise was piloting a Vultee BT-13 aircraft when the plane experienced an engine failure. Upon landing, the airplane cartwheeled, and Haise was briefly trapped inside its cockpit. He spent 11 weeks undergoing burn treatments at the University of Texas Hospital in Galveston, Texas. A week after he was released from the hospital, Haise was back at work at NASA; within 18 months of the accident, he was recertified to fly. 
Space Shuttle Enterprise and Retirement
By 1976, Haise was in line to command Enterprise, NASA's first space shuttle, for three of its Approach and Landing Tests (ALTs). These tests were essential in proving the Shuttle's fight fidelity and the robustness of its various systems. In many ways, the entire Shuttle program's success rested upon Haise's shoulders as he prepared for the first "free flight" ALT test in August 1977.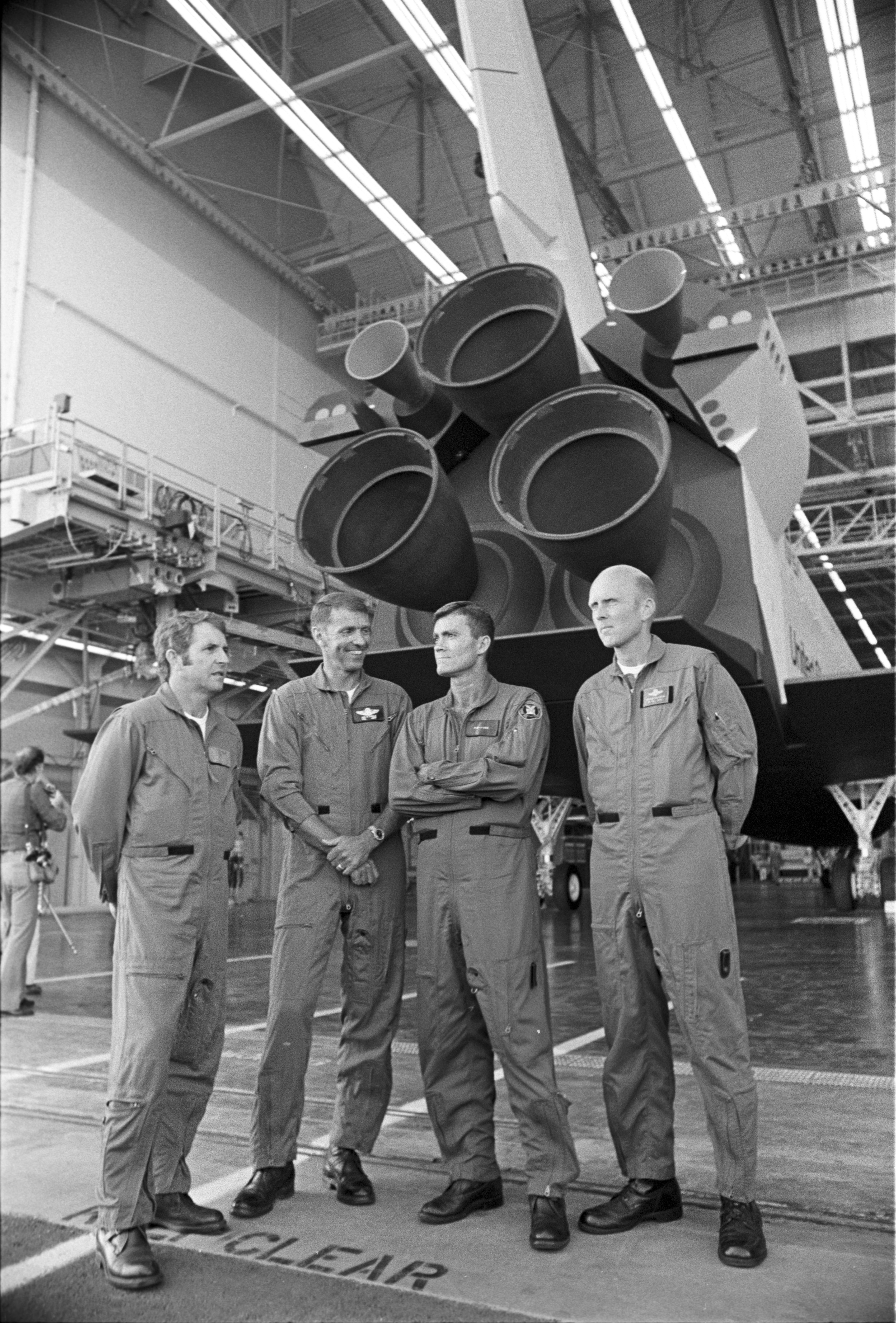 The Enterprise crews: from left, Richard Truly, Joe Engle, Fred Haise, and Gordon Fullerton. Photo credit: fredhaise.space

In 1977, Haise became the first astronaut to command a Space Shuttle and landed Enterprise successfully three times at California's Edwards Air Force Base. In 1978, he was assigned to one of the first orbital Space Shuttle crews, STS-2A, which was to re-boost space station Skylab's deteriorating orbit. However, the first orbital Shuttle Columbia was not yet ready to fly, and Skylab's orbit was decreasing more quickly than anticipated. Without a mission, Haise accepted an offer to work at Northrop Grumman, the company that designed the Lunar Module that had saved his life in 1970; he resigned from his NASA post in 1979.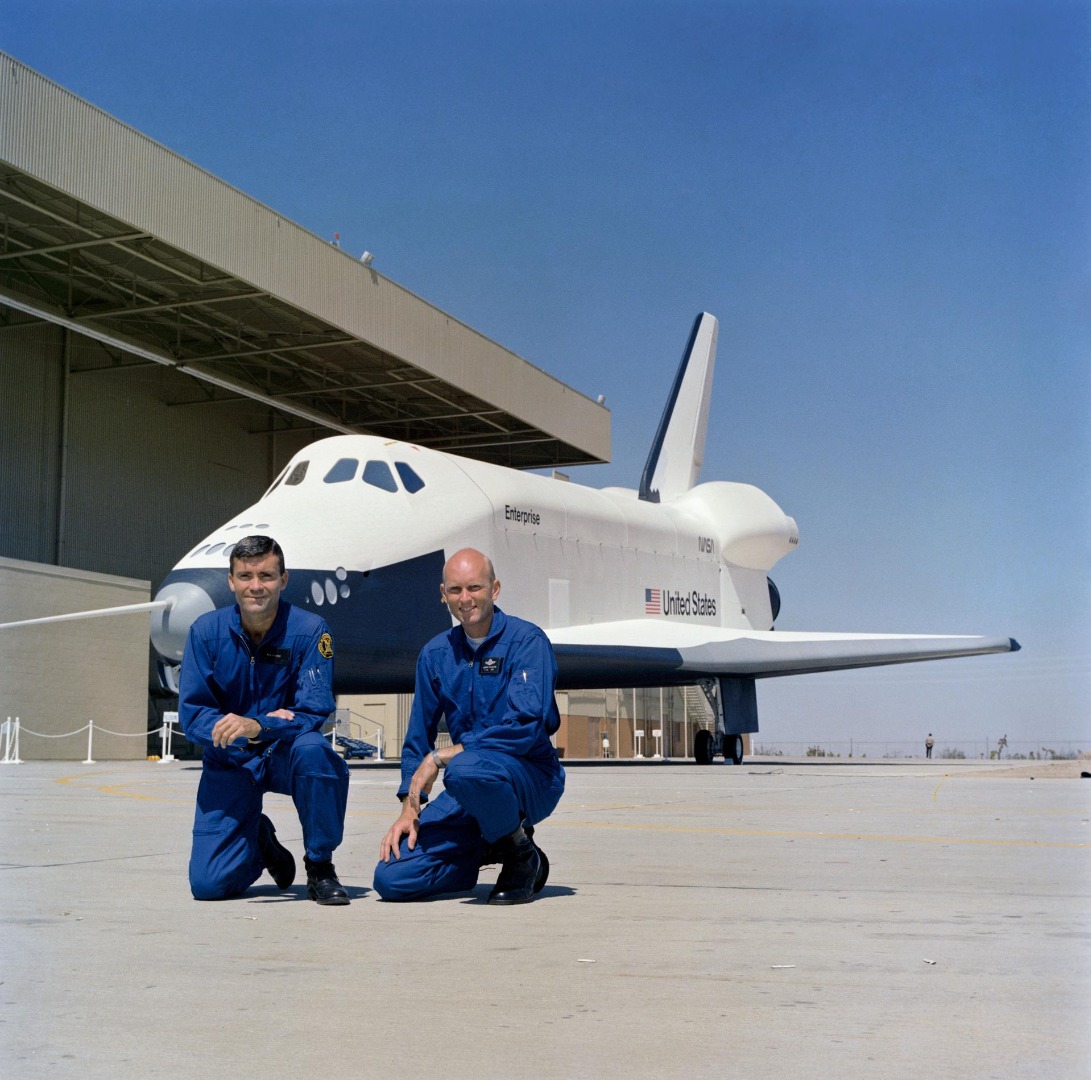 Fred Haise and Gordon Fullerton flew three Approach and Landing Test flights aboard Enterprise. 1976 NASA photo.
Haise worked as an aerospace executive and consultant for the remainder of his career until his retirement in 1996. His work on Space Station Freedom during the 1980s later influenced the development of the International Space Station (ISS), which continues to orbit the Earth as the world's scientific platform in space. Haise is still active in the spaceflight community and regularly attends events as a speaker and panelist. In early 2022, Haise's autobiography Never Panic Early – chock-full of stories about his life, career, and many of the obstacles he overcame during both – was released and became a bestseller. In addition, Haise and Logan Jaeren recently released a website (fredhaise.space) that contains a wealth of stories and photos that did not make it into Never Panic Early.
Haise at Celestis' Tranquility Flight
Fred Haise will discuss his views of the Earth's closest natural satellite during Celestis' Tranquility Launch pre-launch events, scheduled to take place in early 2023. In addition, he will sign copies of his bestseller for those interested in purchasing one.
The Tranquility Flight will fulfill Celestis' second-ever Luna Service spaceflight and will fly aboard Astrobotic's Peregrine Mission One, the first U.S. lunar lander to set "foot" on the Moon since 1972's Apollo 17. The Tranquility Flight capsules were recently integrated into the Peregrine lander's DHL MoonBox; the flight, along with Celestis' deep space Enterprise Flight, will launch aboard United Launch Alliance's mighty new Vulcan rocket.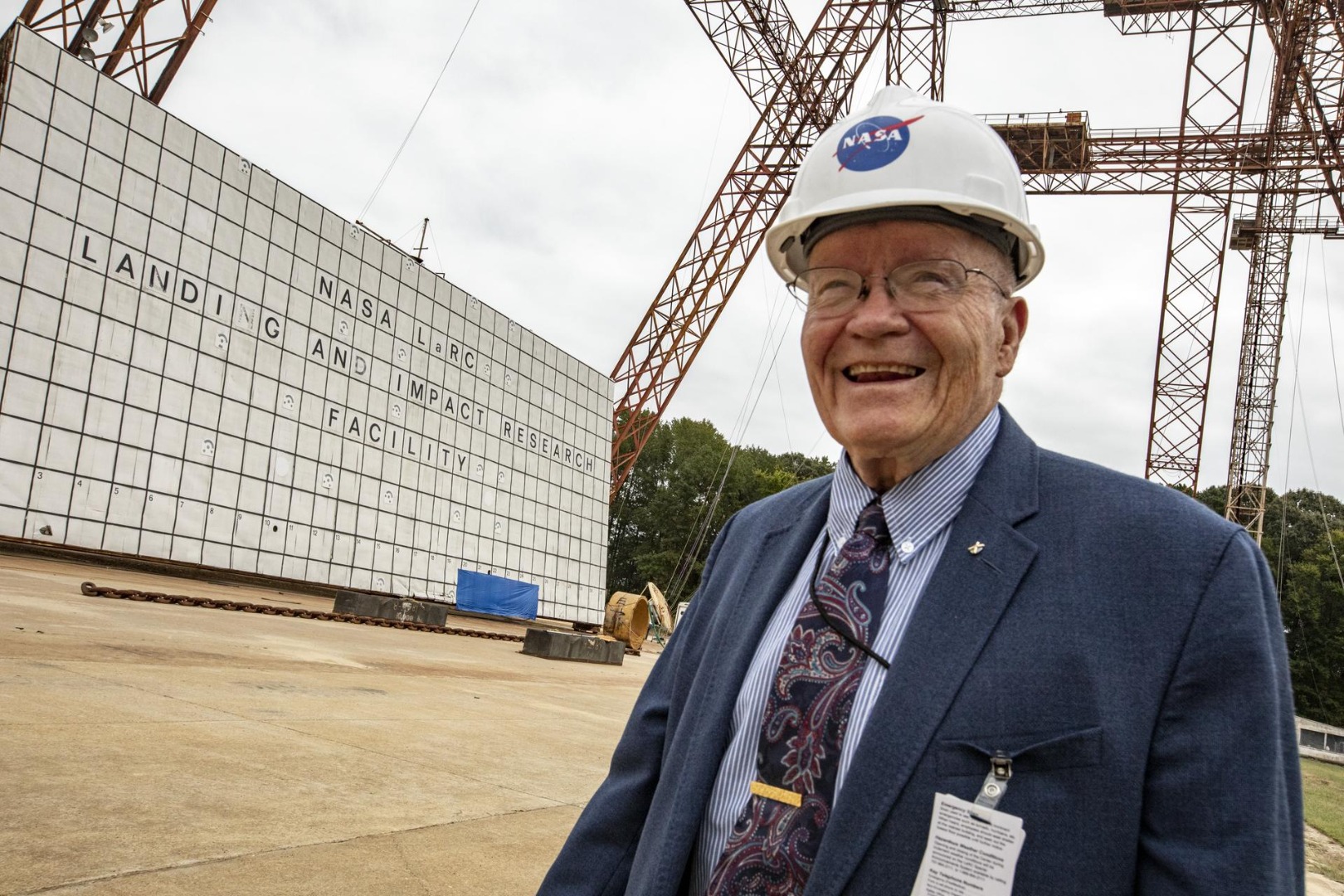 Fred Haise at NASA Langley in 2019. NASA photo
For more information about Fred Haise's incredible life and career, visit his new website at fredhaise.space. For more information about Celestis' Tranquility Flight, visit our website.
Further Reading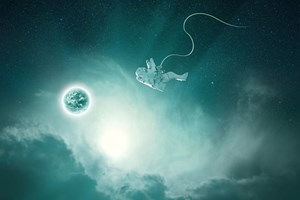 Why did Celestis' Director of Content, Emily Carney, purchase her own Celestis MindFile™? The answer is not as apparent as it might seem.

By Emily Carney on 11/25/2022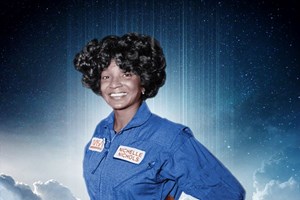 When Star Trek's Nichelle Nichols died in late July at age 89, she was lauded as the trailblazer she was during her lifetime. However, her story is far from over. In early 2023, she will fly alongside the DNA of her son, Kyle Johnson, aboard Celestis' Enterprise Flight. In addition, the Nichelle Nichols Foundation – announced today, on what would have been her 90th birthday – will continue to promote diversity in STEM fields.

By Celestis on 12/28/2022