Rare NASA Memorial Spaceflight Honors Engineer
Share
Rare NASA Memorial Spaceflight Honors Engineer

:
[caption id="attachment_1270" align="alignleft" width="300"]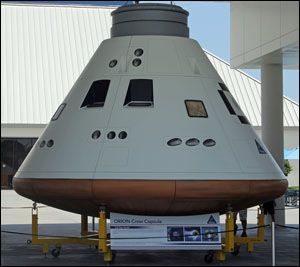 Orion capsule mockup at NASA's Kennedy Space Center. (Clemens Vasters of Viersen, Germany)[/caption]
This is the first in our new series of articles about the history of memorial spaceflights.
NASA marked a major milestone in December 2014 as its new
Orion spacecraft
completed its first voyage to space, orbiting Earth and traveling farther than any spacecraft designed for astronauts has been in more than 40 years. Although NASA described the December 2014 mission as an "uncrewed test," there was actually a crew of one on board.  A portion of the cremated remains of Patrick O'Malley flew on the 4 1/2 hour spaceflight.  O'Malley, a 37-year-old aeronautical engineer, had worked on the Orion program for over a decade.  After he passed away as a result of an undiagnosed brain illness, his co-workers at Lockheed Martin requested that a part of his cremated remains fly on this historic NASA mission.  His family supported the idea: both of his parents and his two daughters attended the launch. As a memorial spaceflight, this Orion mission resembled a cross between Celestis' Earth Orbit and Earth Rise service missions.  Like the next 
Celestis Earth Orbit
mission scheduled for the fourth quarter of 2015, the Orion spacecraft launched from Cape Canaveral, Florida and orbited our home planet.  But like the next 
Celestis Earth Rise
mission scheduled for liftoff in November 2015, the Orion capsule returned O'Malley's cremated remains to Earth. NASA rarely launches cremated remains into space.  Indeed, this was only the fourth NASA mission to do so.  We'll discuss the other three NASA missions in future blog articles about the history of memorial spaceflight. [caption id="attachment_1280" align="aligncenter" width="550"]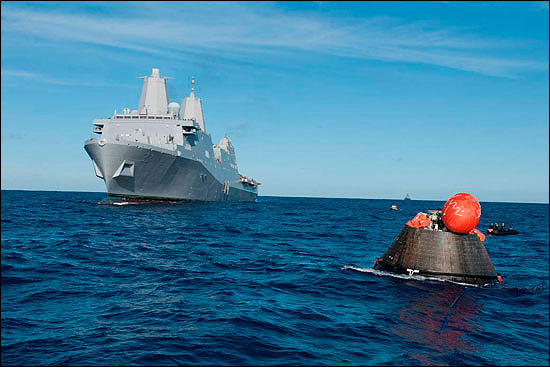 The USS
Anchorage
moves into position to recover the Orion space capsule on December 5, 2014. Like the cremated remains that flew on board this NASA mission, the cremated remains flown on Celestis Earth Rise missions are returned to families after spaceflight. (NASA)[/caption] Orion blazed into the morning sky of December 5, 2014 at 7:05 a.m. EST, lifting off from Space Launch Complex 37 at Cape Canaveral Air Force Station in Florida. The Orion crew module splashed down in the Pacific Ocean, 600 miles southwest of San Diego.
Further Reading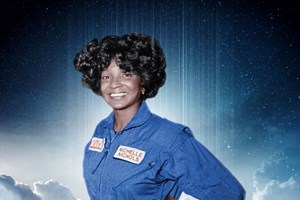 When Star Trek's Nichelle Nichols died in late July at age 89, she was lauded as the trailblazer she was during her lifetime. However, her story is far from over. In early 2023, she will fly alongside the DNA of her son, Kyle Johnson, aboard Celestis' Enterprise Flight. In addition, the Nichelle Nichols Foundation – announced today, on what would have been her 90th birthday – will continue to promote diversity in STEM fields.
By
Celestis
Opens in a new window.
Opens an external site.
Opens an external site in a new window.
Subscription Result
Note: It is our responsibility to protect your privacy and we guarantee that your email address will be completely confidential.
×

Close