Celestis celebrates the 50th anniversary of Yuri Gagarin's historic spaceflight!
Share
Celestis celebrates the 50th anniversary of Yuri Gagarin's historic spaceflight!

:
50 years ago today Yuri Gagarin became the first human to travel in space.  His spacecraft,
Vostok 1
, was launched at 6:07 am GMT April 12, 1961 from the Baikonur Cosmodrome, located in the desert steppes of Kazakhstan, which borders Russia and China.  Gagarin's 108 minute flight took him around the Earth for one orbit.  His historic spaceflight made Gagarin an international celebrity. [caption id="attachment_271" align="aligncenter" width="500" caption="Yuri Gagarin's Vostok 1 capsule at the RSC Energia Museum in Korolev, Russia, located just outside of Moscow."]
[/caption] Like so many of the
aerospace professionals
who have flown on Celestis memorial spaceflights, Gagarin developed an interest in space travel and astronomy in his youth.  He studied at a technical high school where he joined an aerospace club and became a pilot of small aircraft.  He later attended the Soviet Air Force Academy where he graduated with honors in 1957.  Unfortunately, Gagarin was killed in an airplane crash in 1968.  In honor of his achievements, his cremated remains were buried in the Kremlin Wall. While the Soviet Union and the United States competed in the Cold War space race, the two countries cooperated in the final frontier as well.  For example, in 1975 Mercury 7 astronaut Deke Slayton and two other astronauts docked their Apollo capsule in Earth orbit with a Soviet Soyuz spacecraft flown by two cosmonauts.  This mission was called the "Apollo-Soyuz Test Project."  Slayton would later serve as President of
the original Space Services Inc.
, to which Celestis traces its corporate roots. Today, astronauts and cosmonauts fly aboard the International Space Station and the space shuttle.  In fact, April 12 is also the 20
th
anniversary of the first space shuttle flight.  On this day in 1981, the space shuttle
Columbia
blasted off, marking yet another milestone in humanity's venture into space.
Celebrating Yuri's Night
Consider celebrating this remarkable day in space history by attending the "Yuri's Night World Space Party."  Parties are being held in communities around the world today – visit
www.yurisnight.net
to find an out-of-this-world party near you! Also, be sure to check out a new, online film -- to be released today -- about Yuri Gagarin's spaceflight.  See
www.FirstOrbit.org
Further Reading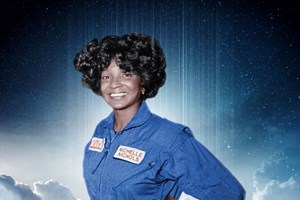 When Star Trek's Nichelle Nichols died in late July at age 89, she was lauded as the trailblazer she was during her lifetime. However, her story is far from over. In early 2023, she will fly alongside the DNA of her son, Kyle Johnson, aboard Celestis' Enterprise Flight. In addition, the Nichelle Nichols Foundation – announced today, on what would have been her 90th birthday – will continue to promote diversity in STEM fields.
By
Celestis
Opens in a new window.
Opens an external site.
Opens an external site in a new window.
Subscription Result
Note: It is our responsibility to protect your privacy and we guarantee that your email address will be completely confidential.
×

Close