Track Our Satellites with Starwalk
Share
Track Our Satellites with Starwalk

:
Celestis has had three successful orbital flights. Two of these flights were launched from Vandenburg Air Force Base in California and are still in Earth orbit today. Even better, they can both be tracked from your iPhone. An application called
Starwalk
, from Vito Technology, makes this possible. It's a visual pleasure of an application bringing you not just rich graphics but explanations of what you're seeing. Simply download the application to your iPhone or iPad and point your device at the sky. The app will show you just what's up there and it's smart enough to know not only where you are but which way you are facing. You can also search for various objects, like the satellites that contain our orbital funerals. [caption id="attachment_596" align="alignleft" width="200" caption="Launch of The Ad Astra Flight, Feb. 10, 1998, Vandenberg Air Force Base, California"]
[/caption] Our first successful orbital mission was
The Founders Flight
, which launched in 1997 and re-entered Earth's atmosphere May 20, 2002 northeast of Australia.   Our second orbital mission,
The Ad Astra Flight
, was launched in 1998 and is Celestis25160 in the Starwalk app. The third flight was
The Millennial Flight
in 1999 and can be found under Celestis26034. Maybe you'll be able to step outside one night and see if you can't see the satellite passing overhead either with the naked or or by pointing the Starwalk app in that direction. The next orbital launch,
The New Frontier Flight,
is also going to carry ashes into orbit. The number for tracking that flight will be made available as soon as possible after the launch. For those who use Androids, there's the Google Sky Map application, though tracking satellites is not yet a feature. You can also track our Earth-orbiting spacecraft via
our website
.
Further Reading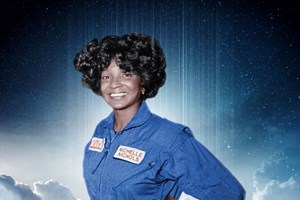 When Star Trek's Nichelle Nichols died in late July at age 89, she was lauded as the trailblazer she was during her lifetime. However, her story is far from over. In early 2023, she will fly alongside the DNA of her son, Kyle Johnson, aboard Celestis' Enterprise Flight. In addition, the Nichelle Nichols Foundation – announced today, on what would have been her 90th birthday – will continue to promote diversity in STEM fields.
By
Celestis
Opens in a new window.
Opens an external site.
Opens an external site in a new window.
Subscription Result
Note: It is our responsibility to protect your privacy and we guarantee that your email address will be completely confidential.
×

Close