Celestis in National Museum of Funeral History
Share
Celestis in National Museum of Funeral History

:
[caption id="attachment_1532" align="alignleft" width="250"]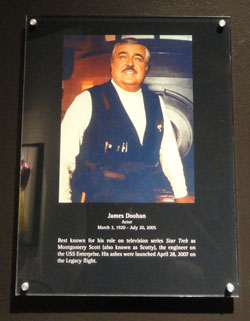 This photo of Celestis participant James Doohan (
Star Trek
's "Mr. Scott") is part of the permanent Celestis display at the National Museum of Funeral History.[/caption] Celestis is part of a permanent exhibit at the National Museum of Funeral History, which is located in Houston, Texas.  The exhibit honors Celestis and some of the past notable figures Celestis has flown into space, including Mercury 7 Astronaut L. Gordon Cooper, 
Star Trek
 creator Gene Rodenberry and 
Star Trek
 actor James Doohan who played "Mr. Scott." On display are pictures and replicas of the flight containers that carried these celebrities' cremated remains in space, engraved with their names and flight messages. The Celestis exhibit provides an overview of our memorial spaceflight services and features a model of the SpaceLoft XL launch vehicle, built and flown by UP Aerospace, that flies our 
Earth Rise Service missions
 into space from Spaceport America, New Mexico. The museum decided to honor Celestis as we are the only private company to have conducted memorial spaceflights. Called "Thanks for the Memories," the exhibit honors not only Celestis, but also iconic figures in history such as Michael Jackson, Marilyn Monroe and Jacqueline Kennedy Onassis. "Thanks for the Memories" is dedicated to capturing and highlighting the magnificent and interesting ways society has bid farewell to some of the world's most famous figures. "The National Museum of Funeral History has been grateful for the working relationship with Celestis Memorial Spaceflights," said Genevieve Keeney, President of the museum. "It has allowed us to enhance the exhibit with the artifacts of some of our most well-known space icons: James Doohan, Gordon Cooper and Gene Roddenberry." [caption id="attachment_1519" align="aligncenter" width="560"]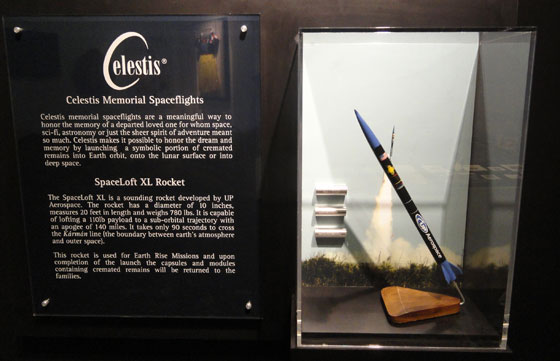 Part of the Celestis display at the National Museum of Funeral History, which chose Celestis as the only company that has conducted memorial spaceflights.  Shown here are a model of the UP Aerospace's SpaceLoft XL launch vehicle, a photo of a Celesits launch from Spaceport America, and replicas of the Celestis flight modules that have flown the cremated remains of Gene Roddenberry, James Doohan and L. Gordon Cooper into space.[/caption] Among the museum's other permanent exhibits are displays concerning:
Presidential funerals
The American Tomb of the Unknown soldier
9/11 and fallen heroes
19th century mourning customs
Day of the Dead / Dia De Los Muertos
Japanese funerals
Celebrating the lives and deaths of the popes
With more than 30,000 square feet of exhibit space, the museum houses the United States' largest collection of funeral service artifacts and features renowned exhibits regarding one of humanity's oldest cultural customs.  For more information, visit the National Museum of Funeral History at
nmfh.org
.
Further Reading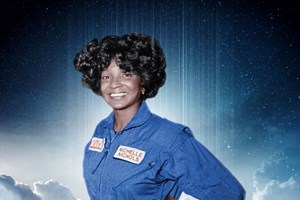 When Star Trek's Nichelle Nichols died in late July at age 89, she was lauded as the trailblazer she was during her lifetime. However, her story is far from over. In early 2023, she will fly alongside the DNA of her son, Kyle Johnson, aboard Celestis' Enterprise Flight. In addition, the Nichelle Nichols Foundation – announced today, on what would have been her 90th birthday – will continue to promote diversity in STEM fields.
By
Celestis
Opens in a new window.
Opens an external site.
Opens an external site in a new window.
Subscription Result
Note: It is our responsibility to protect your privacy and we guarantee that your email address will be completely confidential.
×

Close