The Celestis Launch Manifest – August 2017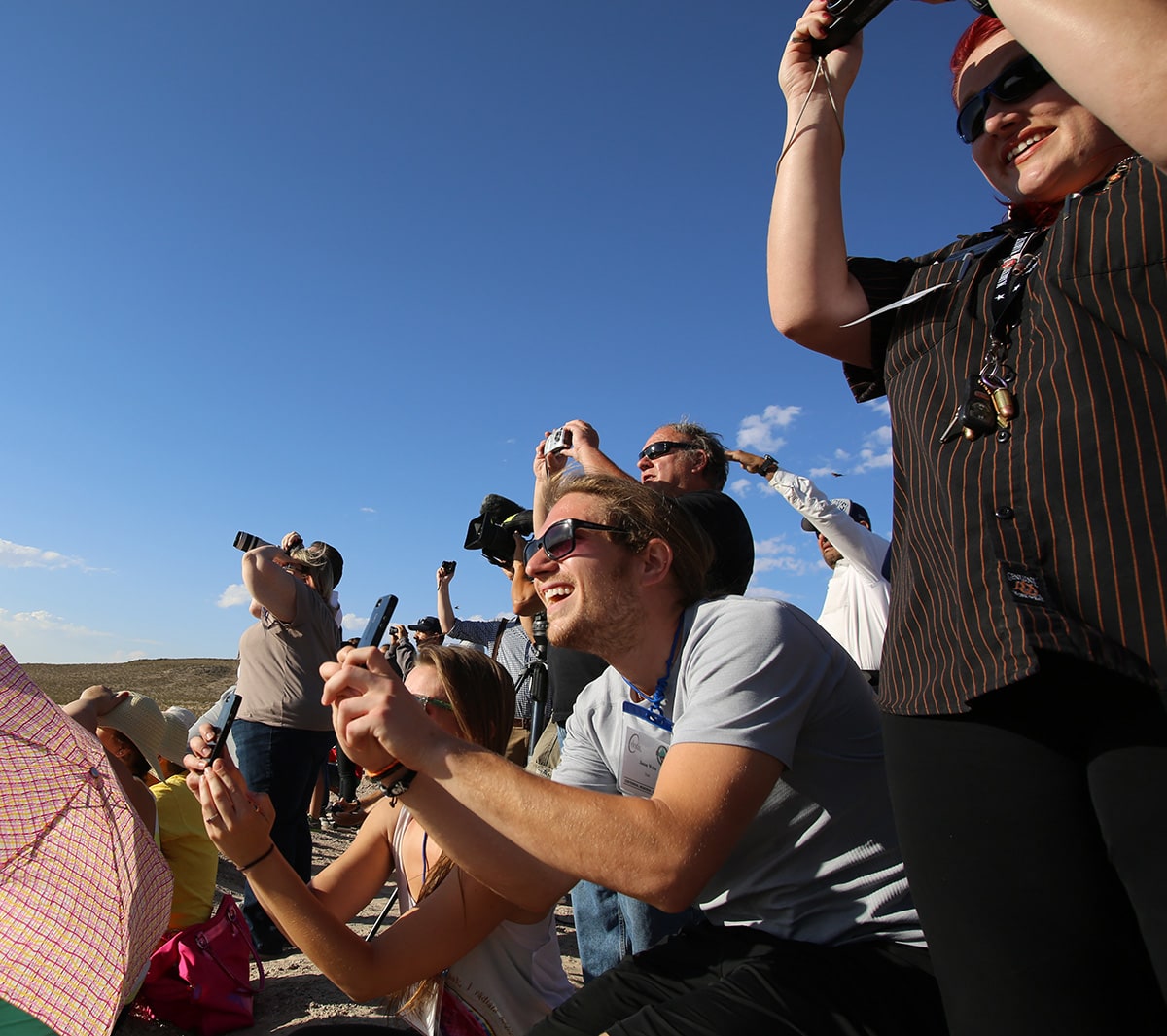 Tuesday, August 08, 2017
Celestis — the iconic pioneer and still the only proven provider of memorial spaceflight services in the world — has several memorial spaceflights scheduled for launch over the next 18 months. We invite you to learn about these missions below. Contact us to make reservations to fulfill your departed loved one's dreams of spaceflight.


Next Earth Rise Flight from New Mexico
A spectacular sunrise launch of a Celestis memorial spaceflight from majestic Spaceport America, New Mexico
Celestis Earth Rise missions launch a symbolic portion of cremated remains or DNA into space and return the capsule to Earth – creating a flown keepsake unlike any other.  Seven Earth Rise missions have been flown to date from Spaceport America near Las Cruces, New Mexico.  Mission eight – the Starseeker Flight – is scheduled to launch later this year – November 15th.

Attending family members and loved ones experience an up close tour of the UP Aerospace mission control, and an on pad viewing of the SpaceLoft XL rocket as part of a three day memorial celebration, culminating in a sunrise launch.

New Mexico is one of six launch locations worldwide hosting Celestis Memorial Spaceflights.  Spaceport America is located near the New Mexico Museum of Space History, the legendary White Sands Missile Range, and the National Radio Astronomy Observatory's multi dish facility near Socorro.  The desert mountains and spectacular scenery make for an appropriate and compelling location from which to begin a final journey.
Next Luna Flight from New Zealand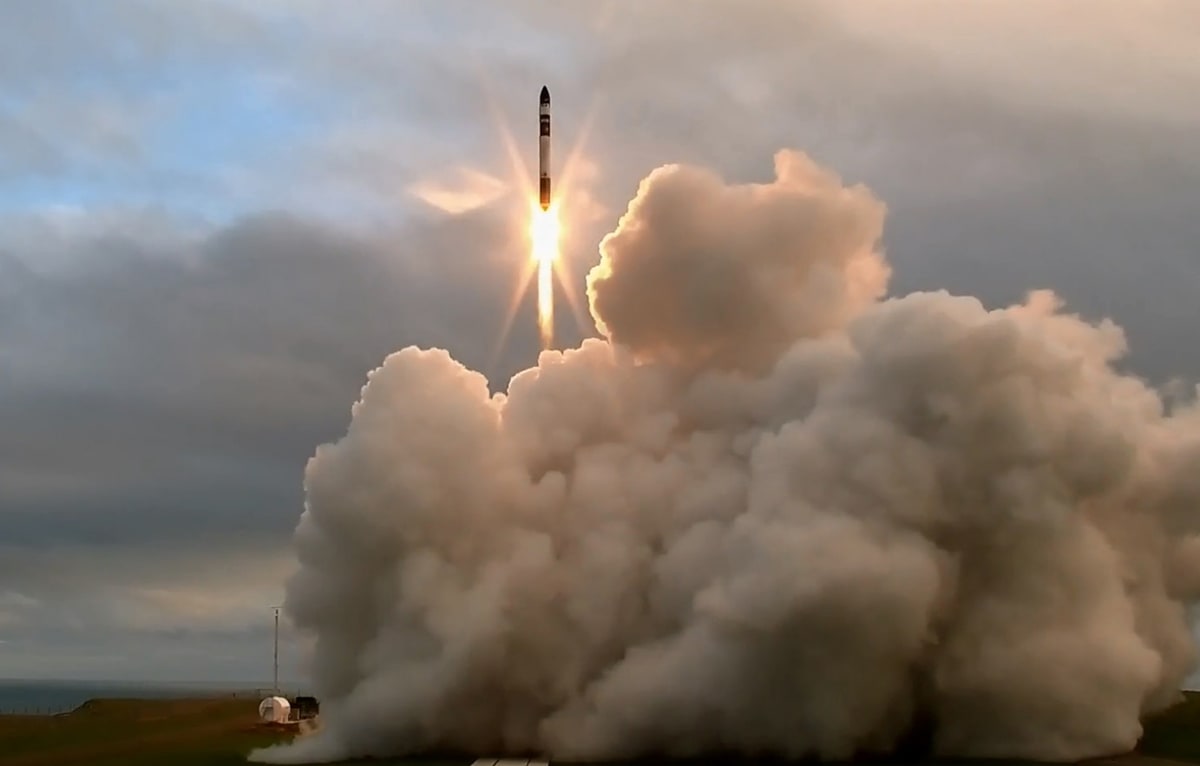 Launch of a Rocket Lab Electron rocket from New Zealand, May 25, 2017. Celestis' 2nd memorial spaceflight to the Moon will fly on an Electron from this same location.
Late this year a Rocket Lab Electron launcher will lift off from Mahia Peninsula, New Zealand with a spacecraft bound for the moon!  Aboard the Moon Express MX-1E lunar lander (see artist's rendering below) will be precious cargo, including capsules containing cremated remains and DNA samples from Celestis participants worldwide.

The mission – Luna 02 – is the second Celestis Luna mission.  In 1998 Celestis made history when NASA asked the company to provide our Memorial Spaceflight service to a group of friends and students of legendary Apollo scientist Dr. Eugene Shoemaker aboard NASA's Lunar Prospector satellite.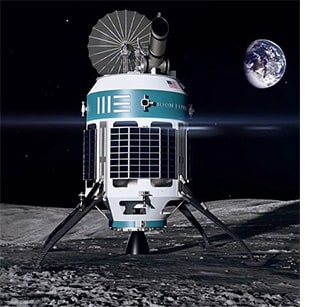 Celestis will lead a group of intrepid family members to view the launch from the world's first privately developed orbital launch complex.  Earlier this year Rocket Lab successfully inaugurated launch operations from the New Zealand coast, adding a new option – the sixth qualified location worldwide – for Celestis memorial spaceflight operations.

For family members and loved ones who cannot be in New Zealand for the launch, Celestis will also host activities and a memorial service from near Moon Express' operations headquarters at Launch Complex 17/18 at Cape Canaveral Air Force Station in Florida.

Reservations for Luna 02 – a memorial spaceflight to the Moon – are still open.  The Moon as a final resting place, always in view from planet Earth, is now a reality.
Earth Orbit Flight from Cape Canaveral, Florida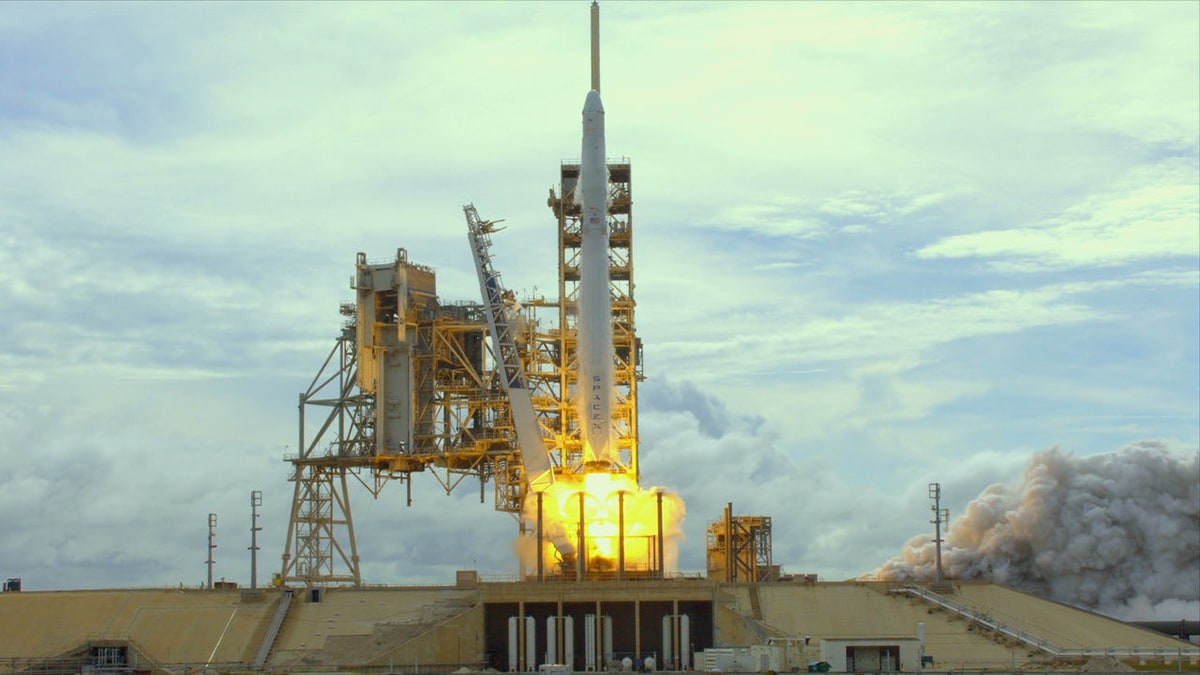 Launch of a SpaceX Falcon 9 from Launch Pad 39A, Kennedy Space Center, Florida.  The Falcon Heavy carrying the Celestis Heritage Flight will fly from this same, historic launch pad. The Falcon Heavy's first stage will be composed of three Falcon 9 engine cores and will be the most powerful operational rocket in the world.
Celestis often conducts Memorial Spaceflights from launch pads located at Cape Canaveral Air Force Station and the Kennedy Space Center in Florida.  For family members and friends attending the launch of a loved one's final memorial journey, there is often no more fitting location than the cradle of America's space program.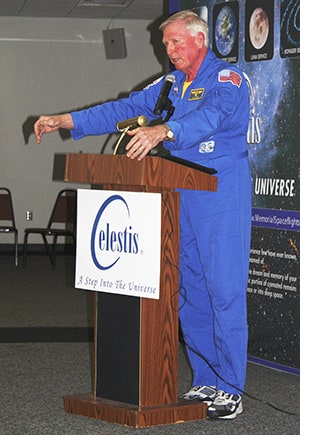 The next Celestis mission to be launched from Florida is the Heritage Flight (Earth Orbit service) scheduled for early next year.  Celestis participants will be hosted aboard the Surrey Satellite Technologies OTB satellite, launched by a Falcon Heavy rocket from historic Pad 39A at the Kennedy Space Center – the same pad that sent Apollo astronauts to the moon and the Space Shuttle into Earth orbit.

Family and friends will gather in historic Cocoa Beach, Florida for a three day experience that includes a tour of the Kennedy Space Center, dinner with astronauts, a compelling pre launch memorial service (see photo above of Astronaut John McBride speaking at the New Frontier Flight memorial service in May 2012), and – of course – preferred viewing of the visually stunning launch AND landing of the world's most powerful rocket – Falcon Heavy.
Reservations are still open for the Heritage Flight.  There is no better way to honor a departed loved one who longed to journey to space or felt a special connection to the universe than a Celestis Memorial Spaceflight.
Earth Orbit Flight from California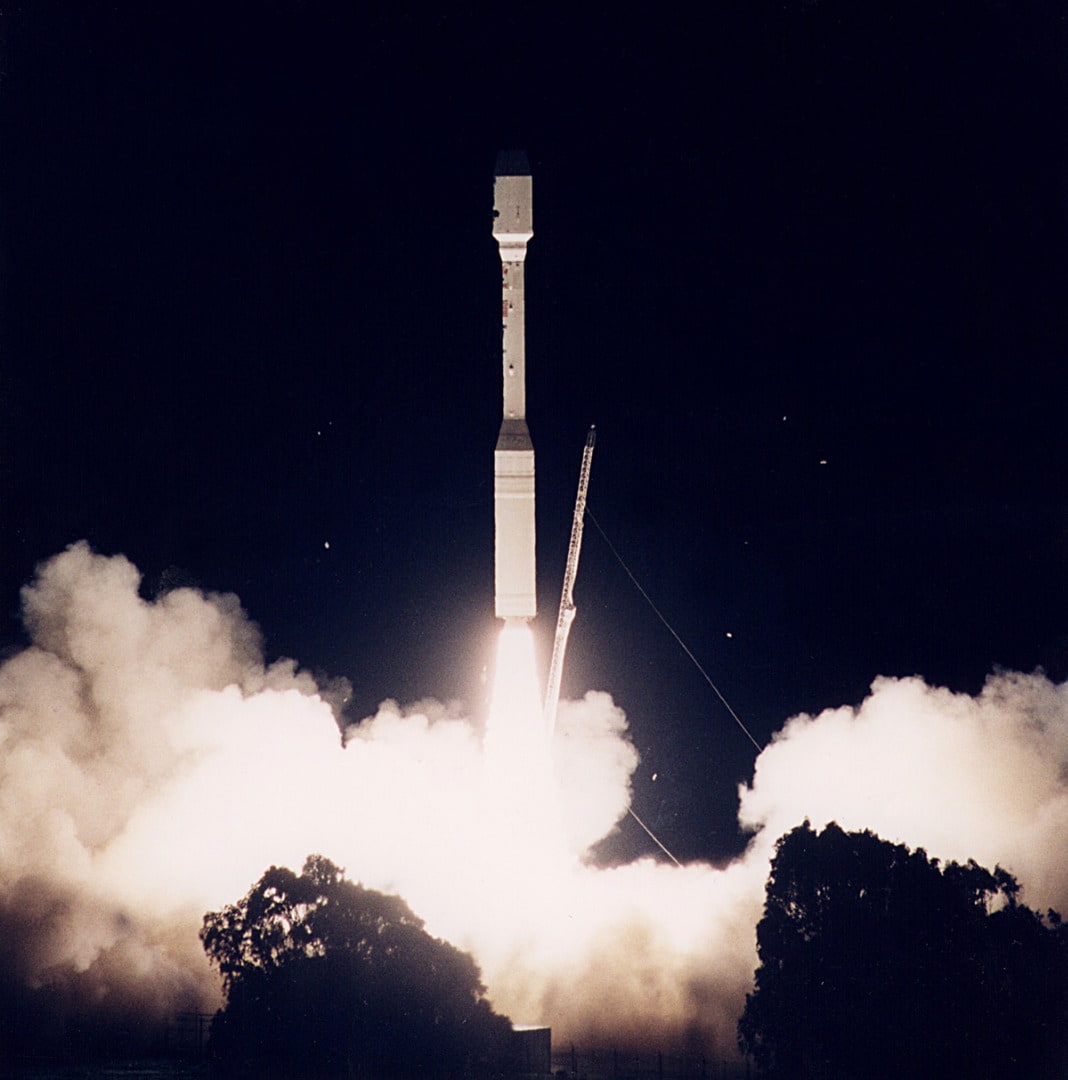 Feb 10, 1998 launch of the Celestis Ad Astra Flight from Vandenberg AFB. The spacecraft, which you can track online, has an orbital lifetime of 240 years.
Next year Celestis will return to the Central California coast to host families and friends as they witness the launch of a loved one into Earth orbit from Vandenberg Air Force Base, near Santa Barbara.  Liftoff of the Horizon Flight will be the culmination of three days of tours, events, and activities celebrating the lives of those on board the powerful Falcon 9 rocket. Below is a photo of a Celestis family speaking about their loved one at a Celestis memorial service near Vandenberg AFB, California.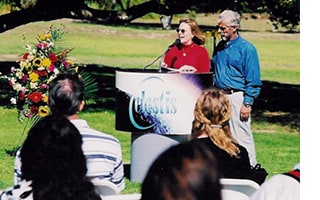 Three earlier Celestis Earth Orbit missions from Vandenberg introduced our guests – including beloved actress and Star Trek matriarch Majel Barrett Roddenberry – to the compelling experience of witnessing a memorial spaceflight launch from the often stunning surrounding countryside – prominently featured in the movie Sideways.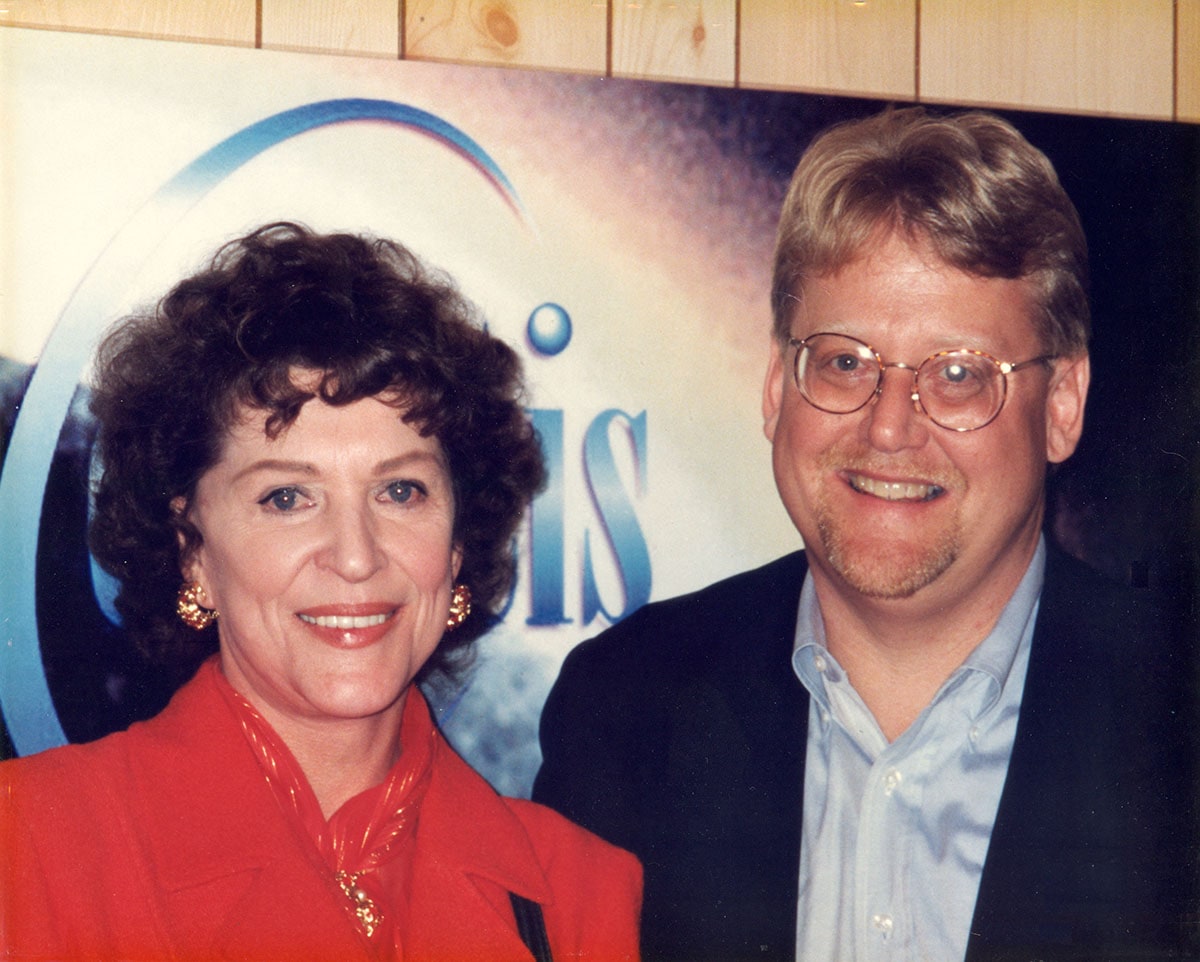 Majel Roddenberry with Celestis Co-founder Charles Chafer on a Feb. 8, 1997 Celestis tour at Vandenberg AFB.  The Celestis Founders Flight, launched the following month, carried Gene Roddenberry and 23 others into Earth orbit.
Reservations for the next Celestis launch from Vandenberg – the Horizon Flight – are now open. The launch is scheduled for the fourth quarter of 2018.

Contact us to learn more, pre-arrange your own memorial spaceflight, or secure a reservation for a loved one or friend.